Finding poetry in a new language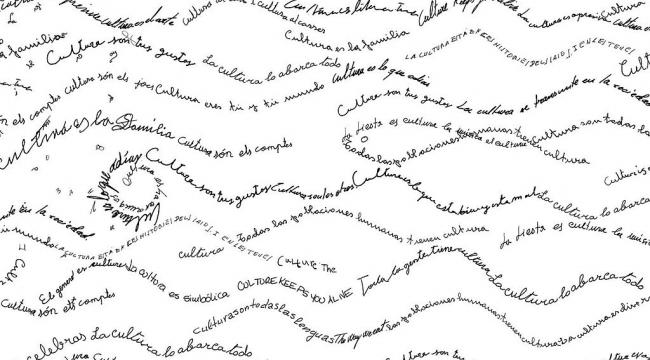 Wed, 23rd Jan 2019
This morning, instead of going to Oxford School of English, where I usually teach, I walked the short distance from my house to St. Anne's College to meet Kate Clanchy and a group of her student-writers from Oxford Spires Academy.
Kate began by playing a reading by Raymond Antrobus of his poem 'Dear Hearing World', which provoked a lively discussion around the table. Some of the students knew a little bit of sign language. After that, we played Kate's Surrealist Game: dividing a piece of paper into four and writing one abstract noun, one concrete noun and a definition of each. The papers were shuffled and randomly mismatched, so that some crazy and some 'deep'-sounding sentences emerged: 'Resentment is who you really are'; 'Living is putting everything in the corner until the last minute'; 'Serenity is a transparent liquid'. The students then helped Kate arrange these lines into three poems.
Next, Kate introduced us to 'I Want the Confidence of' and 'I move Through London like a Hotep', both by Raymond Antrobus, and the students wrote 'list' poems and/or prose poems inspired by these. Another poem by Antrobus, 'Two Guns in the Sky for Daniel Harris', was used as a springboard for poems about words in other languages.
In the afternoon, I introduced the students to a calligram (shape poem) by George Seferis, and then they wrote their own. Seferis describes a felucca (traditional Nile boat) in words arranged to look like a sail boat on the page. The students wrote poems in a very inventive variety of shapes, including a cat, a spider, a fried egg and several plants.
We then moved back 2,600 years to the time of Sappho. We looked at some very mutilated Sapphic fragments, some of which contained only two decipherable words, and Anne Carson's translations of these. The students then used papyrus to create an imitation Sapphic fragment or an imaginative reconstruction of a poem. Some of the students used other languages as a way of representing the obscurity of the Greek fragments or to mimic the parallel-text translations.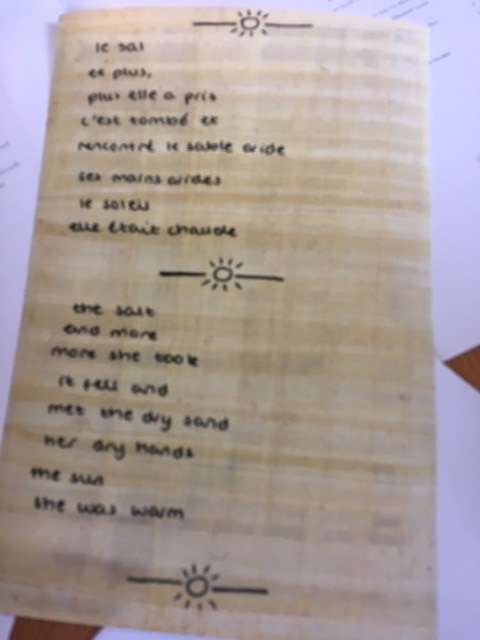 A poem-fragment, inspired by Sappho and written on Papyrus in both French and English, by Annie Davison.
Finally, we explored a poem by Yannis Ritsos in transliteration, to 'hear' the sounds of Modern Greek, and in two different recordings of its musical setting by Theodorakis. We discussed how music changes texts, and Kate played an internet recording of one of her own poems, translated into Italian and read over a guitar setting. Unlike Ritsos, who worked with Theodorakis, Kate had not given permission for this setting and performance of her work in cyber space.
During the day, we discussed languages, bilingualism and language learning. Not many of the students seemed to enjoy school language lessons, although several of them were very interested in the other languages spoken by family and friends, and all of them seemed interested in the Greek texts as well as in unfamiliar words in the readings introduced by Kate. So why this disconnect? Are languages, in fact, interesting or boring? And how come these gifted young writers, fascinated by the English language, mostly reject the whole idea of acquiring competence in – say – French?
I had a brilliant Latin teacher at school and a terrible French teacher. As a result, far more of us got good marks in Latin than in French, even though we knew that Latin was 'not useful' and even though several of us went on holidays to France. We were working with newly-designed Latin course materials (the Cambridge Latin course had just come out) but woefully outdated French materials, which included endless repetition of bizarre phrases such as, 'Jean prend cinq bananes'. Who was Jean? Why would he – or anyone – want 5 bananas all at once? We neither knew nor cared but I still remember this phrase and can confirm that I have never needed to use it in my life, even when living in France.
Some of the day's conversations centred on language and identity. As a language teacher, I suspect that this is the real issue. Diego Marani jokes that 'Languages are like tooth brushes: the only one you should put in your mouth is your own' – and he has a point: speaking another language is highly personal, even transgressive, though maybe more akin to wearing someone else's clothes than borrowing a used toothbrush.
My view, for what it's worth, is that you have to fall in love with a language before you can learn it, and causing pupils to fall in love with a subject, any subject, is a huge responsibility. But whereas a love for physics or geography does not interfere radically with personal identity, learning to belong to, or even just visit, another culture, when the price of the visa is one's mother tongue(s), can feel more dangerous than exciting. We have to persuade pupils that the journey – and arrival – can be magical. I don't have the secret formula, but useful techniques include stepping from the familiar ('calligraphy') via the less familiar ('calligram') into the unfamiliar ('καλλιγράφημα'); focusing on personal relevance (can you write your name in Arabic?), and encouraging enjoyment through experimenting and joking around with a new language.
Dr Sarah Ekdawi is a Faculty Research Fellow at the University of Oxford and writes parodies, poems, research papers, e-mails and shopping lists. She writes course-plans and lesson-plans, syllabus-outlines, curricula, tests and reports. She is writing a novel and also translates from the Greek.
Main image source: Museu Valencià d'Etnologia from València, España [CC BY-SA 2.0 (https://creativecommons.org/licenses/by-sa/2.0)], via Wikimedia Commons
Where next?
Multilingual poetry in schools
Multilingual film competition for schools