Multilingual film competition for schools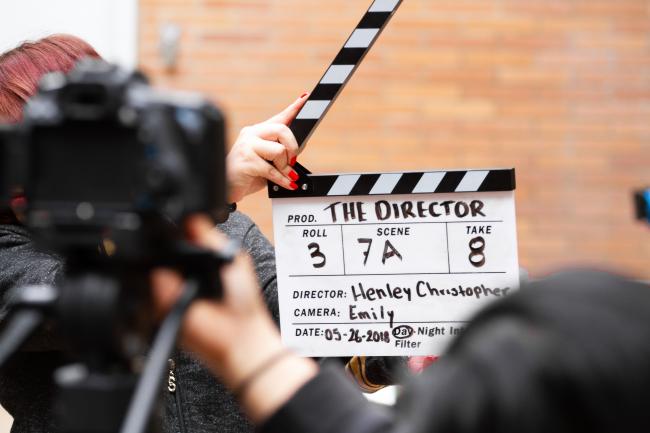 Thu, 15th Nov 2018
A team at the University of Roehampton are looking for schools interested in taking part in a multilingual film competition; winning entries will feature at a Film Festival in June 2019. 
Films need to include more than one language, through both audio and subtitle channels.
Pupils can create films (of up to 10 mins) and enter one of two categories: GCSE or A Level.
Online learning packs, online tuition and workshops will be provided in phases to participating schools, supporting teachers and students to create short films with free and easily accessible equipment. A selection of topics are:
Script writing
Acting for the camera
Shooting and editing
Adding sound and music
Translation techniques
Subtitling
See the below poster for more details or download a pdf.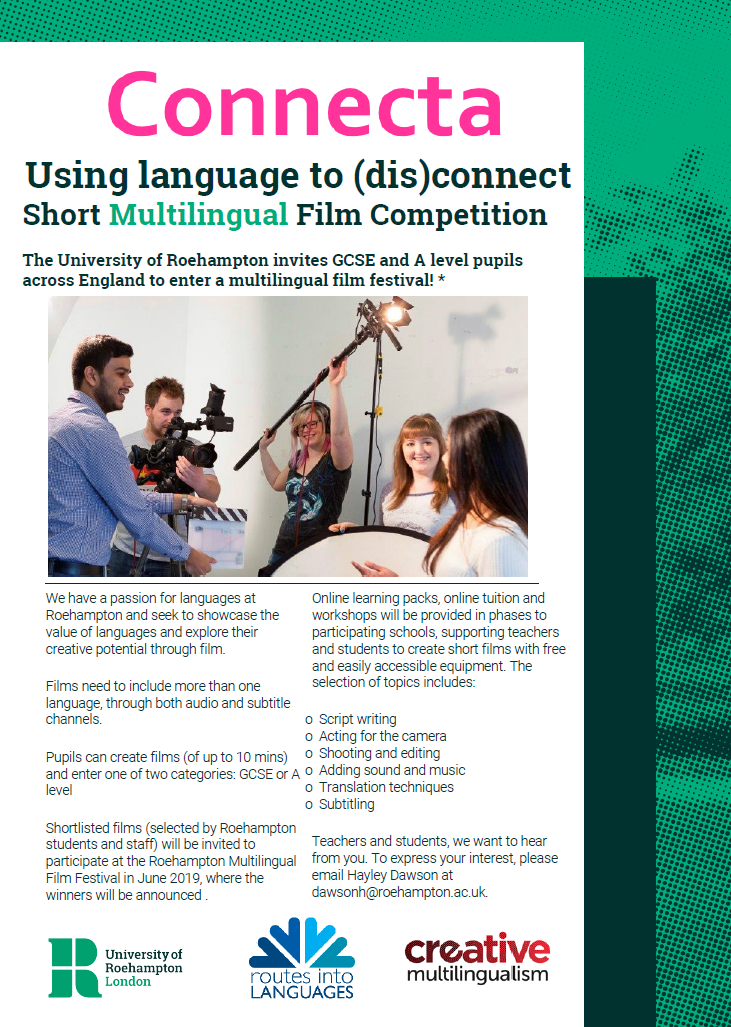 Project timeline
First teaching pack is made available to schools: Friday 4th January 2019
Google Class launches: Monday 7th January 2019
Submission of films: Friday 24th May 2019
Roehampton Multilingual Film Festival: June 2019
Learning packs will be available via the online platform Google Class. 
For queries and to express an interest please contact Hayley Dawson on dawsonh@roehampton.ac.uk.
Consent forms
All schools taking part in the Connecta Multilingual Film Competition need to seek consent from parents and guardians of participating students before filming, Once consent has been confirmed, please sign this institutional consent form and send to Hayley Dawson at dawsonh@roehampton.ac.uk before filming starts. 
Film entry form
If you are entering the Connecta Multilingual Film Competition please complete this entry form and submit it with your film by 24 May 2019 to Hayley Dawson at dawsonh@roehampton.ac.uk.
This project is funded by Creative Multilingualism, a research programme led by the University of Oxford and funded by the Arts and Humanities Research Council as part of the Open World Research Initiative.
Follow @creativelangs on Twitter for updates.
Photo of Clapperboard by Martin Lopez from Pexels.