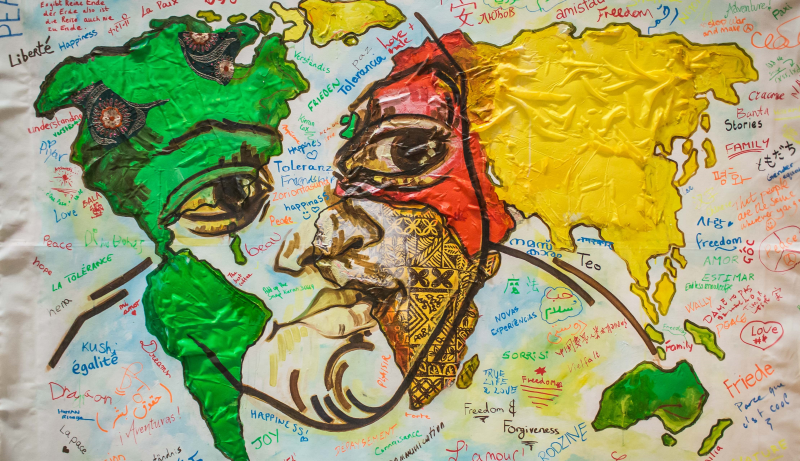 **THIS FUNDING CALL IS NOW CLOSED** 
Find out which projects were funded on our blog.
Creative Multilingualism is an exciting multidisciplinary project funded by the AHRC under its Open World Research Initiative (OWRI). Seven interlocking research strands investigate the creative dimension of languages – extending from cognition and production through to performance, texts and translation to language learning. Full details of the project and its aims and activities can be found at www.creativeml.ox.ac.uk. Further information about OWRI can be found at http://www.ahrc.ac.uk/research/fundedthemesandprogrammes/themes/owri/.
Call for applications for funding
We are now happy to welcome applications for funding from doctoral students. Our hope is to support these students (beyond the thesis itself) in their development as modern language advocates. Lead applicants must be currently enrolled at a UK university (more details below).    
Funds are available to enable the running of events or invited speakers at the applicant's home institution and to support the direct costs of non-dissertation-related research projects (such as for archival work). 
We are interested in funding students whose work somehow resonates with our programme emphases of 'Languages and Creative Identity' and 'Languages and Performance.'    
Languages and Creative Identity projects might:
explore questions of language, cultural diversity, and identity (multilingual identity) 

explore the relationship between majority and minority languages and cultures

engage with questions of identity in border regions 

investigate the tensions between historic and modern forms of identity

investigate how multilingual writers offer new ways of seeing the world

propose new theories of creativity based on multilingualism  
Languages and Performance projects might:
investigate the role of performance in language-learning

survey performance identities and creative expression within minority language groups

understand multilingualism as a catalyst for performance 

support multilingual performance activities in the UK

engage with nonverbal language (e.g. British Sign Language) in performance
Grants are available to support research projects and student-run events and initiatives, and there should be clear outputs and outcomes from this work. The maximum grant is £1,500, but we expect most of the grants to be in the region of £500-£750. Applications for collaborative or individual research projects are equally welcome under this scheme.
Priority may be given to applications where there is some matching funding available from the applicant's home institution, but this is not essential. Again, funds are not available to support the costs of writing up, nor to support the conduct of primary doctoral research. Applicants may seek support for any combination of eligible activity and cost up to the overall limit of £1,500.
Level of grant: Awards up to £1,500
Deadline for submission of applications: 15 April 2019 (9am GMT)
Decisions expected: May 2019
**THIS FUNDING CALL IS NOW CLOSED**
How to apply
Please submit a written proposal by 9am on 15 April 2019 to creativeml@mod-langs.ox.ac.uk.
All applications should demonstrate that the funds are sought for a clearly defined, discrete piece of research or for an event which will have an identifiable outcome on completion. The grant will be made as a single payment to the lead applicant.
The following are not eligible for funding: attendance at conferences organised by a third party or international organisation; funding of the applicant's time; funding of costs and expenses related to the applicant's primary doctoral research.
Applications must not exceed 1,000 words. They should include a project summary which would be published on the website. This summary should address how the project fits with the programme theme, and it should state anticipated outcomes. It should also give a timetable for completion of the project and a cost breakdown of the funding requested.
Applicants are required to nominate one referee (preferably their doctoral supervisor) and ensure that the supporting statement from their chosen referee is submitted to creativeml@mod-langs.ox.ac.uk by the deadline for submission of applications. Please note this deadline is final and we will not be able to accept any references received after this date.
The competition will be run, and administered by, the Creative Multilingualism doctoral candidates. Successful applications will conclude, upon award, with an agreement based on a University of Oxford template and subject to the University's Standard Terms & Conditions of Purchase available at https://www.admin.ox.ac.uk/finance/ppt/purchasing/templates_terms/. Applicants must also comply with the additional requirements below. We regret that we are unable to provide feedback on any unsuccessful applications. For informal enquiries about this scheme, please contact creativeml@mod-langs.ox.ac.uk.
See more information and frequently asked questions >>
Additional requirements
Awardees will:
Adhere to the guidelines for the ethical conduct of research in place at their institution or published by an appropriate organisation such the Social Research Association http://the-sra.org.uk/research-ethics/ethics-guidelines/ or the British Educational Research Association https://www.bera.ac.uk/researchers-resources/publications/ethical-guidelines-for-educational-research-2018

Supply at least one blog post or video about funded activities for the Creative Multilingualism website;

State that the project is "Funded by Creative Multilingualism as part of the Arts and Humanities Research Council's Open World Research Initiative (OWRI)" when writing about it;

Use the Creative Multilingualism log, and ideally also the AHRC logo, on online and print materials related to the project (e.g. leaflets, posters, event announcements);

Where possible, include the Creative Multilingualism Twitter handle (@creativelangs) when tweeting about the project to allow activity tracking;

Email Creative Multilingualism (creativeml@mod-langs.ox.ac.uk) with information on related events/activities to allow promotion through Creative Multilingualism's social media channels;

Where possible, provide photographs of activities to illustrate Creative Multilingualism website/ social media posts about the project (having previously obtained appropriate permission for use).