Doctoral students funding call: funded projects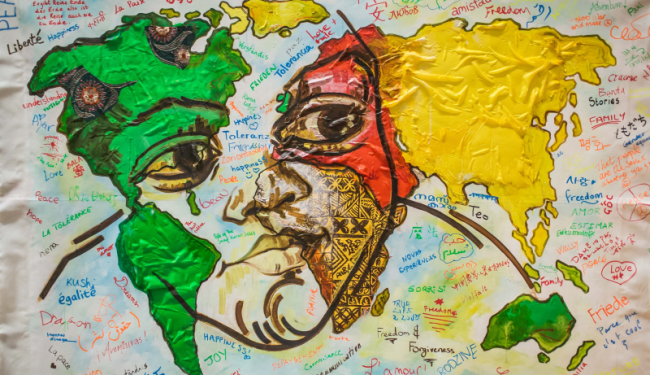 Wed, 22nd May 2019
Earlier in the year, we launched a funding call for doctoral students for projects which resonate with our programme emphases of 'Languages and Creative Identity' and 'Languages and Performance'. Grants of up to £1,500 were available to support students in their development as modern language advocates.
We're delighted to announce that the following projects have been awarded funding:
Welsh-language community engagement project
Anne Marie Carty (Centre for Research in Entrepreneurship and Marketing, University of South Wales)
The Welsh-speaking Dyfi Biosphere area in mid-Wales faces a number of long-term changes and loss of languages and culture throught the effects of in and out-migration, and more recently through the potential impacts of Brexit and conservation policies such as "rewilding" on upland sheep farming. This is a critical time for these Welsh-speaking communities, and they feel deeply under-represented. This project will give local farmers and members of the farming community the opportunity to reflect on and discuss these issues.
The project will work with the Farmer's Union Wales (FUW) to facilitate filmed discussions which will:
directly engage around 35 farmers, both male and female; 40 young farmers and 50 members of the farming community
act as opportunities for reflection and discussion to articulate issues around Brexit and changes in land-use, increasing social cohesion and possibilities for positive action, and will be a valuable social process for participants;
provide important and accessible documentation in the form of video data, with an anticipated further role in community dialogue work to help English-speaking organisations understand the nature, importance and complexity of the indigenous Welsh language and its culture in order to better inform decision-making processes;
build on current inter-generational research looking at historical farming practices in the area.
Read more about this project and watch a short documentary here>>
Multilingualism in songwriting
Lucy Cathcart Froden (University of Glasgow)
This project sets out to bring multilingual creative processes to a wider audience by creating professional studio recordings of a series of original songs written through collaborative, multilingual songwriting processes. The recording process will allow research participants to reflect further on language, creativity and community in this unique context.
The release of these songs will spark dialogue around multilingualism in the creative process and more broadly on the role of music in social integration, within academia and in wider cultural circles. A website/blog will also be created in order to share reflections and foster dialogue as the project progresses.
Read more about this project and watch a short video presentation here>>
Dancing through language learning. The use of dance in MFL/ESOL classroom 
Dobrochna Futro (University of Glasgow), Marta Nitecka Barche (University of Aberdeen), Zoë Leigh Gadd (Dance Ahead) and Bilingualism Matters (University of Edinburgh)
Following on from a one-day workshop in 2018, On the Border of Art and Language Teaching in the Multilingual World, this project will organise two workshop sessions with hands-on activities for children and adult language learners. Both sessions will be led by the professional dancer and choreographer Zoë Leigh Gadd. The workshops will give us an opportunity to investigate the views of language learners on the role and potential of dance and poetry performance in language learning.
In these workshops, we will approach the potential of 'kinetic reading' through dance from the perspective of foreign and second language learners. During the workshops, participants will be led through a variety of contemporary dance techniques, textual analyses of poetry in relation to choreographic approaches in both English and other languages spoken in Scotland (incl. indigenous and community languages) and initial responses to choreographic devices.
Read more about this project and watch a short video about Kinetic Reading here>>
Multilingualism and multi-identities in Wales: a creative approach to research and practice
Amlieithrwydd a hunaniaethau lluosog yng Nghymru: dulliau creadigol o edrych ar ymchwil ac arfer
Eira Jepson, Elin Arfon & Kaisa Pankakoski (Cardiff University)
A free one-day interdisciplinary event co-hosted by the School of Modern Languages and the School of Welsh at Cardiff University will bring together researchers and practitioners from within Wales and beyond to discuss the relationship between bilingualism and multilingualism.
This event aims to offer participants the opportunity to network and discuss bilingualism and multilingualism in Wales today. Its anticipated output is twofold: i) it will offer an opportunity for Welsh, English, MFL and Education university departments across Wales to further develop a community of practice and ii) it will offer the opportunity for practitioners and academics in Wales and beyond to discuss theory and practice. As a result, this event will achieve two main outcomes: i) promote interdisciplinary work on multilingualism between university departments and / or universities in Wales and further afield and ii) encourage greater partnership working between universities and schools, mobilising schools as Research Organisations that apply academic work to practice.
Chimini language book project
Sophie Liggins (University of Essex)
The project has as its focus the promotion of Chimini language development and maintenance within the Bravanese community in London. Chimini is spoken by people from the costal town of Barawa in Somalia who were heavily persecuted during the civil war and are therefore a language community which is dispersed around the world.
Internationally, a number of community groups have been collaborating to produce books which teach numbers, the alphabet and other basic literacy elements in minority languages. This project will facilitate a group of Bravanese heritage young people to design a series of Chimini language books for heritage language speakers. Weekly sessions will take place over 10 weeks which will include activities to promote Chimini language use and Bravanese culture, and adopt a workshop environment in which the books will be designed and produced by the participants.
Throughout the process, the sessions will be filmed by a member of the group and a short documentary of the process will be available on completion. The books will be made available in PDF format for download and hard copies will be printed and disseminated throughout schools, local libraries and community centres.
Translation, staging, and discussion of Oyub, a new Russian documentary play by Zarema Zaudinova
Alexander Thomas (University of Oxford)
Oyub is a new Russian documentary play comprised of verbatim materials from the case of Chechen human rights activist, Oyub Titiev. The harrowingly powerful new play from Zarema Zaudinova dramatically brings to light the story of Titiev from the First Chechen War to the present day, and dynamically gives the uninitiated an extraordinary insight into the calamitous history of modern Chechnya, a region troubled by war and conflict since the end of the Soviet Union nearly thirty years ago.
This project will translate and stage this urgent, unforgettable piece of radical documentary theatre that demonstrates the Russian documentary school at the height of its powers, as artistically complex as it is rich in content. Through translating this play, and presenting it to a non-specialist audience, this project will initiate an important discussion about the nature of cultural transmission, and the role that multilingualism plays in cross-cultural creativity.
Read a blog post about this project and listen to the production of Oyub here>>
Follow the funded projects
We will be posting updates about the projects on our blog and on our social media channels (Twitter, Facebook and YouTube) – follow us to stay up to date. You can also sign up for the Creative Multilingualism newsletter using the form below.