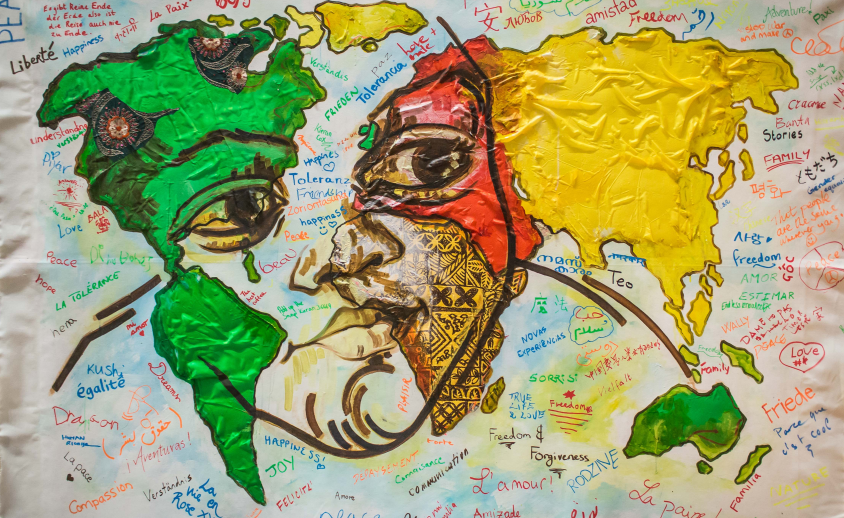 Funding call
THIS FUNDING CALL IS NOW CLOSED. PLEASE SIGN UP TO OUR NEWSLETTER (AT THE BOTTOM OF THE PAGE) TO HEAR ABOUT ANY UPCOMING FUNDING OPPORTUNITIES.
FIND OUT WHICH PROJECTS WERE AWARDED FUNDING HERE.
Creative Multilingualism is a multidisciplinary and multi-institutional research programme funded by the Arts and Humanities Research Council (AHRC) under its Open World Research Initiative (OWRI).
Seven interlocking research strands investigate the creative dimension of languages and linguistic diversity – extending from cognition, naming and intelligibility through performance, texts and translation to language learning. Full details of the programme, the consortium of universities, the range of partners, and the programme's aims and activities can be found on the Creative Multilingualism website. For further information about OWRI see the AHRC website.
The call invites applications for funding of projects from a flexible funding pot that forms part of the AHRC award. This is designed to support new and emerging research ideas, new networks, partnerships, workshops, etc. All applications must be led by a UK university which is not part of an OWRI consortium. 
We particularly welcome applications from Early Career Researchers (as defined in the AHRC funding guide, p.53) and from universities in the north and south-west of England, and in Scotland and Wales.
Projects should relate to one of the following four areas:
1) Interaction between linguistic diversity and cognitive creativity
Applications are invited for projects investigating connections between linguistic diversity and cognitive creativity. These might be in terms of subject, method, partnership or outcome. The project should complement the work of Creative Multilingualism.
2) Creativity at the interface between languages and STEM
Applications are invited for projects investigating connections between the creative dimension of linguistic diversity and science. These might be in terms of subject, method, partnership or outcome. The project should complement the work of Creative Multilingualism and may wish to connect with research strand 2: Creating a Meaningful World: Nature in Name, Metaphor and Myth.
3) Linguistic creativity in the performing arts
Applications are invited for projects that investigate the interaction between linguistic creativity and the performing arts and that connect productively with the work of Creative Multilingualism's research strand 4: Languages in the Creative Economy.
4) Multilingual Performance in Schools
Applications are invited for projects that contribute to Creative Multilingualism's engagement with schools, focused in particular on the performative dimension of language and linguistic diversity. The Multilingual Performance Project aims to facilitate performative opportunities for learners of foreign languages and speakers of home languages other than, or in addition to, English. It also seeks to build confidence among teachers for conducting creative work with drama and other forms of performance.
Further details
Applications will not be considered for less than £500. The maximum grant is £6,000 over the funding period. Applications for collaborative or individual research projects are equally welcome under this scheme. Priority may be given to applications where there is some matching funding available from the researchers' home institution, but this is not essential.
Funds are available to support the direct costs of research and/or to enable the advancement of research through workshops or conferences, etc. Applicants may seek support for any combination of eligible activity and cost up to an overall limit of £6,000.
Level of grant: Awards up to £6,000
Deadline for submission of applications: 10 April 2018
Results expected by: 22 May 2018
Earliest start date for project: 1 July 2018
Latest completion date for project: 31 December 2019
All applications should demonstrate that the funds are sought for a clearly defined, discrete project, which will have an identifiable outcome on completion. Projects are also expected to result in an output, which may be in any medium. Payment of the grant will be made in two tranches, the second, mid-term payment being subject to a review of satisfactory progress.
Applicants are required to nominate two referees and ensure that the supporting statements are submitted to creativeml@mod-langs.ox.ac.uk by the application deadline.
Please note that we will not be able to take account of references submitted after this date. Referees must be drawn from outside the lead applicant's employing institution and at least one referee should be drawn from outside the employing institution of any co-applicants.
The competition will be administered by the Creative Multilingualism Steering Committee. For the terms of the collaboration agreement, see Appendix A of the application form. We regret that we are unable to provide feedback on unsuccessful applications. For informal enquiries about this scheme, please contact creativeml@mod-langs.ox.ac.uk
 >>Download the application form.
Questions? 
Before contacting us, please read Frequently Asked Questions about the application process.