Poetry workshops: celebrating community languages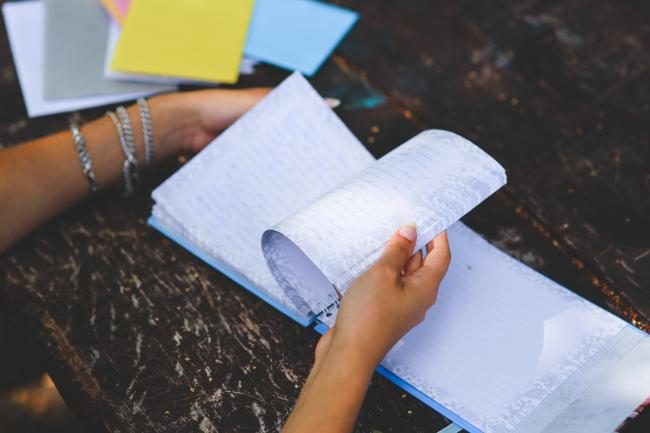 Wed, 21st Feb 2018
Matthew Reynolds is Professor of English and Comparative Criticism and leads the Prismatic Translation strand of the Creative Multilingualism research programme. Here he describes an Arabic creative writing workshop he organised in collaboration with the Oxford Spires Academy Poetry Hub, led by writer Kate Clanchy.
I am sitting in the corner of a classroom at Oxford Spires Academy. In front of me, kids are grouped around a table; at the head of it stands the distinguished Iraqi poet Adnan al-Sayegh. He is speaking, with great dignity and emphasis, in a language, Arabic, which I do not understand. Later, I learn that he has been explaining how poetry can be about absolutely anything.
After a while he ceases, and a small commotion makes its way around the table. The children are reaching for pens and paper; there are ripples of chat; they are writing. Later (again), I learn how moved many of them have been, first to hear Arabic spoken formally in a school environment, and then to be helped to use it, by itself or in combination with English or sometimes French, as a medium for writing poems.
This project is funded by the Arts and Humanities Research Council as part of a big investment in the value of languages called the Open World Research Initiative (OWRI). The branch of this that is based at the University of Oxford is called Creative Multilingualism, and the twig of that branch which connects to these workshops is called Prismatic Translation. The key ideas are: that languages are important; that they are important because they are creative; and that translation is part of that creativity. Moving back and forth between one language and another (even one you do not know well, or are just starting to learn) can help you come up with new forms of expression and new ideas.
Though I didn't understand exactly what was happening, this was what I saw around that table, as the young writers rummaged among languages in the search for the right words, sometimes asking for a nudge from the Oxford students Rawan Yaghi and Samuel Moss who had come to help out.
The poems produced have a startling punch. Here are stark poems of war and suffering; wrenching poems of homesickness and loss; beautiful poems about nature and everyday life; poems of protest, hope, and rage. Perhaps there is something therapeutic in the act of writing, for young people who have experienced so much violence and dislocation. But the poems also have value in themselves. They are small acts of creation to hold against a fracturing world.
Amineh About Kerech, a 13 year old pupil at Oxford Spires Academy, won last year's Betjeman Poetry Prize for her poem Lament for Syria, the seeds of which were sown in the Arabic Workshop detailed above.
Lament for Syria
Syrian doves croon above my head
their call cries in my eyes.
I'm trying to design a country
that will go with my poetry
and not get in the way when I'm thinking,
where soldiers don't walk over my face.
I'm trying to design a country
which will be worthy of me if I'm ever a poet
and make allowances if I burst into tears.
I'm trying to design a City
of Love, Peace, Concord and Virtue,
free of mess, war, wreckage and misery.
Read the full poem on the Betjeman Poetry Prize website.
Some of the poems created in these workshops will be feature in England, Poems from a School, an anthology of Oxford Spires Academy poems to be published by Picador in June.
Watch the below video to hear former Principal of Oxford Spires Academy, Sue Croft, explain how the school nurtures and celebrates community languages, and why it's so important to do so.
Where next?
Inspiring pupils: multilingual creative writing
Does the image of Germans in the UK press affect whether pupils want to study the language?
Celebrating linguistic diversity through multilingual poetry