Dancing through language learning: the use of dance in ESOL and MFL classroom
Mon, 15th Jun 2020
"We are all dancing as we are living [...]. There is a dance of blood and fluid circulating in our bodies and the expressivity of gesture is a daily activity" (Celeste Snowber).
Dance in its widest form is known to every human being. Even those of us who are not keen ballroom dancers have moments where they find themselves tapping to the rhythm, swirling, and jumping with joy or simply allowing their body to sway with the music.
Frequently used by early years educators, in later years dance is often relegated to the Physical Education classroom. However, the likeness of dance to language with its vocabulary (steps and figures), grammar – sequences of movements and ability to convey meaning, makes it also an attractive tool for language educators. Additionally, the process of language learning can be compared to dancing. Dance seen as a complex interaction between the dancer, the steps, and the environment can illustrate language learning as emergent from the interaction between the learner, the language, and the environment (de Bot & Larsen- Freeman, 2011). Dance, most often seen as a tool to express emotions or tell a story through movement (particularly as a dance theatre), is also praised for its ability to motivate, relax, and strengthen memory.
Dobrochna Futro and Marta Nitecka Barche met Zoë Leigh Gadd of Dance Ahead at Performing Languages Creative Multilingualism Conference, Birmingham.  Dancer, choreographer, and researcher Zoë Leigh Gadd had worked with her team on a multilingual performance when she realised that some members of her team learned Spanish through dancing the poems in both English and Spanish. Offering multiple stimuli - through movement, sound, and speech - appeared to provide the dancers with a greater palette of learning tools. The language retention became a by-product of the choreographic task. A seemingly simple, yet effective way to absorb and, perhaps more importantly, retain text.
Fascinated by Zoë's story and captivated by her team's performance (for details visit: Performing Languages Creative Multilingualism Conference, Birmingham) Marta Nitecka Barche and Dobrochna Futro, doctoral students researching the role of art and creativity in language learning, invited Zoë to Scotland.  With funding from Creative Multilingualism, and additional support from ERSC Festival of Social Science 2019, University of Aberdeen and Bilingualism Matters, they developed the project in which they explored the potential of Kinetic Reading – the dance form developed by Zoë Leigh Gadd. In November 2019, they ran a workshop with adult learners of English as a second language (ESOL) in Aberdeen and the second workshop with   primary school children learning a variety of foreign and heritage languages in Edinburgh.
During the workshops, participants were led by Zoë Leigh Gadd and Sophie Kohl through a variety of contemporary dance techniques, textual analyses of poetry in relation to choreographic approaches in both English and other languages spoken in Scotland (incl. indigenous and community languages).  These include Percussive, Syllabic and Kinetic task-based approaches to given text, as well as an opportunity for participants to share translations from their own vast array of multi-lingual vocabularies. The participants were invited to offer initial responses to choreographic devices. The aim of the workshops was to investigate the views of language learners on the role and potential of dance and poetry performance in language learning.
Kinetic Reading: the use of dance in the ESOL learning.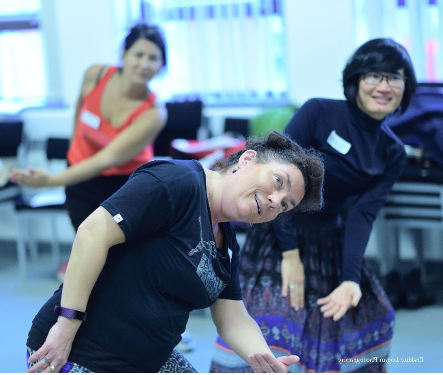 The Aberdeen workshop took place on the 9th of November 2019 at the University of Aberdeen. The workshop was organised as a part of the Aberdeen Festival of Social Science 2019.  It was a one day workshop attended by English as second language learners (ESOL) and English teachers. From the early stages of planning of this workshop, the idea was to develop an event designed for adult ESOL learners. For adult ESOL learners, English language learning means much more than an ability to communicate in a different language.  Often, the ability to communicate in English impacts their confidence, self-esteem, as well as personal and professional development. This means that their language learning needs can be complex. Kinetic Reading workshop gave us the opportunity to explore the potential teaching method that may meet the complex needs of adult ESOL learners.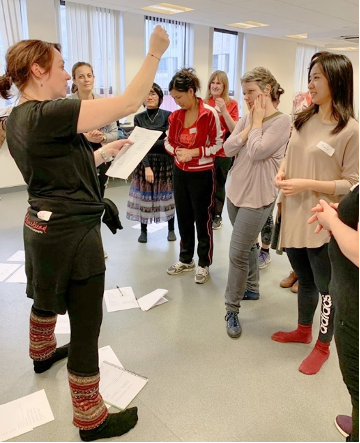 The workshop received positive feedback from the participants as well as gave us some potential direction for further development of kinetic reading in the context of second language learning. According to the participants, the workshop was 'different and creative'. They discovered that it 'is possible to learn in different ways' and that the workshop challenged them but in a positive way: 'I felt challenged and out of my comfort zone, but fun'.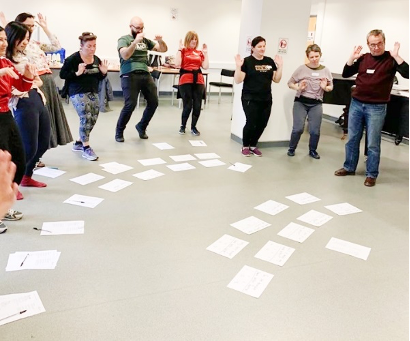 Some participants were shy at the beginning of the workshop, but they flourished by the end of the day. The feedback seems to confirm that this creative space can make a difference in the way people feel and work within a group: 'I feel more open-minded and less blocked'. However, the most beautiful thing that happened during the workshop was that the group of strangers from the beginning of the workshop transformed into a group of friends by the end of the event.
Kinetic Reading: The use of dance in foreign language learning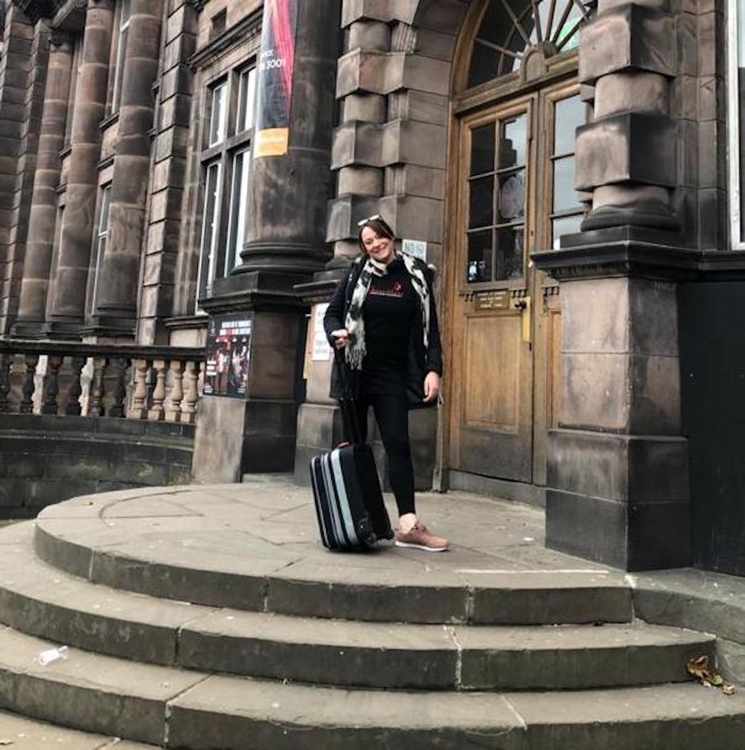 Our Youth Kinetic Reading workshop was organised as part of the Bilingualism Matter's Edinburgh Multilingual Story Festival on the 10th of November 2019 at the Summerhall in Edinburgh. We invited children aged 9 – 11 and their families to come, explore rhythm through dancing poems and discover the potential of dance for foreign language learning.
The workshop started with the phonic exercises with a lot of clapping, stretching and jumping, from these, the participants moved to creative kinetic explorations of their names which, in turn, led to the highly inventive 'Body Conversations' explored by children and their parents with great enthusiasm, including over lunch and during the coffee break. The main part of the workshop involved learning the Alphabet of Movements and exploring poems through dance forms. The final performance in which participants danced a selected poem ("The Crayon That Could Talk", by Shane Derolf) was mesmerising. It was fascinating to watch how the words look when they move and speak through the bodies, even when the bodies were following the wrong hand and the chin, or a leg did not listen at all.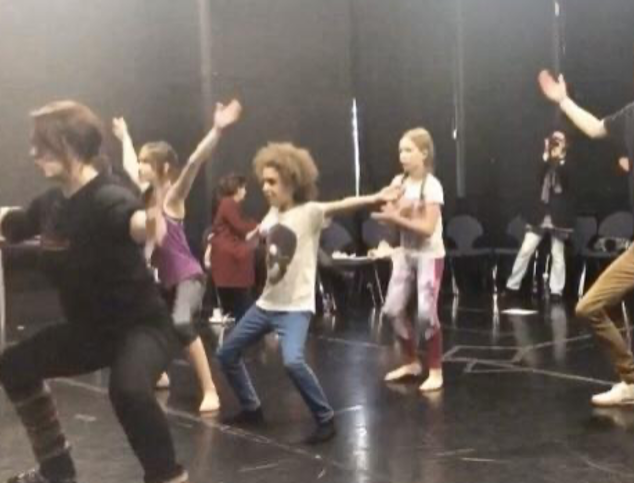 The motivation was high: "It was fun", "I felt happy, active, energetic" wrote the participants. It was a good workout too – mentally and physically stretching- "[I felt] excited at the start and fairly tired near the end" admitted another. One participant in particular captured it in his feedback as feeling "both relaxed and focused".
All respondents agreed that participation in the workshop affected their language skills: 'because of the ''sign language,'' "I learned some new words," "Learning this way is more entertaining (…) also more stimulating. It turns on parts of your brain that are not always fully active." Some children though, doubted whether this kind of learning could be conducted in school: "It would be weird and naughty', 'because it [language learning] does not include actions." What is more, the memory of the movements and the words connected to them lasted long after the event – parents fed back that children used what they learned during the workshop during school classes – but did it subversively - to communicate in a secret language and a child, who, during the workshop, "did not feel like dancing" a few weeks later spontaneously enacted the sequence of gestures and words practised during the workshop.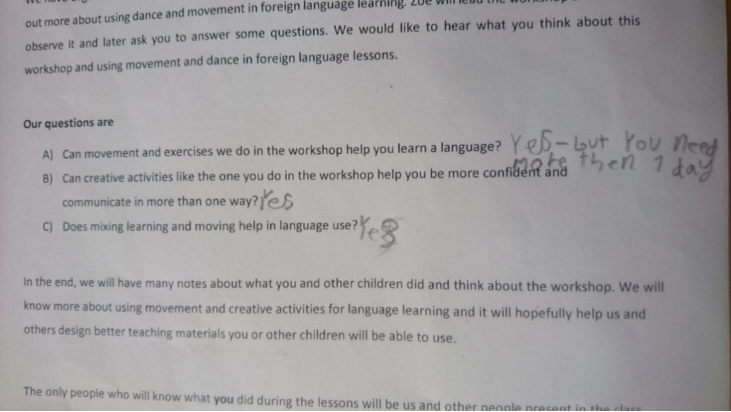 Those experiences should not be lost but implemented in further research and development of kinetic reading. Building on the feedback and comments from our adult and children participants, it is now important to explore ways in which this technique can be implemented in a classroom. This could also lead to development of a practice-based guide and resources for teachers who are interested in implementing kinetic reading in their classrooms.
A word from Zoë Leigh Gadd – founder of Kinetic Reading Technique 
"To the five traditional senses – touch, sight, hearing, taste, smell – we must add the sense of movement, or kinesthesia. Its characteristic feature is that it makes use of many receptors, but remarkably it has been forgotten in the count of the senses. 

By what twist did language suppress the sense most important to survival?"

(Bertholz cited in Moore & Yamamoto, 2011)
The development of the Kinetic Reading technique is a slow and steady labour of love and curiosity, stemming from over a decade of experience working in education in both employed and self-employed contexts. The opportunity to deliver these specific workshops – tailored for ESOL learners and bilingual speakers provided vital insight into participants' responses to some of the key approaches within the KR Technique.
To date the technique has been received positively by participants within higher education dance-based contexts, community dance classes, adult ESOL learners and primary aged children with their parents co-learning alongside them. The versatility and transferability in the design of the technique makes it suitable across a broad range of demographics. The potential benefits of the technique are numerous, ranging from social interaction and team building skills development to heightened proprioception, attention to detail and precision of communication, through both body language and the spoken word.
In the development of an early work with degree dance students exploring Nicanor Parra's poem 'Acacias', it became evident that, in order to retain the memory of their movement, the link between specific words and movements became intrinsic to memory recall. Keen to explore the reasons behind this I became curious about the neurological connections within movement and auditory/verbal responses.
In order for the technique to develop further interdisciplinary collaboration with potential sponsors, participants and researchers from a variety of fields of knowledge are needed. In order to unpick the methods and gain a deeper comprehension of the neurological responses within the brain when exploring the technique, interdisciplinary minds must come together to share insight and discuss the potential for the technique.
At a time of change with the rise of digital technology, video-based learning and physical global boundaries being challenged, Kinetic Reading could inject a refreshing tool into a new mode of learning – complementing existing tools and methods with a largely kinaesthetic approach to cognitive development, that appeals to all types of learners.
Watch a short audio-visual presentation about this research project
Resources
More details about work conducted by Marta and Dobrochna are available here>>
The Kinetic Reading website>>
About the Project Investigators
Zoë Leigh Gadd is a Dance Practitioner, Choreographer, Researcher & Pilates Instructor working predominantly in contemporary dance and musical theatre. Previously, when based in Cumbria, Zoë founded her own business Dance Ahead - Collaborative Choreography in 2008, producing dance theatre projects in non-conventional spaces. Zoë's choreographic work often explores human condition and is driven by imagery, aesthetic and sensory engagement for the audience. Additional interests lie in audience immersion, cross-generational community projects and interdisciplinary practice; including musical theatre. Current research includes devising a new technique merging language and movement - Kinetic Reading – delivering workshops across the UK.
Zoë has an extensive background in education, performance and choreographic practice. Teaching contexts include contemporary dance techniques, dance theatre, musical theatre, site-specific theatre, immersive theatre, study skills for dancers and learning and teaching in dance. Teaching experience includes posts in London Studio Centre, Wilkes Performance Academy (Swindon), University of Cumbria; Royal Conservatoire of Scotland (Glasgow), Newcastle College and an array of freelance workshops in theatre and community settings.
Zoë thrives on learning through practice. She is currently studying for a Specialist Diploma in Pilates and holds a Postgraduate Certificate in Academic Practice, BA(Hons) in Performing Arts and FdA in Dance.
Marta NItecka Barche is a doctoral researcher at the University of Aberdeen. In her doctoral research, she explores creativity-based second language acquisition for adults. She approaches language learning as a complex, dynamic, and creative process.
Before starting her PhD, Marta completed the MSc TESOL programme at the University of Aberdeen. Her dissertation explored the flipped classroom as a teaching technique in the context of adult ESOL learners. Marta holds also an MA in English and Literature in a World Context (University of Aberdeen). In her dissertation, she focused on the concept of artivism (art as a form of activism) in contemporary performance arts.
Dobrochna Futro is a doctoral researcher at the School of Modern Languages and Cultures, University of Glasgow and a recipient of the SHSAH AHRC DTP scholarship. She explores in her research the possibility to use insights gained from researching how contemporary art engages with multilingualism to design new approaches to language learning in a multilingual context.
Dobrochna is also involved in organising several events exploring the relationship of art practice and language learning, is a member of AILA ReN Creative Inquiry in Applied Linguistics and CLE Intersemiotic Translations SIG. She was recently employed as a Research Assistant in the Creative Language Practices: Exploring Translanguaging in Pedagogical Contexts and Beyond project led by Dr Lavinia Hirsu, School of Education, University of Glasgow.
Before she started her PhD, she completed an MA in Polish Philology at Adam Mickiewicz University, Poland and an MA in History of Art at UCL, UK. She has a professional background in the visual art sector.
Learn more about Creative Multilingualism's funded doctoral projects here>>