The Creative Power of Metaphor: conference highlights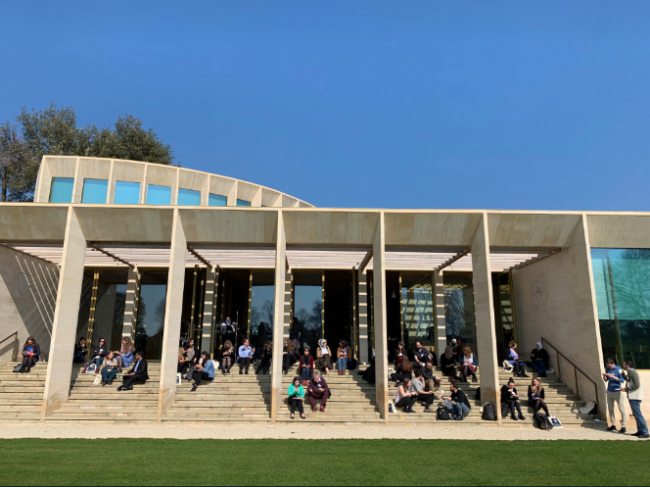 Tue, 16th Apr 2019
29 March 2019 was destined to sear itself on the collective memory as Brexit Day, being the official date when the UK was due to leave the EU. Instead, 29–30 March will be remembered – at least by the Creative Multilingualism team – as the springtime weekend when 120 conference delegates converged on Oxford from five continents to engage in some blue sky thinking and luxuriate in a veritable sea of metaphors.
The international conference on The Creative Power of Metaphor marked the collaborative highlight of research that is being conducted by Strand 1 of Creative Multilingualism, a four-year research programme that is funded by the Arts and Humanities Research Council as part of the Open World Research Initiative. The aim of the conference was to bring together researchers from cognitive linguistics and related fields to illuminate the vital contribution of metaphor to the interplay between creativity and linguistic diversity.
Twenty-nine countries were represented at the magnificent Sultan Nazrin Shah Centre at Worcester College, ranging from Ghana to Thailand, from Sweden to South Africa, and from Canada to Israel. The conference had an innovative format: instead of combining plenary lectures with separate parallel  sessions, the whole event took place in one large auditorium, facilitating a coherent conversation structured around four themes: Metaphor and Linguistic Diversity; Metaphor and Emotion; Metaphor and Communication; and Metaphor and Creativity.
Each theme was introduced by an invited keynote speaker, and developed in a roundtable discussion by a panel of speakers who had responded to an open call. After  introducing themselves, the panellists briefly presented the contribution of their research to the central topic and then engaged in a lively discussion focused on a number of questions displayed on screens. Both the keynote lectures and the panel discussions were followed by Q & A sessions that involved the whole audience  in identifying exciting avenues of research within each theme.
Poster sessions following each thematic debate gave doctoral students and early career researchers an opportunity to present their research on the same theme, meet each other and engage with established researchers in the field. The poster presenters were also given the opportunity to have themselves filmed giving an elevator pitch of their research project.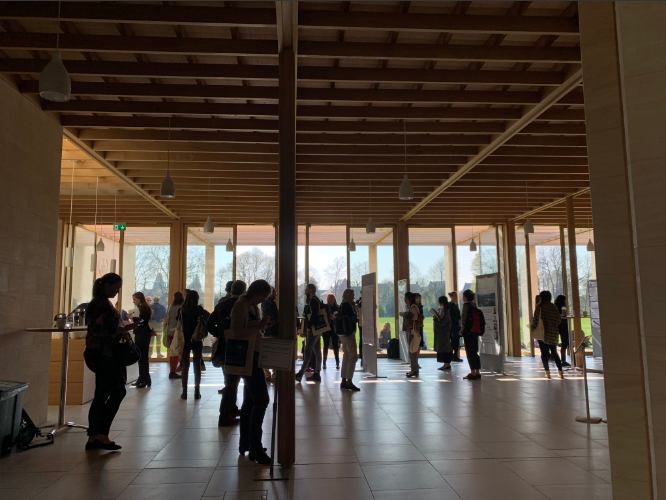 The Metaphor and Linguistic Diversity theme was introduced by Lera Boroditsky (US) with a thought-provoking lecture on how the language we speak and its metaphors affect the way we perceive the world – including conceptualisations of time, categorisations of colours, and other perceptual properties of objects.
The Linguistic Creativity panel comprised Simon Devylder (Sweden), who highlighted different motivations for metaphors, distinguishing between cultural, embodied and linguistic motivations; Kristina Despot (Croatia), who focused on the challenges and opportunities involved in the construction of multi-language electronic repositories of metaphors; Louise McNally (Spain), who highlighted the risks involved in mistranslations; and Avelino Corral (Spain), who contributed examples of metaphors in native American languages, showing how fundamentally these differ from Western metaphors.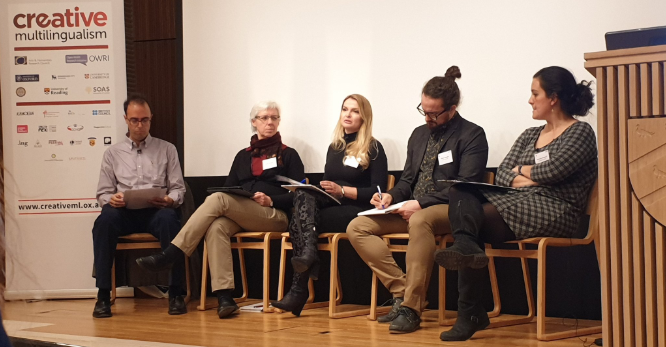 The theme Metaphor and Emotion was introduced by Zoltán Kövecses (Hungary) with a presentation on how extended conceptual metaphor theory can be used to account for metaphorical creativity in the emotion domain.
The panel comprised Francesca Citron (UK), who presented her neuroscientific research on the activation of emotions during the comprehension of metaphorical vs literal statements; Gladys Ansah (Ghana), who contributed examples of metaphors expressing emotions in Akan and English, and the use of such metaphorical expressions in monolinguals and bilinguals in Ghana; Guido Furci (UK), who explained that refugees are specifically warned by the authorities against the use of metaphors to tell their personal stories, because metaphors are seen as an unfair means of gaining emotional empathy; and Anna Piata (Switzerland), who discussed how emotions are involved in metaphors expressed in language and images respectively.
The Metaphor and Communication panel was introduced by Andrew Goatly (UK/Hong Kong), who presented a rich overview of how metaphors are used in different contexts and across different communicative genres for purposes such as persuasion, for creating intimacy with a person or a small community, and for establishing a standpoint to convey a specific perspective on a message.
The panel consisted of Hamad Al-Azary (Canada), whose research shows that concepts which are semantically less rich are better suited to being used as vehicles in metaphors from a communicative perspective; Herb Colston (Canada), who disentangled humour and metaphor in communication, showing that the two phenomena do not always go hand in hand; Zhuo Jing-Schmid (US), who explained how foreign-language learners differ from native speakers in the way they make sense of metaphorical statements; and Evie Malaia (Germany), who gave an insight into her research on how creative metaphors are constructed and represented in the brain.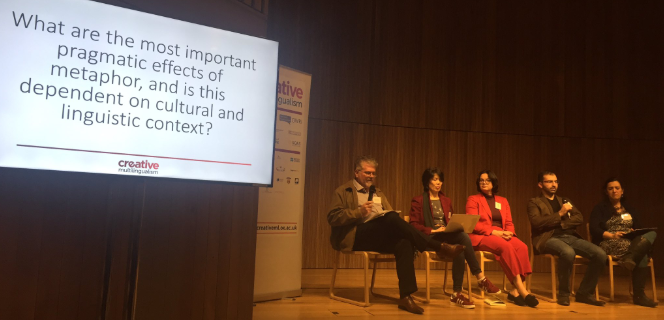 Finally, the theme of Metaphor and Creativity was introduced by Rachel Giora (Israel), who presented a rich overview of behavioural studies supporting the Defaultness Hypothesis and its predictions concerning novel negative figurative constructions in Hebrew, German, Russian and English. 
The panel comprised Giovanni Corazza (Italy), who provided a clear definition of creativity and how creative thinking can be enabled and developed through metaphors; Elisabeth El Refaie (UK), who elaborated on creativity in pictorial metaphors; Paula Pérez Sobrino (Spain), who explained how AI is now capable of generating creative metaphors; and Jeannette Littlemore (UK), who elaborated on the intentionality behind the development of creative metaphors.

Video-maker Ben Johnston filmed interviews with the delegates on their contributions to the proceedings and captured the invigorating spirit of the conference. Together with lecture and panel recordings and the research presentations by the poster participants, the short films focusing on the conference themes will be released on the Creative Multilingualism website as the main output of our conference. Stay tuned!
Marianna Bolognesi is a Post-doctoral Researcher working on Creative Multilingualism's first strand: The Creative Power of Metaphor. The conference was organised by Marianna Bolognesi, Ana Werkmann-Horvat and Katrin Kohl.
Conference feedback
The below charts record the feedback given by attendees at the Creative Power of Metaphor Conference: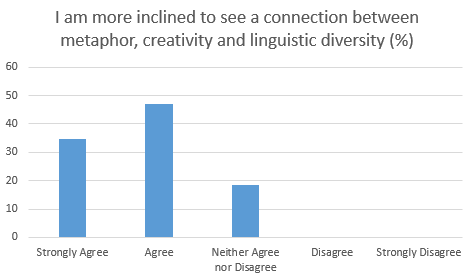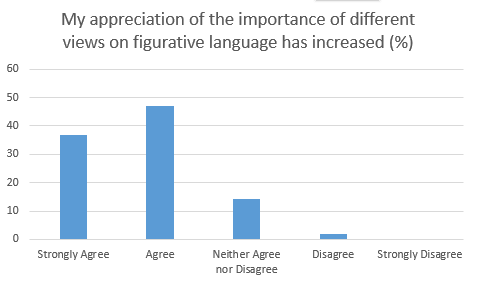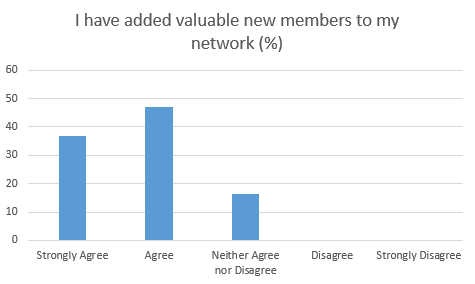 Where next?
Find out more about strand 1's research into The Creative Power of Metaphor
Performing Languages: on multilingualism and language hierarchies