The body, making and (s)languaging
Workshop for performers and practitioners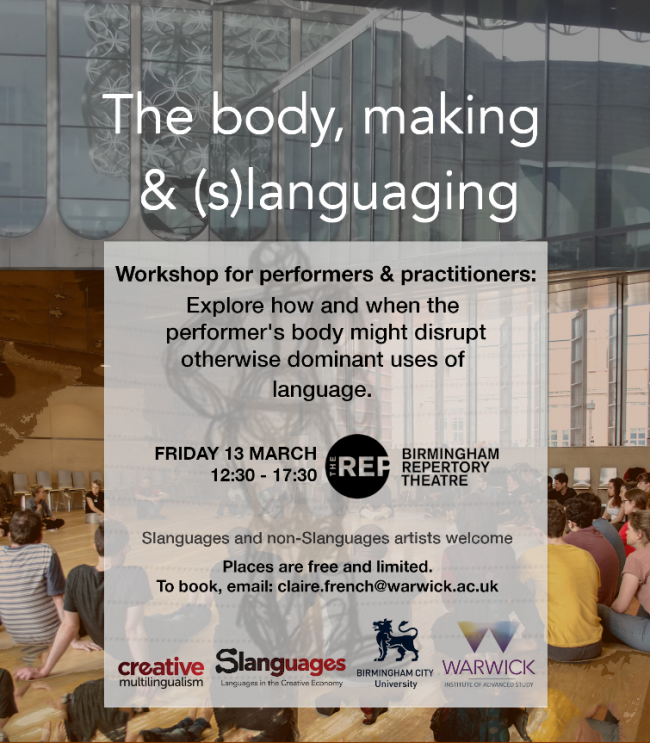 Location
Birmingham Repertory Theatre
The body, making and (s)languaging: A workshop for performers and practitioners | Friday 13th March 2020 @ Birmingham Rep
As part of the Slanguages strand of the AHRC/University of Oxford research project Creative Multilingualism, this workshop will explore how and when the performer's body might disrupt otherwise dominant uses of language. This half-day workshop is the first opportunity for Dr Claire French to share her Warwick PhD's key findings from South Africa, Australia and the UK with artists who have an interest in the role of the body in disrupting or decolonising languages.
Read her blog post here for more information on the plan for the day with collaborators Professor Rajinder Dudrah and Micia de Wet.
This workshop is now full and operating a wait list. Please get in touch with Claire (Claire.french@warwick.ac.uk) if you would like to join this wait list.
Please include your name, a couple of sentences on work that you have been involved in and why this workshop interests you
This workshop is supported by Slanguages, Creative Multilingualism, Birmingham City University and the Institute of Advanced Studies at the University of Warwick.