Slanguages is exploring the creative way artists employ and take inspiration from languages such as Arabic, Hindi, Patois, Pidgin, Polish, Punjabi, Russian, Urdu, urban sign languages, and Yoruba. The project is wide-ranging and includes exhibitions, performances, and collaborations with artists, creative professionals and partners such as Punch Records, Birmingham Museum and Art Gallery, the Birmingham Repertory Theatre, and Sputnik Theatre Company, London.
In the words of Simon Redgrave, Head of Creative Development at Punch Records, "Slanguages is about different languages climbing into each other's cars and driving away. It's about the collision of languages."
Find out more about the different Slanguages projects below. Sign up to the Creative Multilingualism newsletter, or follow us on Twitter (#Slanguages) or Facebook, to hear more about our upcoming exhibitions, performances and other Slanguages activities.
Upcoming Slanguages projects:
Sounds Like Harlesden
This project aims to use photography, interviews and sound recordings to capture and curate Harlesden's diverse linguistic cultures and neighbourhood characteristics. It's organised in collaboration with Pesolife.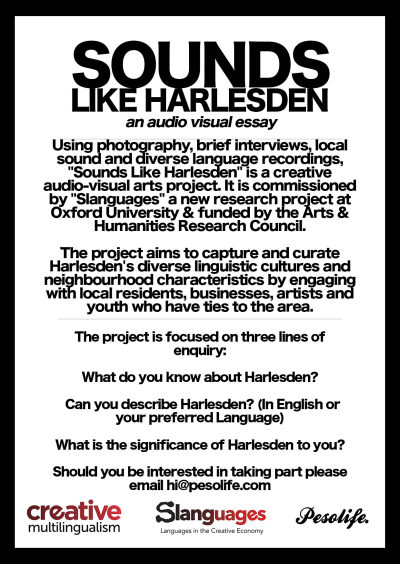 Our temporary nest of birds: exploring Panjabi wedding folk songs
This project aims to explore the female narrative of Panjabi wedding folk songs across both sides of Panjab in India, Pakistan and the diaspora with a focus on Birmingham and the Black Country over the past years. Workshops will take place at various dates in November, led by the poet Rupinder Kaur.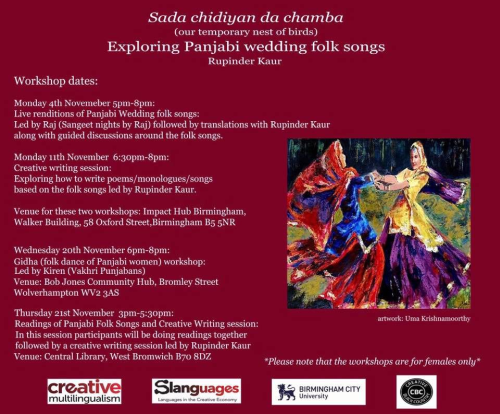 Past Slanguages projects
OXYGEN: A RUSSIAN PLAY TRANSLATED INTO HIP HOP THEATRE
As part of Slanguages, Dr Noah Birksted-Breen and Professor Rajinder Dudrah have been working with artists Lady Sanity and Stanza Divan to produce a hip-hop theatre version of Russian play Oxygen, written by Ivan Viripaev and translated by Sasha Dugdale.
In October 2018 we held a research and development performance at Birmingham City University for invited guests, followed by a Q&A with the artists and creatives. See the overview film below to learn more.
Full performance and Q&A
Learn more: 
Translating a Russian play into Hip Hop Theatre: a conversation
Collaboration and ownership in cross-cultural creativity

SLANGUAGES AND COMMUNITY PROJECTS
Slanguages has supported many community projects across the Midlands and beyond, which involve the languages spoken in different communities and which aim to highlight the links between languages and creativity.
Tongue-Tied
These workshops were designed to create a safe space for women to be able to explore their stories, languages and culture in a way that connects rather than separates them. Languages were celebrated; the day was part playfulness, storytelling and improvisation. The ethos of the day was to have fun!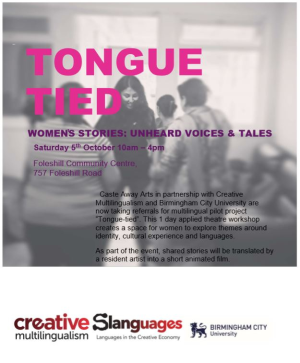 #LitMustFall
On 28 September, Slanguages took part in the #LitMustFall festival with a workshop on Decolonising Mother Tongues: Reading Punjabi Literature. The session, facilitated by Kavita Bhanot, with Jay Faqir, Rupinder Kaur and Sara Kazmi, was a practical workshop which includes performance, collaborative critical translation and guided discussion around the popular Punjabi poetry of Shiv Kumar Batalvi and Amrita Pritam. 
Read a blog post about the event by Kavita Bhanot to find out more >>
A Million Welcomes
A Million Welcomes is an initiative by Redhawk Logistica in collaboration with Slanguages. Find out more and see the accompanying exhibition at Cafe Artum, Birmingham from 28 September to 28 October 2019.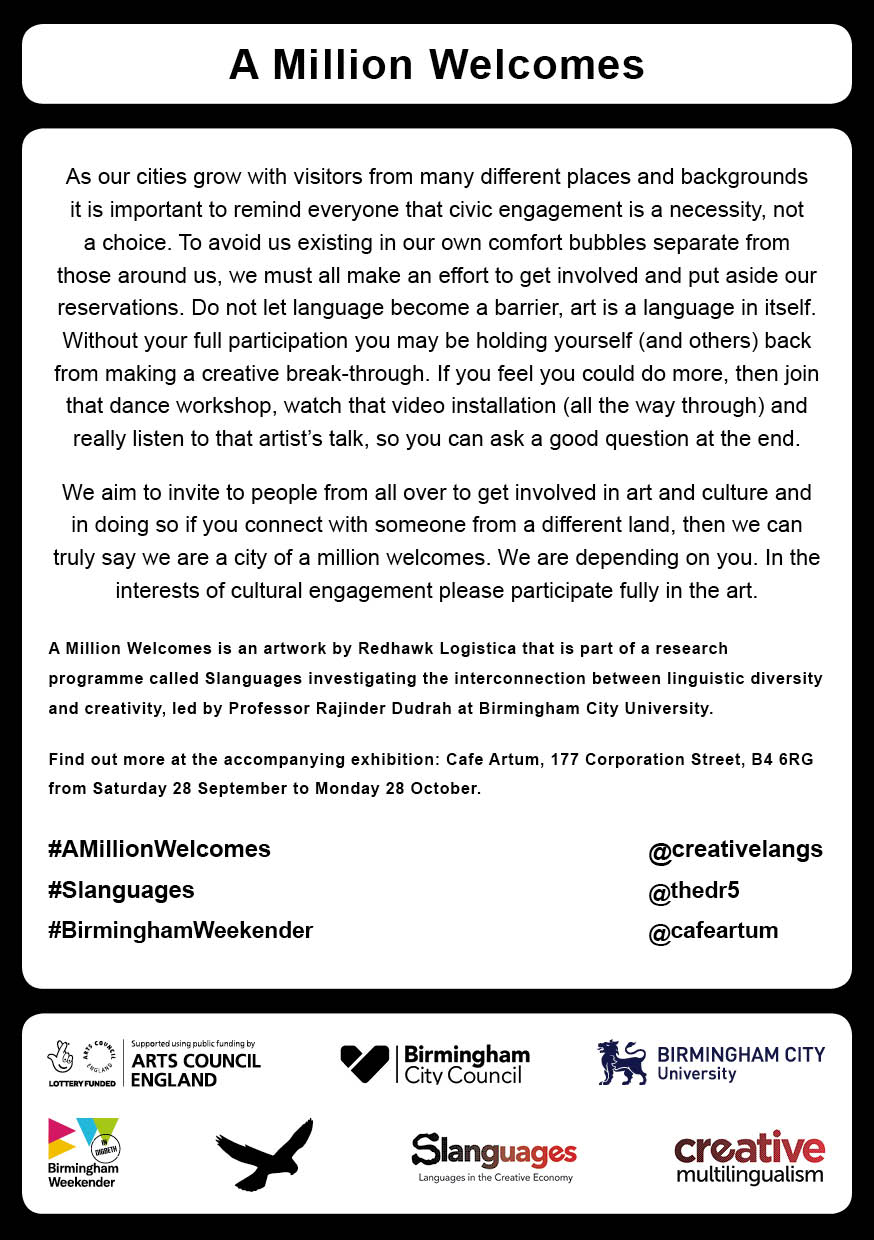 SLANGUAGES EXHIBITIONS
The first Slanguages exhibition took place in Oxford in 2017 and will be touring the UK in 2018. The exhibition, curated by our Languages in the Creative Economy Strand in collaboration with Punch Records, features the work, archives and ephemera related to the work of three Birmingham-based artists who use different languages in their musical and artistic work. 
You can visit the exhibition until 21 December 2018 at the Parkside Gallery, Birmingham City University.
Birmingham launch:
Oxford launch:
Learn more:
Find out how a group of young people from different art disciplines reacted to the Slanguages exhibition ‒ Beats and Barriers music academy's audio response to the exhibition
Guardian letters: Grime talent appreciated at Oxford University
Slanguages: how artists are getting creative with languages
Greater Birmingham Chambers of Commerce: 'Slanguages' exhibition explores power of expression
Culture Calling: 'Slanguages' Exhibition at The Buttery
Watch the full exhibition launch in Oxford 2017, with performances and discussion from Rinkoo Barpaga, Lekan Babalola, Tanny Tizzle and RTKAL.

YORUBA SONNETS
The Yoruba Sonnets pair spoken word poetry and mime from Dr Olu Taiwo with live music from Lekan Babalola's Sacred Funk Quartet. The result is a unique performance of ancient Nigerian verse incorporating Afro-beat music and the contemporary sound of Western Funk. Yoruba Sonnets was performed at Wolfson College, Oxford as part of the Slanguages project in February 2019. See an overview film of the event below, including interviews with the performers.
Learn more:
Watch the full performance of Yoruba Sonnets: part 1 & part 2
Watch the post-performance Q&A
What are the Yoruba Sonnets? Interview with Lekan Babalola
Review of the performance: Yoruba Sonnets: creative multilingualism in action
Yoruba Sonnets: audience feedback

MULTILINGUAL POETRY
The Slanguages project worked with Amerah Saleh and Bohdan Piasecki, poets from Free Radical based in Birmingham, on a multilingual poem entitled My Mother is Crying. The collaboration aimed to explore identities, the telling of human stories, and how art and multi-languages together can create shared moments of understanding and feeling between the performing poet and his or her audience.
Watch the poem performed at our Creative Multilingual Identities Conference in 2018 or learn more about the project (and read the full poem) on our blog.
Learn more:
My Mother is Crying: a multilingual poem

PERFORMING LANGUAGES
The Performing Languages Conference in February 2019 saw academics, artists, performers and cultural practitioners come together to watch, discuss and debate what it means to perform languages. In the words of one conference participant, "What I liked most about the conference is that it didn't simply advocate for creative multilingualism; it made it happen, there and then."
Learn more:
Performing Languages: on multilingualism and language hierarchies
What does it mean to perform language?

LANGUAGES IN THE CREATIVE ECONOMY SYMPOSIUM
(30 November 2018, Birmingham Repertory Theatre)
This symposium brought together a diverse group of theatre-makers, performers and academics to think about the relationship between creativity and multilingualism in the context of the performing arts.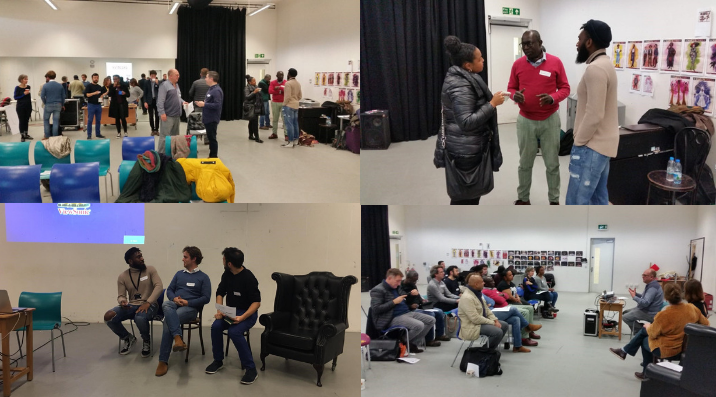 Learn more:
Patois and grime: language and identity
Thoughts on the day by Professor Philip Ross Bullock: On Equality, Inequality and Unequality…
One attendee shares his views on Ashlee Roberts' performance of Between Two Rocks: Chicken Merry Hawk Deh Near!
Find out what the participants thought of the day

USEFUL RESOURCES
A guide to directing foreign-language plays [download a PDF here]

Slanguages on Twitter:
Follow the progress of Slanguages on Twitter with:
Some highlights: