We're delighted to announce that Creative Multilingualism: A Manifesto is now available from Open Book Publishers as a printed book, e-book, or in freely downloadable form.

This book is the culmination of the 4-year research Creative Multilingualism programme led by the University of Oxford and funded by the Arts and Humanities Research Council (AHRC-UKRI) as part of its Open World Research Initiative.
Creative Multilingualism: A Manifesto was published on 20 May 2020 and is available to read on the Open Book Publisher website. The work is licensed under a Creative Commons Attribution 4.0 International licence (CC BY 4.0). This allows you to share, copy, distribute and transmit the work; to adapt the work and to make commercial use of the work providing attribution is made to the authors (but not in any way that suggests that they endorse you or your use of the work).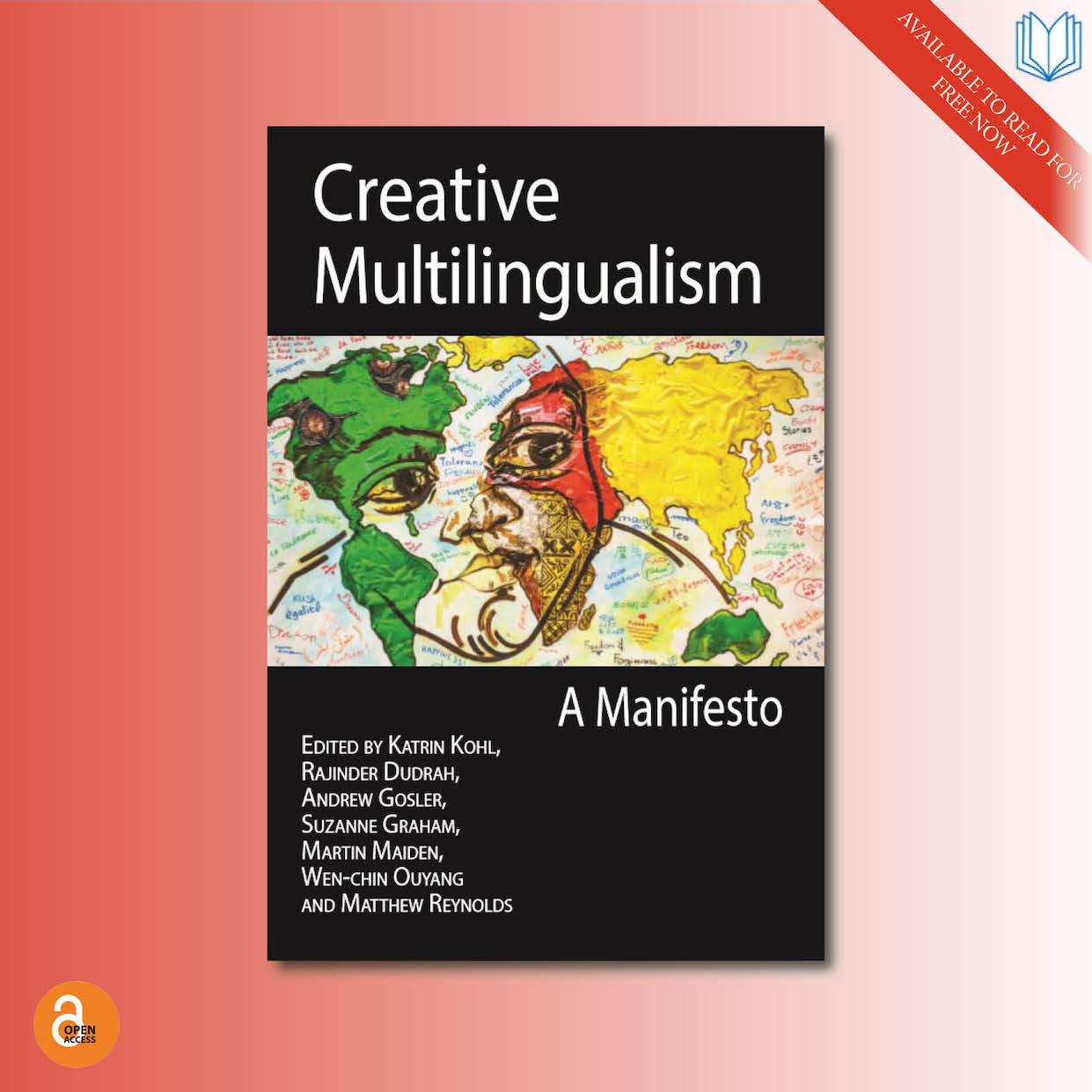 Book summary
Multilingualism is integral to the human condition. Hinging on the concept of Creative Multilingualism – the idea that language diversity and creativity are mutually enriching –  this timely and thought-provoking volume shows how the concept provides a matrix for experimentation with ideas, approaches and methods.
The book presents four years of collaborative research on multilingualism across disciplines, from the humanities through to the social and natural sciences. Structured around ten manifesto statements, it consists of ten chapters that each make a distinctive contribution to the field of modern languages.
They encompass areas including the rich relationship between language diversity and diversity of identity, thought and expression; the interaction between language diversity and biodiversity; language diversity in the performative arts and world literatures; the 'prismatic' unfolding of meaning in translation; and the benefits of linguistic creativity in a classroom-setting. 
Intended to spark further research, discussion and translation into other languages, this book appeals to young people interested in languages, language learning and cultural exchange. It will be a valuable resource for academics, educators, policymakers and parents of bilingual or multilingual children. Its accessible style also speaks to general readers interested in the role of language diversity in our everyday lives, and the untapped creative potential of multilingualism.
CONTENTS
Introducing Creative Multilingualism 
Katrin Kohl and Wen-chin Ouyang 
1. The Creative Power of Metaphor 
Katrin Kohl, Marianna Bolognesi and Ana Werkmann Horvat
2. Creating a Meaningful World: Nature in Name, Metaphor and Myth 
Karen Park, Felice S. Wyndham, Andrew Gosler and John Fanshawe
3. Not as 'Foreign' as You Think: Creating Bridges of Understanding across Languages 
Martin Maiden, Chiara Cappellaro and Aditi Lahiri 
4. A Breath of Fresh Air… Ivan Vyrypaev's Oxygen (2002): From Moscow to Birmingham via Oxford 
Rajinder Dudrah, Julie Curtis, Philip Ross Bullock and Noah Birksted-Breen
5. Multilingualism and Creativity in World Literature 
Wen-chin Ouyang 
6. Prismatic Translation 
Matthew Reynolds, Sowon S. Park and Kate Clanchy
7. Getting Creative in the Languages Classroom 
Suzanne Graham, Linda Fisher, Julia Hofweber and Heike Krüsemann 
8. Inspiring Language Learners 
Jane Hiddleston, Laura Lonsdale, Chiara Cappellaro and Daniel Tyler-McTighe
9. Languages at Work 
Katrin Kohl and Jonathan Black
10. Creating Languages 
Katrin Kohl
Why Learn a Language?
A Film Introduction to Creative Multilingualism: A Manifesto