We are Children of the World film shortlisted for award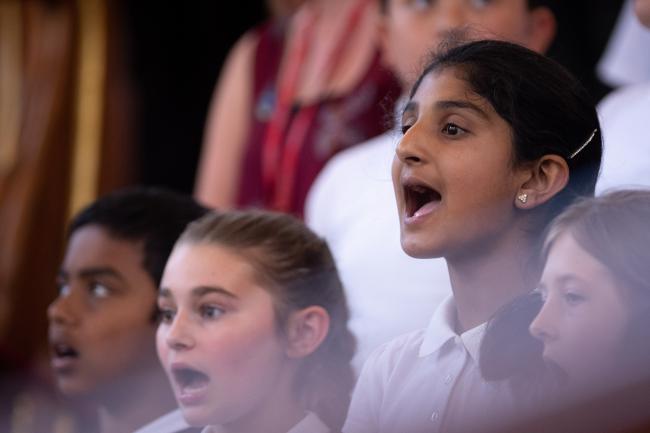 Thu, 19th Sep 2019
In 2018, Creative Multilingualism, in partnership with the Oxford Festival of the Arts, held a concert with 500 school children in the University of Oxford's magnificent Sheldonian Theatre.
The concert was the first ever performance of Lin Marsh's multilingual composition We Are Children of the World, which featured songs in 7 different languages from Arabic to Swahili. The song was commissioned by Creative Multilingualism to help celebrate the many languages spoken in the UK's schools and communities.
A film of the project, created by filmmaker Ben Johnston, has been shortlisted for the AHRC's Research in Film Awards for the Social Media Shorts category. The film was produced to give an overview of the project and the research which inspired its creation, while also aiming to capture the energy, excitement and joy experienced on the day of the concert.
The short film, designed to fit in a tweet, can be seen here:
And a longer version, with more interviews and footage from the concert, is available here:
The winners of the Research in Film Awards will be announced in November at a ceremony at the British Film Institute, Southbank. Please keep your fingers crossed for us! 
You can see the other shortlisted films on the AHRC website.
If you're interested in celebrating the languages spoken at your school or community, all the teaching resources needed to perform We Are Children of the World (including teaching guides, lyrics, score, backing track etc.) are all available for free in our Resources section. 
Where next?
Multilingual drama teaching activities
Translanguaging has made it to Scottish primary education and it is alive and 'coleando'!