Translanguaging has made it to Scottish primary education and it is alive and 'coleando'!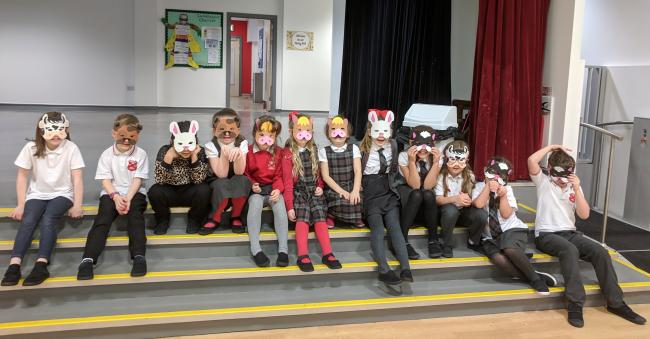 Wed, 11th Sep 2019
All the World is Our Stage: primary pupils never lost in translanguaging, a multilingual performance showcasing heritage and school languages, has brought pupils and teachers from Whinhill Primary School together with actress-singer, Rebecca Cameron, and creative language learning social enterprise, The Language Hub.
Warm and welcome feelings and emotions engulfed me the first time I set foot in Whinhill. Bilingual signs in English and Gaelic adorn the school, leaving no wall silent, and as you venture inside, the building also speaks through imagery and words in French. What a pleasure to the eye, and a delicacy for the soul!
The school currently offers Gaelic and French under the 1+2 language approach to language learning, and hosts a Gaelic Medium Education (GME) unit allowing pupils to learn through the medium of Scottish Gaelic.
Why translanguaging?
The multilingual realities of our pupils is not always acknowledged, or even recognised, in the school context. English as the societal and school language can stifle pupils' heritage languages. This project sought to combat that by raising awareness about multilingualism and celebrating linguistic diversity through the performing arts. To that end, translanguaging – understood as the "ability of multilingual speakers to shuttle between languages, treating the diverse languages that form their repertoire as an integrated system" (Canagarajah 2011:401) – fits like a glove!
In preparation for the performance, I introduced translanguaging to school staff, and shared the suite of suggested classroom activities designed to support its implementation, packed with ideas to reveal pupils' often concealed linguistic resources. It was incredibly exciting for me to lay down the gauntlet of translanguaging as a pedagogy with enormous potential to complement current approaches to language learning. A revolutionary and inclusive pedagogy where hidden voices take centre stage. 
Through interacting with two non-gendered, multilingual outer space characters, the activities proposed invited reflection on the themes of 'Language and Identity'. (Materials with teacher's guide are available at https://doi.org/10.6084/m9.figshare.c.4520597)
The result was fantastic. The creation of safe spaces translated to empowered pupils able to use their full linguistic repertoire. These translanguaging spaces also uncovered secrets as some pupils revealed for the first time that they were part of a multilingual household, giving us a glimpse into their multicultural identities and heritage. They felt proud while the rest adored hearing about international food, music and cultures.
The outer space characters rapidly became very popular and as we found out later, sparked a huge interest in joining the project:
We did the PowerPoint twice; they were so enthused by the robots and their traditional music that they asked me to play it again. It has been great fun!
Referring to their multilingual pupils, teachers shared:
Above all, pupils came out their shells a wee bit. They were able to tell us a lot about their culture.
We didn't know they had Tamil or Romanian at home!
When asked about permitting translanguaging in their teaching practice:
I think it's got so many advantages. I think it opens their eyes to other cultures, other languages
It promotes a culture of understanding and tolerance of the diversity of other languages.
The Creative Multilingualism workshops
In the next stage we were expecting a sample of around 12 pupils – 36 signed up. We welcomed them all.
For the next month, we visited the school between two and three days each week to work independently with the three groups composed of 12 pupils each, the creative partner, four rotating teachers and teaching staff who either covered or dropped in. The two younger groups from lower primary (ages 5–9) were to perform a song, while the older group from upper primary (8–12) was tasked with writing and performing a play.
Pupils from lower primary put forward their ideas for songs and we all voted on them. Following a long deliberation process, and taking into consideration the workload attached to translating songs into the languages pupils brought, the selected songs were "Twinkle, Twinkle, Little Star" and "Old MacDonald Had a Farm". The former was to be performed in English, French, Gaelic and Spanish and the latter in English, French, Gaelic, Spanish and Tamil. Hearing Tamil for the first time was awe-inspiring for everyone!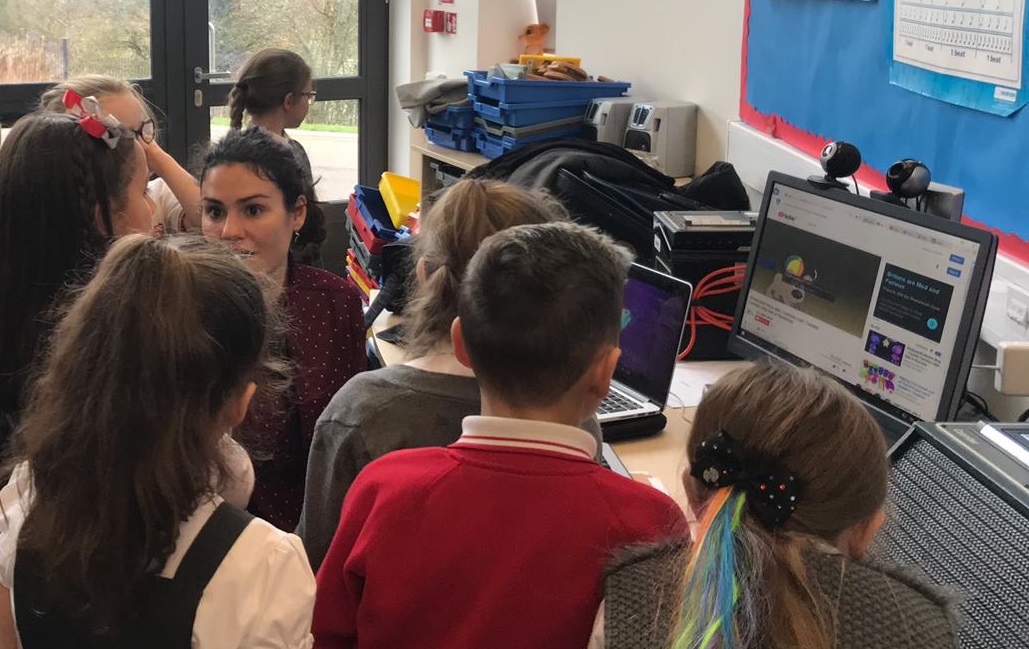 With upper primary's play planning, pupils also took full ownership and leadership and the project developed in a seamlessly natural and spontaneous manner. It felt as if we had always been working collaboratively. A popular option for a character was that of a child able to speak all the world languages. For this option, we reckoned that we did not have our linguistic needs covered in the school and started assessing the possibility of building on an existing, well-known story. That sounded like a solid plan: notwithstanding the power of body language and expression, our audience could better follow the plot if they were already familiar with the storyline. The fable "The Three Little Pigs" came out on top and pupils confidently taught us Gaelic, German and Polish.
The script was written in stages. In between visits, I consulted the session recordings to accurately complete notes taken during the workshops. Returning to the school, we read the drafts together and we continued building upon it with all partners feeding back and dictating the storyline. Four sessions later, we were ready to start rehearsals.
Parental engagement was crucial for the success of this project. Parents kindly supported us by providing phonetic written versions and audio recordings. On the one hand, we needed help so we could all read and practice in our own time. On the other, we wanted the materials to be available for every classroom to have fun, even if they were not part of the cast. It was truly overwhelming to hear children singing in the playground and witness parents promoting the project through their own social media channels!
Whinhill pupils and teachers are very adept at performing. It is easy to see that drama is a core component of their curriculum as they gracefully embraced every challenge that presented along the way. Rebecca Cameron, creative partner, guided pupils to improve their technical ability with performing skills and rehearsal tips:
The most enjoyable part was seeing the children use drama tools such as facial expression and tone of voice to explore the various languages
Language learning and teaching was supported in different ways. We worked on our French as a team since everyone is currently learning it. I supported Spanish – my own heritage language, targeted by the school for introduction in 2019/20 – and we were lucky to have GME pupils and teachers supporting us all way through with Gaelic transcriptions and audio recordings. For Tamil, the traditional pupil-teacher relationship was fully reversed, and what a fantastic job our young teacher did! Two pupils from upper primary led the performance in German and Polish and also created phonetic versions in collaboration with their peers, who were exposed to these languages for the first time.
We worked extraordinarily hard and our first performance day finally arrived. Open to the entire school, around 300 children were in attendance. We also counted parents, 1+2 language coordinators, pupils and teachers from three neighbouring schools filling the hall. The performance was rated very highly as measured by the long rounds of applause received and the numerous questions asked of the actors. A highlight was being interviewed and having our pictures taken by the local Greenock Telegraph. Feedback from attending schools was extremely positive; they were interested in the impact on Whinhill and how it could be developed in their own school.
Following this success, we were all ridiculously excited about the performance the following Friday in a bigger venue in Glasgow city! The size of the stage and expecting an unknown audience was a bit intimidating and fed the butterflies in our stomach. Around 100 pupils from three local schools, representatives from Education Scotland, the European Commission and the British Council in Scotland, primary teachers, EAL teachers, Head Teachers, several Principal Teachers from secondary schools, postgraduate researchers and academics came to see the show. And once again the pupils shone like stars. Audience feedback was excellent and the performance once again generated a lot of interest for the project to be taken forward both in primary and secondary schools.
Who says learning languages is difficult? The pictures speak for themselves… we love languages!
We are very excited with the direction the project has since taken. Edinburgh awaits us as we will be performing in front of MSPs at the Scottish Parliament in late 2019. Please watch this space for further updates!
Eneida García Villanueva researches the 1+2 language policy and supports its implementation through her membership of the principal language advisory bodies in Scotland. Formerly a lecturer in ITE, she also delivers teacher training abroad under the auspices of Erasmus+.
Where next?
Are creative or functional teaching approaches more effective in the language classroom?
68 ways to say 'plain': translating Jane Eyre