Transferable vocabulary: exploring linguistic diversity at the interface between arts, literacy and mathematics with EAL and non-EAL students in mainstream education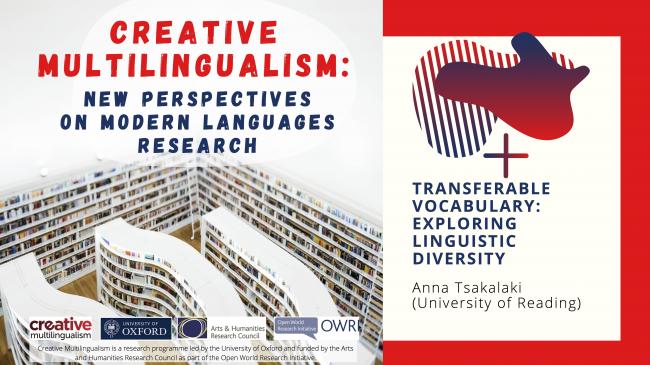 Mon, 15th Jun 2020
Transferable Vocabulary is a research collaboration led by Dr Anna Tsakalaki between Oxford Brookes University and the University of Reading, funded by Creative Multilingualism (OWRI) and the Centre for Literacy and Multilingualism (CeLM) at the University of Reading. The project aims to explore teaching of mathematical vocabulary to Year 4 and Year 5 pupils through arts and storytelling.

Anna was due to present her work at our New Perspectives on Modern Languages Research conference in March 2020; however, as the event was postponed indefinitely due to the COVID-19 pandemic, she has kindly provided her presentation to be published on the website.
Download the Transferable Vocabulary presentation as a PDF>>
Dr Anna Tsakalaki is a Lecturer in Education at the University of Reading, where she is the Director of the PG Cert SENCo Programme. More information about the Transferable Vocabulary project can be found here.