Taking Multilingual Youth Theatre Online
Sun, 10th Jan 2021
Having worked with Daniel Tyler-McTighe on Creative Multilingualism projects at Hampstead Theatre with teenagers pre-Covid-19, I've now had the privilege to work alongside him facilitating the online Multilingual Youth Theatre Project as the partnership between HT and CML has found new ways to deliver sessions over the last few months. 

With a tumultuous year so full of isolation and frustration, it has been a pleasure to work with our young multilingual participants to celebrate what unites and differentiates our diverse cultures through drama games and exercises as well as dive deep into what we know communication to be – something that feels apt to have been exploring this year on Zoom!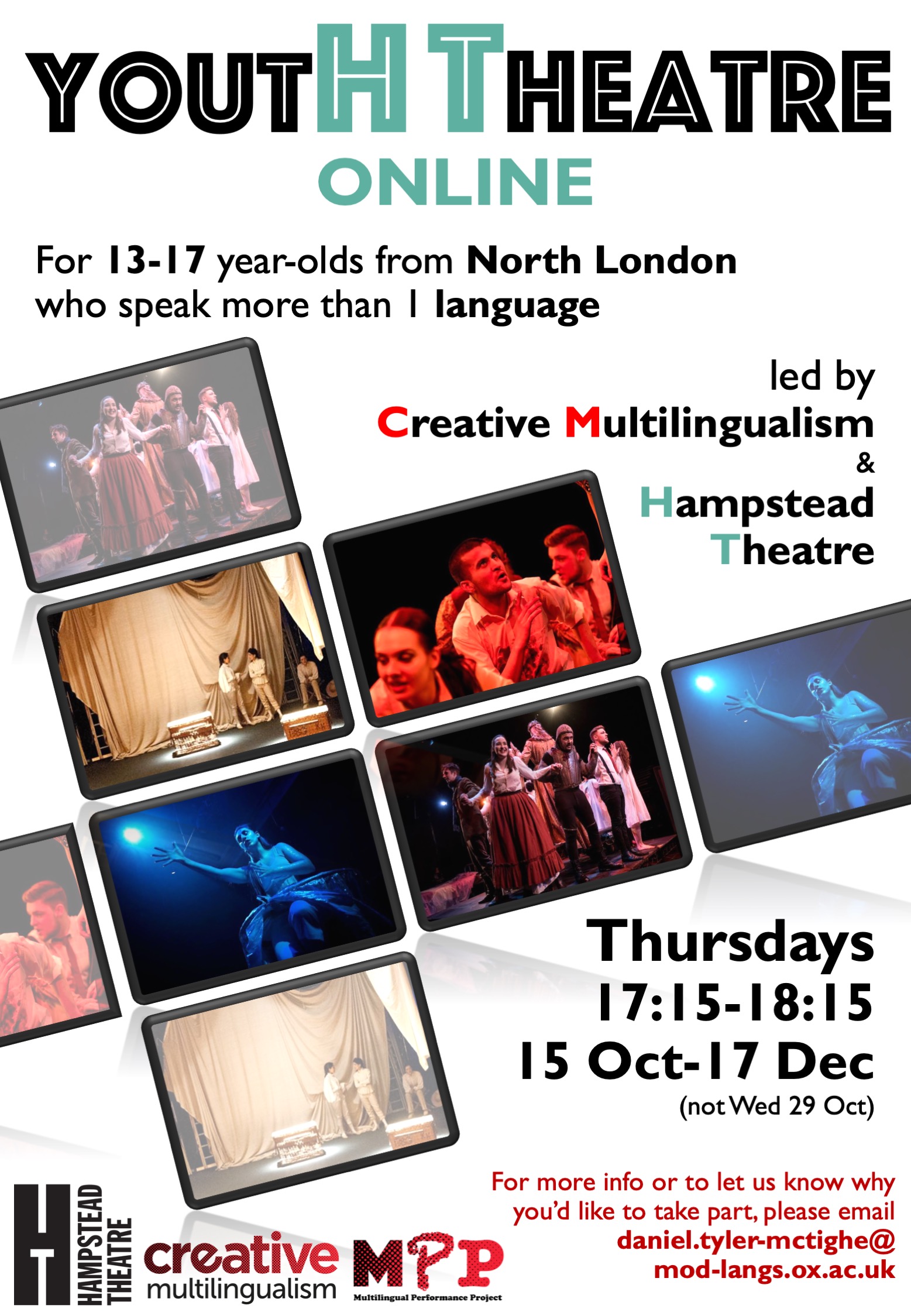 Our group had a great range of nationalities and languages and the experience of building a youth theatre on the foundation of multiculturalism has been unlike anything I've worked on before. When I was made aware to how innovative and relevant the Multilingual Youth Theatre Project was, it actually came as such a surprise to me that this hasn't been done more because of how representative a multilingual youth theatre actually is in, especially in somewhere like London. 

After our first session where we explored likes and dislikes in our own languages, we delved into exploring our identities as a multicultural group over 10 weeks. 

We've had weeks full of games and drama exercises which have been challenging but rewarding to translate onto Zoom. The team were great at matching their focus with the utmost enthusiasm and detail. From figuring out how to pass a pencil from screen to screen, to MPP drama game classics like 'Buzzy Bees', to devising scenes based on the Zoom functions (eg. Chat and emoji reactions), to exploring how to communicate non-verbally, I've so enjoyed getting to know the group over the last few months and have been inspired by their work ethic and creativity. Devising via breakout rooms has been especially interesting as unlike in-person rehearsals where you can sniff what groups are up to because they are in various corners of the room practicing, with this it was great to be completely surprised by what had been created. 

With Hampstead Theatre being a new writing theatre, we also had a few sessions exploring monologue writing where we took inspiration from brilliant conversations that had been sparked in earlier sessions. Through a game of 'disagree' and 'agree' on a scale of 0-10 respectively, we all put provocations to the group. These provocations included, but certainly weren't limited to, matters concerning: 

- confidence in speaking our other language in comparison to English 
- when we speak our other language in comparison to English 
- allegiance to our cultures
- feelings about going to school during Covid-19
 
The group offered such a variety of different responses all of which candid and honest. Taking these stimuli we discovered perspectives we might be able to write from which ranged from a monologue from the perspective of a piece of homework being marked, to the concept of aligning annoyance at people ignoring messages with the feeling of missing a home country: 'Australia leaving me unread'. 

As a theatre facilitator and director, the plethora of languages offered so many textures to play with and the themes of connection, meaning and empathy struck an even louder chord when coupled with the medium of Zoom and the backdrop of the year the world has just faced. I will absolutely be weaving explorations of a group's languages into my future work.