Slanguages: how artists are getting creative with languages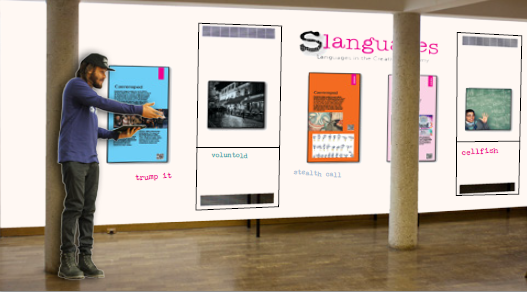 Wed, 6th Dec 2017
How do you use slang in sign language? Can drums be used to communicate more than just a musical beat?
Slanguages is exploring the creative way artists employ and take inspiration from languages such as Pidgin, Patois and urban sign languages. The exhibition, curated by our Languages in the Creative Economy Strand in collaboration with Punch Records, features the work, archives and ephemera related to the work of three Birmingham-based artists who use different languages in their musical and artistic work.
The artists featured include RTKAL (aka Joshua Holness), a grime artist, Rinkoo Barpaga, an urban sign language and deaf comedian and film maker, and Lekan Babalola, a percussionist and musician.
Rajinder Dudrah, Professor of Cultural Studies and Creative Industries at Birmingham City University, said:
"Research for the Slanguages exhibition and our wider Creative Economy study has already revealed a range of languages being used by the artist both for communication purposes and artistic development. These include West African languages, Caribbean patois, pidgin and the creation of a new urban form of sign language.
"Our research shows that languages have been key to the formation of their diverse practices and in creating and developing new forms of artistic expressions across a range of performing genres: particularly grime, percussion, and comedy."
The exhibition is now open to the public at Wolfson College, Oxford on weekdays (9.30am – 5pm) until 12 December 2017. No booking is required; just turn up!
Watch the below video, recorded at the Slanguages exhibition's launch party, to learn more:
You can watch the full presentations and performances by RTKAL, Rinkoo Barpaga, Lekan Babalola and Tanny Tizzle in the below video:
Where next?
Words and images: a royal wedding?
Friendship and education in a multilingual community
New British Academy report highlights importance of language skills