Performing multilingualism for monolingual audiences
Mon, 10th Feb 2020
Speaking, hearing, reading and learning different languages, accents and dialects has become an everyday aspect of contemporary life due to cultural factors including migration, globalisation and the aftermaths of colonialism. While code-switching and remixing languages may be perceived as a playful and highly creative activity, the co-existence of multiple languages in the same context is, more often than not, an expression of hierarchical structures, histories of domination and subversive struggles.
Multilingualism on stage may speak of a respectful community that values diversity, or it may uncover practices of oppression, stereotyping and resistance. Staging multilingualism therefore trades a fine balance between two polar opposites: representing a dystopian present characterised by racism and prejudice, and rehearsing a utopian future where equity and inclusivity have prevailed.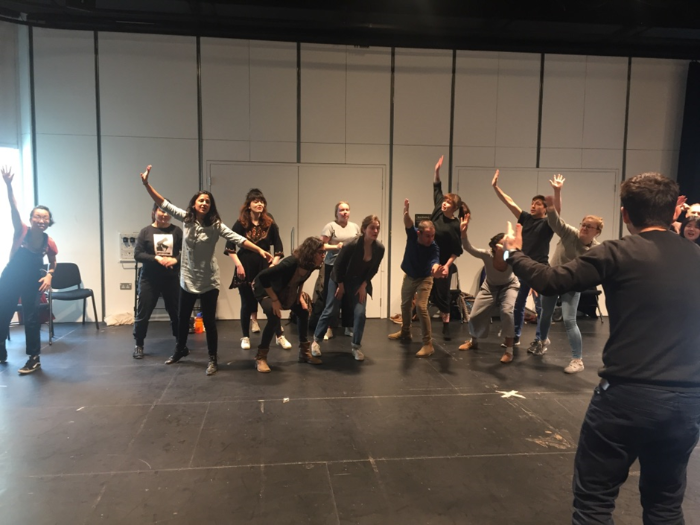 A group improvisation during Anestis Azas' workshop at the Royal Central School of Speech and Drama, University of London, in April 2019. Photo by Margherita Laera.
During our project, entitled 'Performing Multilingualism for a Monolingual Audience: Creative Strategies and Practices in Contemporary European Theatre', Prof. Peter Boenisch and I investigated creative strategies and performative processes at work in multilingual theatre for audiences in predominantly monolingual cultures, such as the UK. The aim was to chart, share, and disseminate practices of current multilingual work in European theatre which would take into account that spectators cannot be expected to know all the languages on stage.
What would be the purpose, value and ethics of combining many languages, where audiences might not share linguistic competences with actors? Would an artist pursue multilingualism in order to prompt a sense of confusion and unease among spectators, or would they always prioritise full understanding by relying on non-verbal communication and a careful dramaturgy, perhaps to suggest that humans can understand each other despite linguistic differences? What do artistic practices gain if they bring together the variant linguistic and cultural competences of performers, without falling back onto a single, shared language on stage?
Throughout 2019, we facilitated workshops at the Royal Central School of Speech and Drama with Greek director Anestis Azas of the Greek National Theatre, and French director Anne Bérélowitch of Instant Mix, as well as students from the University of Kent and Central, who were joined by peers from Freie Universität Berlin and Paris Conservatoire.
For his workshop in April 2019, Azas proposed to work on an adaptation of Ödön von Horvath's novel The Eternal Philistine (1930), which is about the trans-European train journey of a crooked petit bourgeois trying to get ahead in a world of rising fascism. Azas was preparing to rehearse his own adaptation of the book for the multi-lingual Europe Ensemble, a project conceived by Croatian director Oliver Frljič.
At the London workshop, Azas worked with eighteen students who spoke thirteen different languages. We spent mornings on warm-up games and improvisations, and afternoons on adapting sections from the novel. Having worked with the German collective Rimini Protokoll, Azas was influenced by their methods and aesthetics of 'everyday life', whereby almost exclusively non-professional performers appear on stage and share their experiences and skills, often addressing the audience directly. One of the crucial moments in the workshop was a discussion on the ethics of representing other languages on stage, specifically mimicking the musicality of languages one does not speak. This moment of debate within the workshop offered an opportunity to discuss key questions: How can you sensitively perform a cultural identity other than your own? How can you avoid damaging forms of appropriation? But also, what is the point of performing in a language that the average spectator in London is likely not to understand, such as Finnish, Norwegian, German or Spanish? Also, what is the point of an actor speaking their native language when it does not match the language of their fictional character?
Having himself spent years working and living in languages other than his native Greek, Azas found it quite normal to be in a position of not understanding all that was being said in rehearsals and engaging in exchanges beyond his comfort zone. As a consequence, Azas was prone to pushing audiences towards inhabiting that space, encouraging more attention towards physical behaviour, the tone and melody of voice, and other forms of non-verbal communication. Some students agreed with this approach, others were perplexed, but we all enjoyed sharing our disparate mother tongues in an environment where they are usually excluded or deemed irrelevant.
We held our second workshop in July 2019 with French director Anne Bérélowitch, who specialises in multilingual theatre with her company Instant Mix. Somewhat in contrast with Azas, Bérélowitch is more supportive of the idea that theatre-makers have a duty towards the audience, that is, to create work that is accessible and fully understandable despite being multilingual, and without the use of subtitles. Our conversations during her workshop revolved around how to make audiences enjoy the sound of other languages without missing out on the story.
Our fourteen students spoke eleven languages and worked on improvisations and set scenes. Bérélowitch proposed a number of very productive improvisation games with set rules, in which characters have to switch language at a key dramatic point in a scene. In the afternoons, the students split their time between devising scenes in which characters code-switch or encounter others who speak different languages, and rehearsing a scene from Molière's The Misanthrope, which ended up featuring six languages.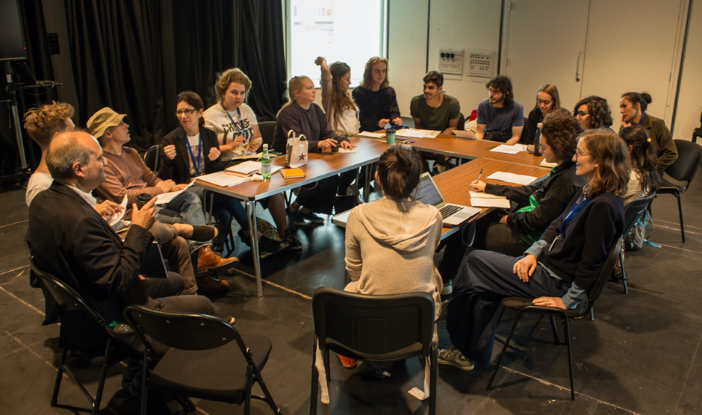 Participants at Anne Bérélowitch's workshop at the Royal Central School of Speech and Drama, University of London, in July 2019. Photo by Georgiana Barcan.
Bérélowitch placed a strong emphasis on body language and movement as supplementary forms of communication. We realised that, through facial and bodily expressions, on many occasions, participants could understand what was happening on stage despite the actor speaking a language they did not know. In improvisation work where two or more actors were placed in situations where they did not fully understand what was going on, but had to keep improvising, it became evident how staging misunderstanding is immediately political, imposing divisions and hierarchies. When actors did not understand each other, exploring misapprehension became particularly productive.
From the point of view of the director, multilingual work also throws up important issues around sharing power and responsibility, because while every actor understood Bérélowitch's English, she did not understand every actor when they spoke their native tongues. At the end of the two workshops, many of our participants, who are bravely training in their second language, felt empowered to start exploring theatricality through the use of multilingualism. We hope, amongst other things, to have planted a seed in these young theatre-makers' creative minds.
Our programme also included an international conference on multilingual theatre held at the University of Kent, which brought together academic and artistic researchers in multilingual performance, to discuss and respond to the workshop findings and initiate further conversations. Invited speakers included: Prof. Yana Meerzon (University of Ottawa); German/Ivorian theatre company Gintersdorfer/Klassen; Christopher-Fares Koehler of the Berlin's Maxim Gorki Theater's Exile Ensemble; and British Deaf actor Brian Duffy. This was a productive day of reflection for all, which helped clarify in my head what an exciting and rewarding field multilingual performance is. I am delighted to continue working on this fascinating topic, with research presentations and publications planned for the near future: watch this space!
Margherita Laera is a Senior Lecturer in Drama and Theatre at the University of Kent, Canterbury, Co-Director of the European Theatre Research Network and Online Editor of 'Theatre Journal' and 'Theatre Topics'. She is the author of 'Theatre & Translation' (Red Globe Press, 2019) and 'Reaching Athens: Community, Democracy and Other Mythologies in Adaptations of Greek Tragedy' (Peter Lang, 2013), and the editor of 'Theatre and Adaptation: Return, Rewrite, Repeat' (Bloomsbury, 2014). Margherita also works as a theatre translator from and into Italian and English. Her research on theatre translation won the Theatre and Performance Research Association's Early Career Research Prize for 2018.