Multilingualisms in World Literature Conference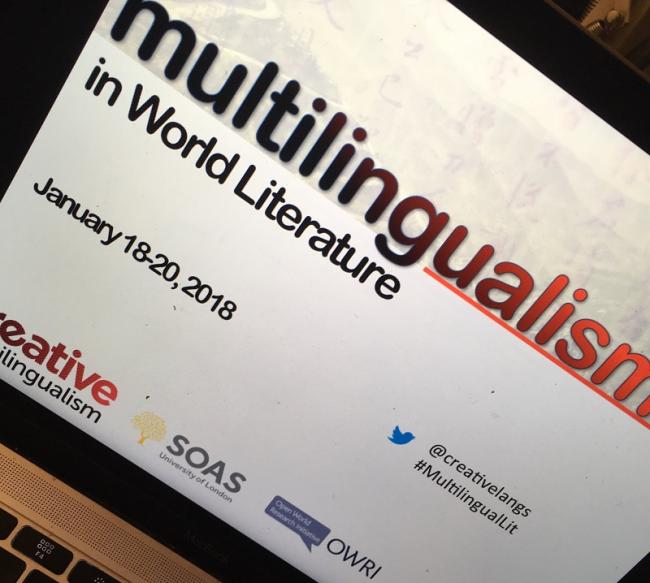 Thu, 15th Feb 2018
This international conference on the subject of multilingualism and multilingual identities was organised by Creative Multilingualism's World Literatures strand and held at SOAS in January 2018. It began with a question about the relationship between language and identity in multilingual contexts, and an invitation to explore the modes of creative response that literature and other forms of cultural production can offer to such contexts.
Thanks to the fascinating and original contributions of scholars from across the world, drawing on a range of cultures and languages (including Arabic, English, Spanish, French, Danish, American Sign Language, and Chinese) and a variety of media (from the novel to 'calligraffiti' and performance poetry), this initial question shaped itself around themes such as translation, linguistic hierarchy, and the notion of the 'mother tongue,' while opening itself out into bigger and more profound questions about the nature and scope of multilingual creativity: How can multilingualism be a force for literary and artistic creativity? Is 'multilingualism' the right word to describe the multiple ways in which languages interact in the text? Where do the body, the voice, and the non-verbal fit into our conception of language and our understanding of the multilingual? How does the multilingual text interact with such categories as world literature, and what role does translation play in our reception of it?
It was both stimulating and rewarding to discover that, within our necessarily diverse conference programme, certain recurring themes began to emerge and resonate, opening up new areas of enquiry in relation to creative multilingualism: the unintelligible as a pleasurable, frustrating, but in all cases necessary aspect of the multilingual experience; the non-verbal, specifically sign language, as a questioning of the association between language and voice and a consequent challenge to our concept of the multilingual; the 'heterolingual' as a form of friction and play producing mobility in the transfer of meaning between languages; the association of the multilingual with the most primary elements of language – the breath or the gesture, the first impulse to communicate – and the most sophisticated, cosmopolitan uses of literary language; the association between linguistic and bodily expression; and multilingualism as a 'queer space' in which other forms of fluidity and hybridity can be staged. We look forward to revisiting some of these themes and their echoes in our next conference, Performing Multilingualism in World Literatures: Aesthetics and Activism, to be held in Oxford in September 2018.
The conference organisers would like to thank SOAS for hosting the event, and all those who attended for making it such an inspiring and friendly occasion. Our thanks also go to Manuela Perteghella and Ricarda Vidal (King's College London) for sharing with us their exhibition of multilingual translation art, 'Talking Transformations'; Inés Labarta, for reading from and reflecting on her forthcoming novel CaseFile 477; Claire Frampton, for showcasing her exhibition on multilingualism at the Ashmolean Museum; and especially the authors Vahni Capildeo and Burhan Sönmez, for so engagingly exploring the connections between language, identity and writing at an event organised in conjunction with English PEN.
Laura Lonsdale is Associate Professor of Spanish Literature at the University of Oxford and an Associated Researcher on our 5th strand: World Literatures.
If you want to find out more about the Multilingualisms in World Literature conference, you can view the full programme here. You can also see tweets about the conference on #MultilingualLit.
The next World Literatures strand conference is taking place in Oxford in September 2018 on the theme of Performing Multilingualism in World Literatures: Aesthetics and Activism - a call for papers is now open.
Where next?
Does the image of Germans in the UK press affect whether pupils want to study the language?
"Reader, I went through a wedding ceremony with him": Translating Jane Eyre