Multilingual Shakespeare: Merely Players
Wed, 8th May 2019
Earlier this year, professional theatre-makers and students from Birmingham came together to produce an immersive, multilingual collage of Shakespearean plays – MERELY PLAYERS – at the Eagle & Ball pub on Creative Multilingualism partner Birmingham City University's campus.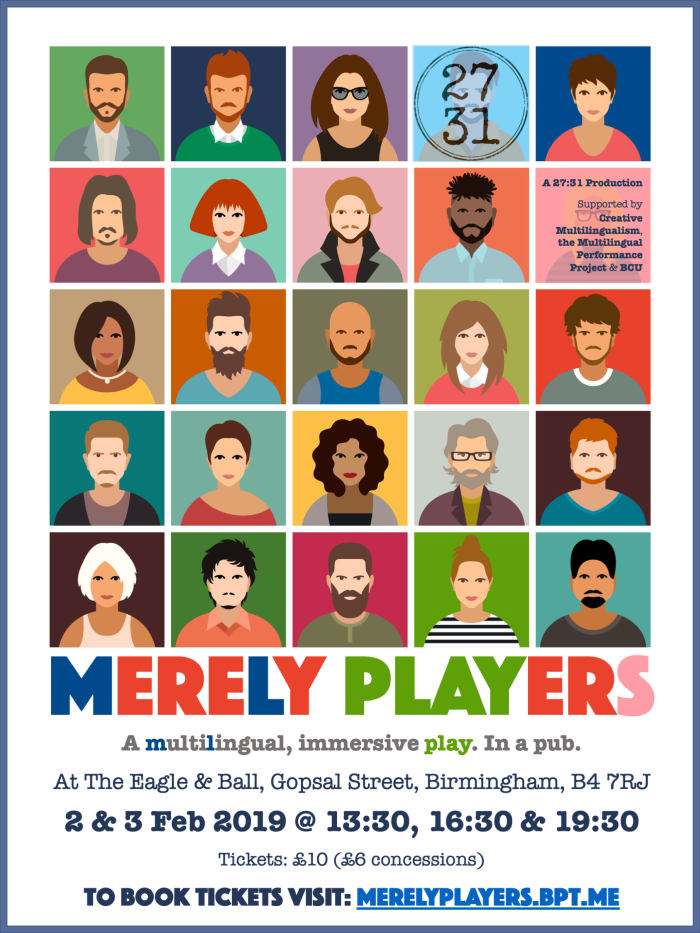 Over a weekend, audiences were invited to have a drink with some familiar characters as they've never been heard before. The characters were performed in languages you can hear around Birmingham which were also the languages of their play's settings including Juliet in Italian, Princess Katherine and Jacques in French, Macbeth's Porter in Scots Gaelic and Cleopatra in Egyptian Arabic (which was possibly the first time she's been performed that way).
One exception required some artistic licence – as Queen of the fairy world Titania doesn't necessarily have a nation or language, but taking inspiration from her and Oberon having 'come from the farthest steppe of India' and their quarrels over a 'little Indian boy' we had a Punjabi version of the character.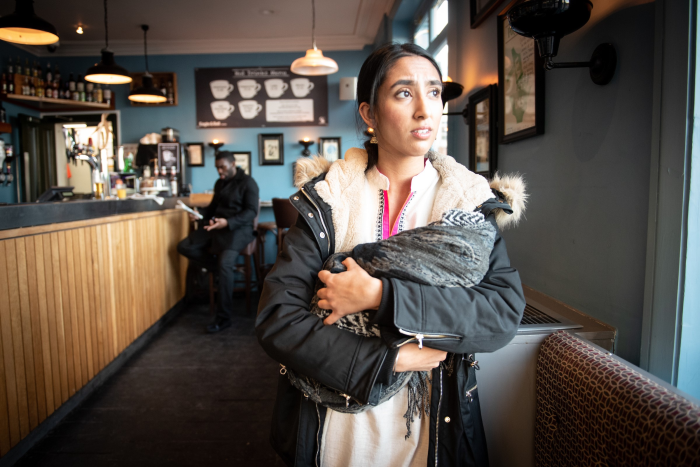 Mirsad Solakovic (who played Sir Toby Belch from Twelfth Night in his native Bosnian) said: 
'The unique way of approaching the characters meant that mannerism, gestures and facial expressions became more important to make it clear to the audience what kind of character I am and what my needs in life are.
For me the experience of communicating with the audience in a different language was very special – it brought to the fore shared values closer and a mutual understanding of our basic human needs.'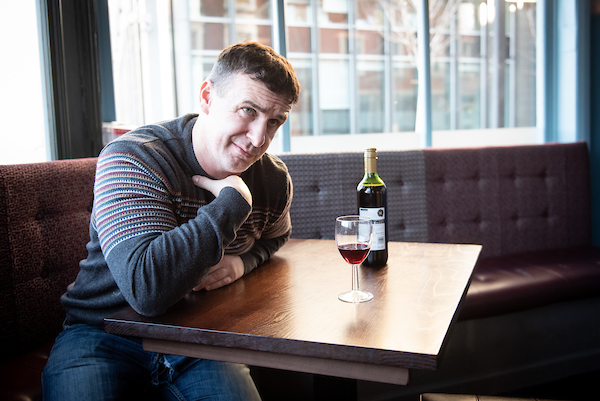 Shady Murphy (who played Kat – a mixture of Princess Katherine from Henry V and Jacques from As You Like It) said:
'As the play was set in a University campus pub, I played French 'Kat' as a Genealogy student. As an artist I adore immersive performances because the challenge of improvisation is utterly thrilling. Interacting with a bemused audience is incredibly rewarding and the promise of spontaneity is so very engaging for both the performers and observers. 
The multilingual aspect of this play fortified the immersive real-life feeling of a pub full of strangers from a range of backgrounds; the fluid setting of each performance further compounded this and I felt very connected to my audience as they witnessed my exchanges with my pal Alec and my try-hard lover Henry.'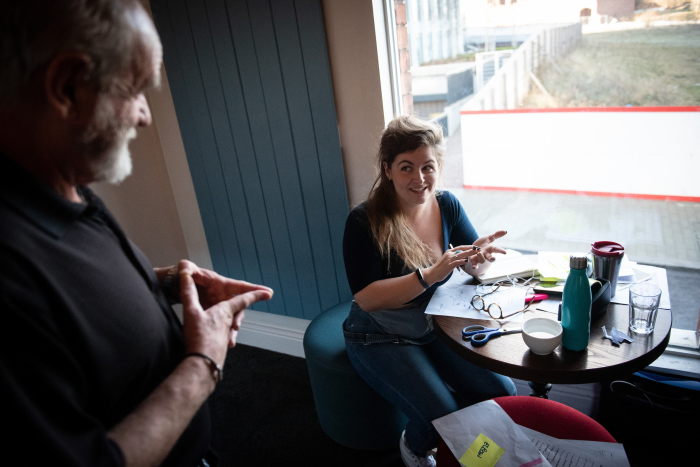 Students from Sandwell College also performed in the play. They played sidekicks of modern versions of Sir John Falstaff and Prince Hal as they performed the pub scenes from across the history plays.
 And Candice Parker who played Bardolph said:
'Experiencing the different languages in the different rooms was really interesting. Nadi who played Cleopatra in Egyptian Arabic really inspired me to start learning Arabic so now I have private lessons outside of college to learn it. Overall, it was an amazing opportunity.'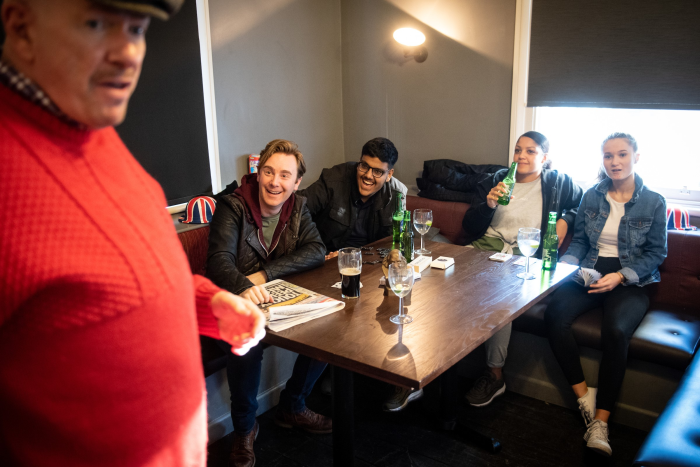 Finally, local students from Lordswood Girls School also contributed to the production by creating beautiful love-letters between some of Shakespeare's lovers which were used as props around the pub and displayed for audiences to read.
Inspired by Orlando leaving love letters around the forest in As You Like It, over 80 students in years 8 and 10 created letters written in French between him and Rosalind and in Spanish between Don Adriano de Armado and Jaquenetta from Love's Labours Lost.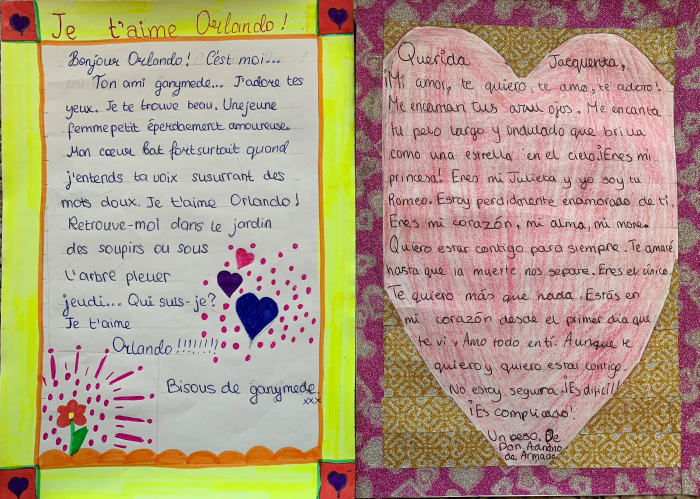 The letters were all of a very high standard of both language use and artistic design, they were beautifully presented and the written content was imaginative and emotive.
Many of the students reflected on the project as a different way to think about learning another language and enjoyed engaging with characters from existing plays whilst also being able to be creative with their presentation.
'It allowed me to be creative in my Spanish writing and gave me an idea of how Spanish people write letters' – Zaynah, Year 10
'I enjoyed it because it was different from what we usually do in Spanish lessons'. – Muskaan, Year 10
 
MERELY PLAYERS was a 27:31 production (www.27-31.org) and was created by Daniel Tyler-McTighe (Director of the Multilingual Performance Project). Co-produced and funded by Strand 4 of Creative Multilingualism (creativeml.ox.ac.uk) and the MPP and generously supported by Birmingham City University (bcu.ac.uk) and Birmingham Repertory Theatre (birmingham-rep.co.uk).
Photos by Graeme Braidwood. 
THE PLAYERS & THEIR PARTS
The Staff:
Cade, the owner..............COREY CAMPBELL
Maria, barmaid.……….....DAYNA BATEMAN
Harry, barman.………………..PHILIP MORRIS
Alec, potman.…………..ANDREW BROWNLIE
 The Regulars:
Jack……………..………………MICHAEL BARRY
Hal………………………..JAMES DAVID KNAPP
Toby……….…….…………MIRSAD SOLAKOVIC
Kat…….…………….……………SHADY MURPHY
 The First-Time Visitors:
Tania……………………………RAVNEET SEHRA
Cleo…….……..……………….NADI KEMP-SAYFI
Julia..………..…………….....SARA ANIFOWOSE
 And introducing:
........................PRAVIR JANDU as Ned Poins
………………CANDICE PARKER as Bardolph
….SHARDAI MCELWEE-IRVING as Gadshill
 THE TEAM
Director…………..DANIEL TYLER-MCTIGHE
Production Assistants……………………………….
…………………………………MAGGIE BROWNLIE
………………….…….KIRSTY TYLER-MCTIGHE
 WITH THANKS TO:
Rajinder Dudrah, Bhee Bellew, Katrin Kohl, Katy Terry & all at Creative Multilingualism
Glen Watson & the team, The Eagle & Ball
Laura Siviter & her students at Lordswood Girls School
Sandwell College
The Crescent Theatre, Birmingham
Neil Brighton