Fri, 10th Jul 2020
'Boliyan' or bolis are couplets sung in the Punjabi language. They accompany the Punjabi folk music genres of bhangra and giddha and involve singing, clapping to a beat, musical sounds played via South Asian percussion instruments and dancing.[i] Boliyan are often sung at celebratory occasions such as weddings, birthdays, and the annual harvest festival to give thanks for a good produce.
Slanguages teamed up with artists Jagdis Kumar, Kiran Johal, Steven Sahota, and Lekan Babalola from Birmingham to commission an original and new 'Multilingual Boliyan'. Our performance features the languages of Punjabi, Yoruba, English, and Hindi, and the creativity of the artistic languages of bhangra, giddha, Bollywood, Afrobeats, and West African Yoruba music.
Multilingual Boliyan tells the story of a British Indian female who is planning her wedding to her British Nigerian fiancé. As part of her preparations she is in conversation with her father and they share their stories about how the wedding ceremonies will be different and the same, bringing at least two cultures together.
Watch a brief video, filmed by Dr Rajinder Dudrah, of Jagdis Kumar, Lekan Babalola and Steven Sahota in rehearsal together before the COVID-19 lockdown came into effect:
Here, Jagdis and Lekan share their journey of developing the Multilingual Boliyan, the impact of Covid-19 on the project, and their future plans for the performance.
What are 'Multilingual Boliyan'?

Jagdis: 'Multilingual Boliyan' are a combination of languages put together through song, music, dance and drama. 'Boliyan' is a Punjabi word that translated means singing/reciting through story.

Lekan: Multilingual Boliyan is the collaboration of different languages – Punjabi and Yoruba, coming together through discussion and sharing of information through the arts and educational activities, to create a new artistic language with a common notion of engagement.
 
What is the story or premise in the Multilingual Boliyan?

Jagdis: The premise in the Boliyan is to bring together various languages together through the arts. It also brings out the similarities as well as differences within cultures. It will also highlight rituals and rites through celebrations within the Indian/Punjabi and Yoruba cultures.

Lekan: Unification through love that breaks cultural boundaries.
 
What languages are you bringing to the project and how do you intend to use them? 

Jagdis: The languages I am bringing to the project are Punjabi, Hindi and English.

Lekan: I shall be bringing the Yoruba language and cultural sensibility through music into the project.

What kind of songs and music will you be using in the boliyan – what kinds of instruments, beats, singing, clapping, and rhythms will you use?

Jagdis: The instruments for rhythm use are a dhol, dholki, tumbi and keyboard, together with singing, clapping and dancing. The main type of music will be Punjabi folk, a combination of Bhangra and Giddha, together with a touch of Bollywood.

Lekan: Collaborating together with British Indian composer/percussionist Steve, who shall be bringing his knowledge of Punjabi music/songs, also the popular Bhangra beat, meeting old sacred West African Yoruba Music fusing it with dance Afrobeat music. We shall be using various Indian and West African percussion instruments and harmonium. There shall be a combination of wedding songs from India and Yoruba traditional and community songs.
 
How have the rehearsals been going? What have you learnt so far, what surprised you, what do you want to know more about during the rehearsal process?

Jagdis: Rehearsals have been going well, and it's amazing to learn about how cultures across the world are closely related. For example I wasn't aware that the African culture give dowry at weddings as we do in India. However the difference being the girl's family give the dowry in the Indian culture, and in the African culture the girl's family receive the dowry. I feel that through rehearsals I would like to learn more about the Yoruba culture through story, music and dance.

Lekan: The rehearsals have been going well, until the pandemic lockdown, and have therefore had to be postponed until further notice. I have learnt about Indian wedding culture and the nuances to do with marriage across two cultures. I would like to know more about the caste system within India culture and its influence on married life.
 
What are the similarities and/or differences in the way music, beats, and story-telling are used in Punjabi and Yoruba wedding songs?

Jagdis: The instruments and language are different and it's wonderful how they sound together. There are similarities in the celebrations leading up to and after the wedding. These include:

- The dowry as mention before.
- The night before the wedding celebrations letting everyone in the village know that there is a special event.
- The teasing and banter between the families.

Lekan: There are many similarities i.e. the culture of call and response in the music, the syncopation and polyrhythmic patterns which inform the dancers, and in Yoruba wedding songs the talking drummer calls the songs to praise the marrying couple and family relatives to dance and spray money as a sign of appreciation. This also happens in not too different ways in Punjabi wedding cultures.
 
How has the Covid-19 situation affected the project and what are your plans going forward?

Jagdis: Covid-19 has unfortunately delayed the project, as we are unable to rehearse collectively. We aim to continue from where we left of once the lockdown has been lifted. We have been staying in touch online and via mobile phone apps.

Lekan: Yes, the Covid-19 situation affected the project and the plan is to find a way to prepare the project in autumn and winter for a possible future performance.

 What has it been like working with Rajinder Dudrah?

Jagdis: I have known Professor Rajinder Dudrah for a long time and his passionate interest in various cultures through the arts has always shone through. This is the first time I have had the opportunity to work with him. He is very open to suggestions and ideas and lets us artists flow and experiment, and he has a great way of bringing the sessions together with his experience.

Lekan: The media and creative industries are very fortunate to have Professor Rajinder Dudrah. This is not only because of his positive and energetic personality, but also because he has the ability to listen to the ideas from conception, participate in the research and develop whatever idea is on the table. With us together, he has supported the process of artistic content and he inputs with his experience of organisational development to help explore all possibilities to make the project happen.

Who is the intended audience for the Multilingual Boliyan?

Jagdis: There is no limit to whom the audience might be. The project is aimed for people of all ages and abilities to show how different cultures can come together through the arts.

Lekan: The general public who is interested in music, songs, dance, storytelling and cross-cultural activities through interdisciplinary arts, also students and scholars of cultural and media studies.

What do you hope the project and its eventual performance might achieve?

Jagdis: I am hoping the project highlights no matter what colour, caste, creed or background you are from we can all bring this together through harmony. We aim to have a dialogue with the audience to highlight this and give them the opportunity to ask questions and maybe share their own experiences. We need to share and celebrate our differences and similarities. Today Covid-19 is a prime example of how we all came in different ships but are all now in the same boat, and for that boat to sail on calm seas we need to take time to learn and respect each other's cultures. My experience as an artist, where I have performed at weddings for over 30 years, highlights how various cultures are combining more through mixed marriages.

Lekan: I hope the project and its various eventual performances in the future will be able to be toured throughout arts and community venues across the UK. Performing to communities who might not have witnessed this kind of cross-cultural project before, and to share with them a story about the union of two cultures coming together to form a new language and sensibility will have a good impact on UK multicultural society.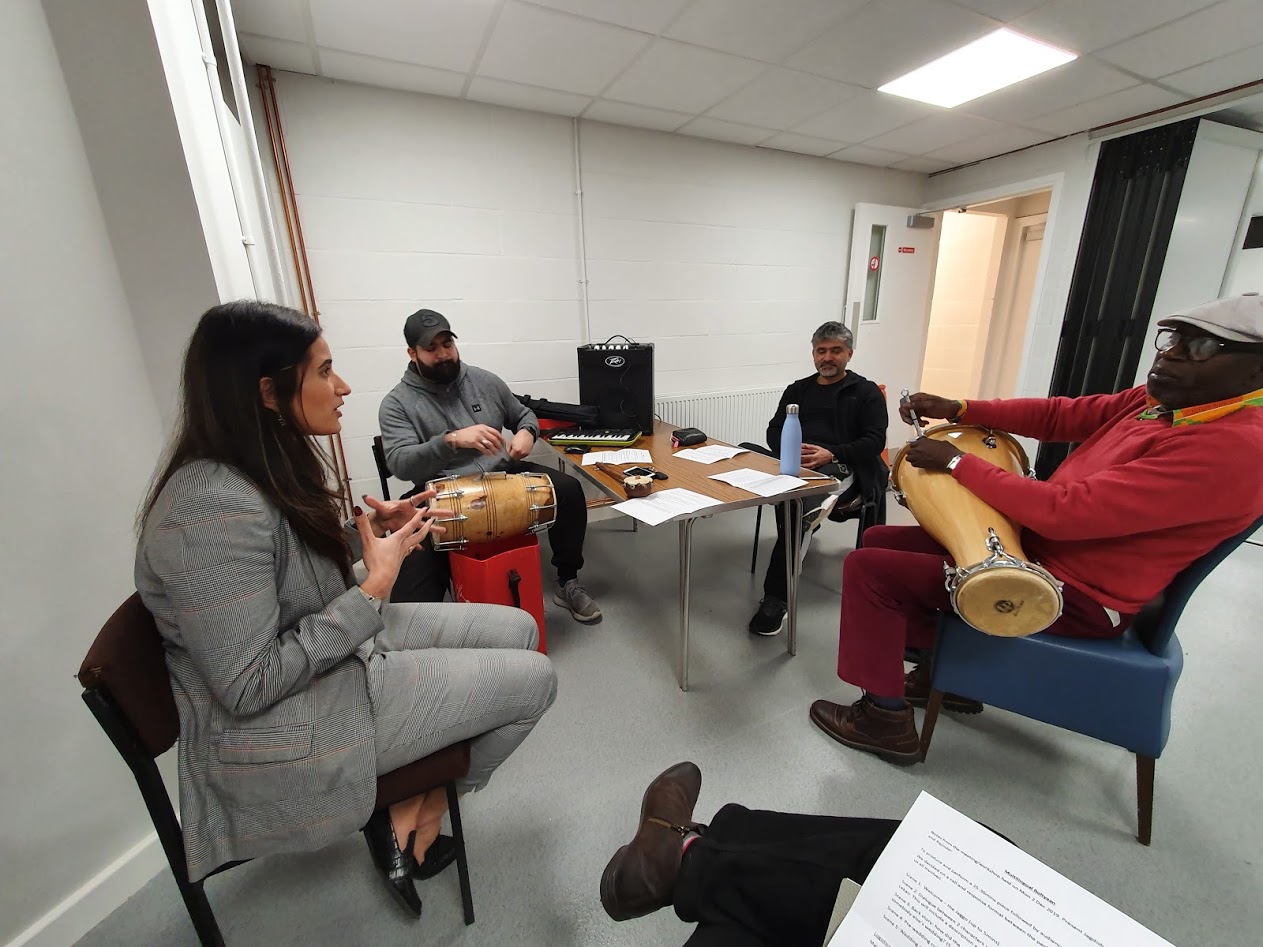 ---
Notes:
[i] On British bhangra music see: R. Dudrah (2007) Bhangra: Birmingham and Beyond. Birmingham: Birmingham City Council.
---
About the authors:
Jagdis Kumar is an educator and dance artist working with the bhangra song and dance form. In 2004 he founded he founded Dance Sansaar (Dance World).
OlaLekan Babalola is a Nigerian born jazz percussionist and musician. He has released seven albums and jointly won two Grammy Awards.