A Million Welcomes: art and multilingualism
Fri, 20th Dec 2019
Standing on Digbeth High Street with streams of people walking past all looking at a line of placards, doing double takes, trying to figure out what it meant, to a backdrop of multi-coloured graffiti contrasting with the official tone of our black and white signs, was a moment that seemed to encapsulate A Million Welcomes.
The text on the flyers said:
As our cities grow with visitors from many different places and backgrounds it is important to remind everyone that civic engagement is a necessity, not a choice. To avoid us existing in our own comfort bubbles separate from those around us, we must all make an effort to get involved and put aside our reservations.
Do not let language become a barrier, art is a language in itself. Without your full participation you may be holding yourself (and others) back from making a creative break-through. If you feel you could do more, then join that dance workshop, watch that video installation (all the way through) and really listen to that artist's talk, so you can ask a good question at the end.
We aim to invite people from all over to get involved in art and culture and in doing so if you connect with someone from a different land, then we can truly say we are a city of a million welcomes. We are depending on you. In the interests of cultural engagement please participate fully in the art.
A Million Welcomes (2019) from Redhawk Logistica on Vimeo.
A Million Welcomes was an artwork involving people and placards with a message on them in 12 different languages and dialects. The placards started appearing at busy intersections and transport hubs in Birmingham city centre on 21 September 2019 and during the Birmingham Weekender arts festival event in Digbeth on 5 October. The text on each of the placards encouraged visitors to do their civic duty by contributing fully to the cultural life of the city: "In the interests of cultural engagement please participate fully in the art". On the front of each placard was this welcoming phrase in one of the 12 different languages and dialects that we included in the project, on the back of all of them was the phrase in English. The placard holders also had a supply of printed flyers with all the translations on to give out to members of the public who could compare the full set of languages and dialects, and we also distributed these in multiple venues.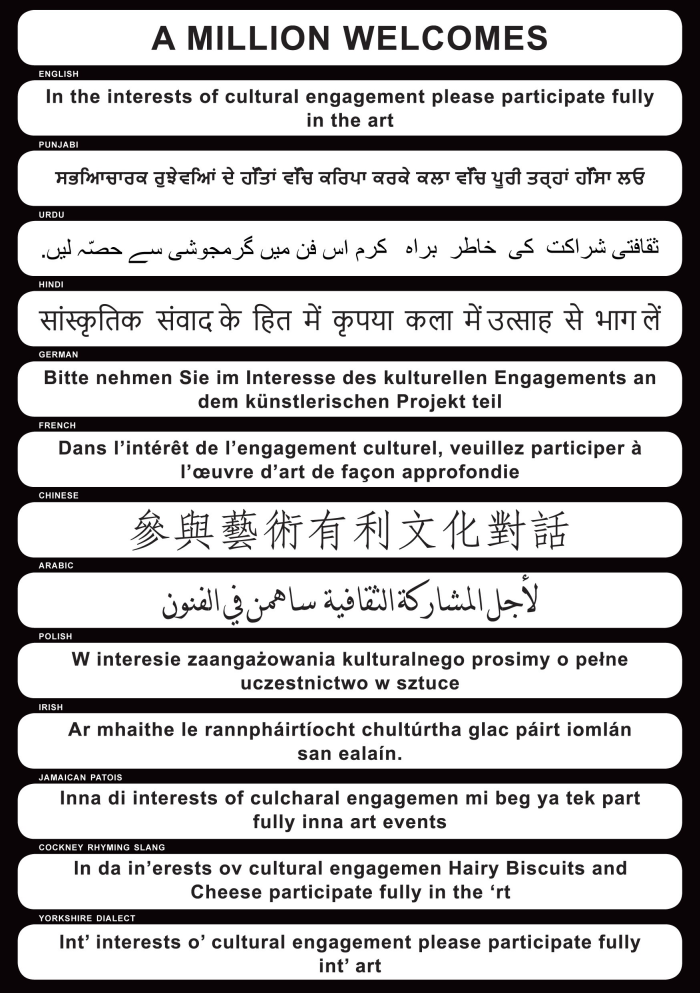 A Million Welcomes by Redhawk Logistica, 2019
Lots of people we encountered looked only briefly at the placards and then walked on, many clearly discussing what they had seen and what they thought it might mean. At this level of engagement the placards functioned as ambient media, adding to the multitude of messages we are inevitably exposed to as we move through any big city on any given day.  Quite a few people stopped to take photos and to have a chat; sometimes to ask what it was all about, and sometimes because a particular language had caught their eye because they had a connection to it, or they had specific questions they wanted to ask.  After having spent four hours in Birmingham city centre around Snow Hill, Moor Street and New Street train stations on a busy Saturday, and another four hours at the Birmingham Weekender event in Digbeth, we estimate that over 5,000 people saw the placards and over 200 stopped to talk to us and take a flyer or took photos of the placards to show friends and family or to share on social media.
Some of the comments from members of the public included:
"Well, first of all I was thinking there's lots of people in a line holding placards and I'm used to seeing those sorts of things outside shops, but when I actually read what was on there, which is 'engage in the arts'... I was engaging in the arts by looking at them... so it's quite a surprise really."
"At first, to be honest, I thought it was a protest, so I tried to find out what it was about."
"We've identified Gaelic, is that erm Cockney Rhyming, Urdu or Arabic, French..."
"It's quite confusing... but quite entertaining as well!"
"It's really good because it's supporting art and it's supporting multiculturalism and ethnicity and people of all colours and creeds and races... I think it's really good, that's what art should be about, creativity, working together, teamwork."
Some of the comments from the people who held the placards include:
"It was nice when people looked over at my sign, or any of the signs really, and could actually understand what it said and smiled."
"A lot of people got involved and just seeing people getting their attention grabbed by it, even in the cars and buses as well... yeah that was cool."
"...in terms of art and when it has that kind of lucid state, I think people get a bit confused, do you know what I mean? It's not a painting on the wall, it's not a solid sculpture in an art gallery, so people don't understand how to participate if it's not on that very fixed binary."
"....considering we've been in the city centre I just thought that most people would just look at it and go away, but there's so many people with questions...and when we explained to them what it was all about they said 'can I have a leaflet?', they wanted to find out more. So maybe they thought we were having a negative impact at first, but then they kinda went, 'no, this is really, really interesting!'"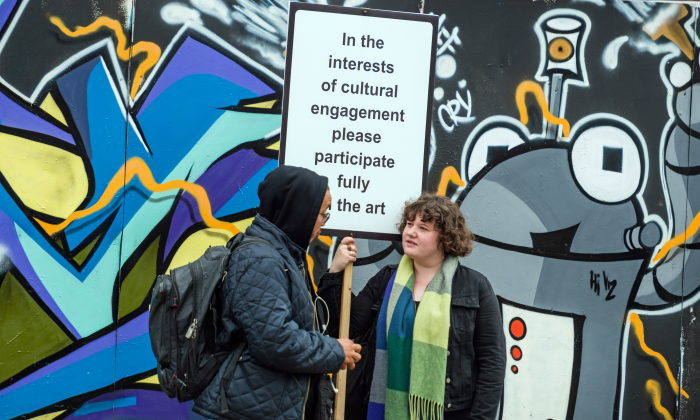 A Million Welcomes by Redhawk Logistica, 2019
Rob Hewitt is the artist/curator who created A Million Welcomes and Redhawk Logistica is the arts entity that facilitates the creation of these collaborative art experiences in public spaces. The work produced is often unexpected and sometimes challenging and it is usually documented and published or exhibited afterwards for a secondary audience. We have initiated a number of public projects over the last 10 years that engage with people and place, and our ongoing series of placard interventions have popped up in Coventry, Bradford, Wolverhampton, Leeds, New York and Birmingham.
Contributing to the Slanguages research project has been a great experience for us. The collaboration and development of this art intervention with Professor Rajinder Dudrah from Birmingham City University provided a starting point and something to respond to – as well as a context to discuss and develop the work and get feedback along the way. Being supported to make new work with the freedom to be open ended about the outcomes was refreshing, and taking work into a public setting without knowing what kinds of responses you are going to get is always exciting, even more so at a time when international relations are constantly on the media agenda. 
Of course with the production of anything like this there are challenges, starting with recruiting reliable and robust placard holders. There was a lot of behind-the-scenes work, such as: sourcing all the translations, multiple stages in the design and print process, scouting for suitable locations, planning and liaison with the project partners, and supplying content for marketing and social media, not to mention all of the safety considerations of working in public spaces.
As well as appearing on the streets of Birmingham around the major train stations, A Million Welcomes was also part of Birmingham Weekender in Digbeth, a free arts festival produced by Culture Central that took place in October 2019. Including music, dance, activities for children, performance, visual art and opportunities to try something new, the event showcased the cultural offerings in the city of Birmingham and so it felt like an appropriate setting for one of our placard interventions. On this occasion we also filmed some of the public's responses and interviewed visitors to the event to find out what they made of it, resulting in a five minute video.
An additional aspect of the project was a four-week exhibition of documentary photos, also called A Million Welcomes. It was launched on Sat 28th Sept with an event that took place at Cafe Artum, a vibrant hub that supports Birmingham's flourishing creative community and operates as an artisan café, vinyl record shop and art space. It was here that we hosted a discussion following the first intervention, where we talked about the genesis of the project and heard about the experiences of some of the placard holders, as well as getting input and comments from invitees and cafe customers. Cafe Artum reported that during its run the exhibition attracted lots of attention from customers, many of whom took photos and shared images, particularly of the flyer featuring the 12 translations.
The partnerships with Professor Rajinder Dudrah at Birmigham City University, the team from Culture Central at Birmingham Weekender in Digbeth, and Cafe Artum, combined to enable us to include more languages in the project than originally envisaged. This collaboration also allowed us to put on an exhibition and discussion at Cafe Artum, make a video, and capture some excellent documentation photos. These have all contributed to making it into a much more substantial and rounded piece of work than it might have been and that can only be a good thing.
Thanks of course go to all of the people who helped make this happen under the Redhawk banner, especially to the placard holders and everyone who came up and talked to us. It's all about creating some kind of catalyst in public spaces and these interactions between people will take place and you then have to sit back and watch what happens, you have no control over how people will respond or where it will end up. It turned out to be a very interesting way for us to use and think about languages and creativity.
Rob Hewitt is artist/curator at Redhawk Logistica 2019
If you want to know more or have comments or feedback we'd love to hear from you. Please email admin@redhawklogistica.com with A Million Welcomes in the subject line. You can also see more documentation photos and share yours using the following hashtags and Twitter handles:
#AMillionWelcomes, #slanguages, @creativelangs, @RedhawkL and  @thedr5
You can find out more about our work and previous projects at www.redhawklogistica.com.