Life in a multilingual community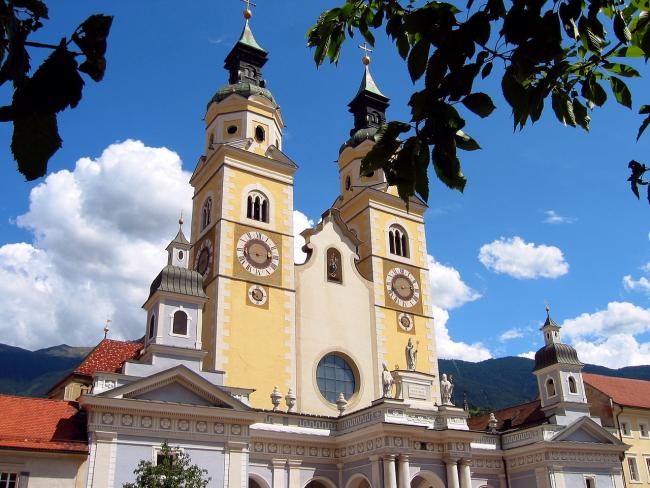 Wed, 21st Jun 2017
When I was working as an English language assistant as part of my year abroad in South Tyrol in northern Italy, I naively thought that talking about nationalities to a class of 11- and 12-year-olds would be a fairly harmless topic. Everything started off normally enough. I had pictures of everyone from Welsh footballer Gareth Bale to Canadian pop sensation Justin Bieber and all was well with the world. Then I asked the pupils about where they were from and things got a bit more complicated. One of the students said to me indignantly, 'I'm not Italian, I can't be Austrian and I'm definitely not German, how do you say Ich bin ein Südtiroler in English?'. 
Then again, I guess I shouldn't have been surprised. I'd already worked out that South Tyrol wasn't your average Italian province as soon as I'd arrived at the train station in Brixen, a town of about 20,000 people around 40km from the Austrian border. For a start, the town itself has three names (Brixen in German; Bressanone in Italian and Porsenù in Ladin, South Tyrol's third official language). When I was considering potential year abroad destinations for the third year of my German and Italian degree, a family friend suggested South Tyrol as somewhere where I could speak both languages in the same place. Before I arrived I'd imagined South Tyrol as an idealised haven of multilingualism, where German and Italian blended seamlessly and everyone wandered around casually cracking multilingual jokes whilst basking in their inherited bilingualism.
Whilst the majority of South Tyroleans are bilingual or even trilingual, the reality was slightly more complex. I was told in passing that the man at the station's ticket office 'only spoke Italian' (although I'm sure I saw more than a flash of recognition when I initially tried to ask for assistance in German). Working out whether to address someone in German or Italian was one of the more basic everyday challenges that I struggled with at first. One of the teachers at the school where I worked told me that 90% of the time, he instinctively knew which language to speak to a stranger before they even opened their mouth. Ten months into my time in South Tyrol, I still hadn't quite managed to master that particular skill, although I did quite enjoy the suspense of my favourite game 'German or Italian?'. Who doesn't love a linguistic version of 'Play Your Cards Right'?     
Signs of multilingualism are everywhere in Brixen. Via Dante exists alongside Goethestraße, match reports for the local football team are published in both Italian and German, and the Frankfurter Allgemeine Zeitung is sold alongside the Corriere della Sera. The fact that I had to pay overseas prices for the German football magazine Kicker was nevertheless a weekly reminder that, although almost three quarters of Brixen's population spoke German as their first language, I was definitely not in Germany. But then again, looking across the street at the shop which sold traditional Tyrolean dirndl ensured I couldn't quite say I was truly in Italy either.
Pursuing my DPhil as part of Creative Multilingualism will give me the perfect opportunity to study South Tyrol's everyday multilingualism from a literary perspective – I'm looking at how literature has shaped identity in the region from 1969 onwards. One thing's for certain, I won't underestimate the topic of nationalities a second time …     
Jamie Green has just completed his M.St in Modern Languages at St Peter's College, Oxford, focusing particularly on Austrian and Italian Literature. He's starting his DPhil on South Tyrolean literature and identity in October as part of the Creative Multilingualism programme.
Where next?
INFOGRAPHIC: Which 3 words do you associate with languages?
Creative translation: bending the rules to keep it personal
Thriving in post-Brexit Britain: the importance of languages