Learning a language is like ... crossing an ocean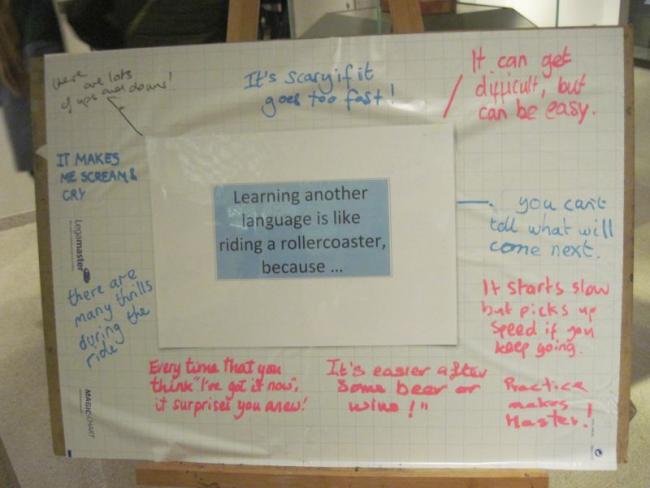 Wed, 12th Apr 2017
Do you ever think about the languages you speak, learn or have learned in the past? If you do, the chances are that you might use a metaphor or simile to help you do your thinking. And even if you've never given it much thought, you will have constructed some beliefs about languages and language learning that creating a metaphor might help you uncover.
The idea that learning a language could be like crossing an ocean was one example given by a participant at our Metaphors for Language Learning activity during the recent LinguaMania event at the Ashmolean Museum in Oxford. The reason this person gave for the ocean simile was because, like crossing an ocean, you have to be brave enough to venture into uncharted territory when you learn a language, but, if you do, exotic experiences await you!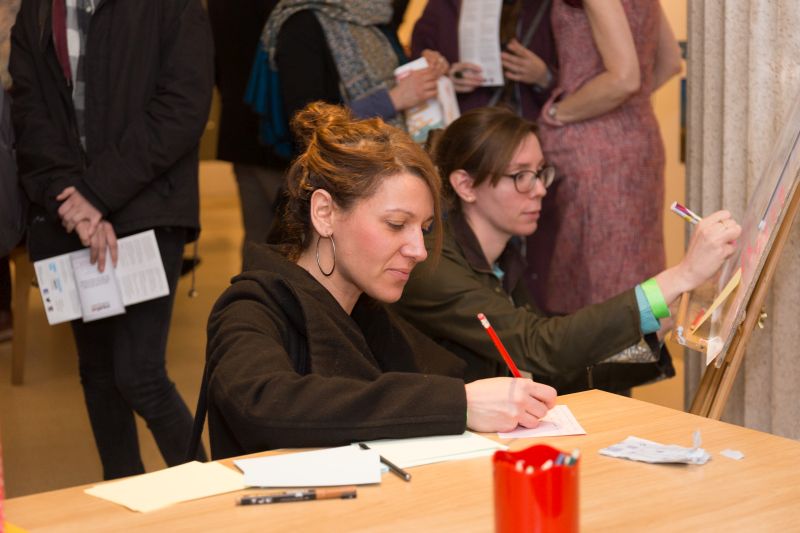 Our activity for LinguaMania was rooted in our research into creativity in the languages classroom, and gave visitors to our stand a chance to think about metaphor and simile to represent their views on language learning. People could either respond to similes other visitors had generated, guessing why someone might have said, for example, that learning another language is like riding a rollercoaster, or they could make up some of their own that they wrote on cards. We had examples on the night in many languages, including Mandarin Chinese, Polish, Italian and, excitingly, Faroese!
Thanks to everyone who came along for their enthusiastic participation and fabulously imaginative responses. Here is a selection from the many similes and metaphors produced on the night: which is your favourite?
Learning another language is like …
painting a picture … because it starts off as something simple and pure but by the end it's complex and beautiful (Stella)
having teeth implanted … because it hurts for ages but you are more attractive for it
an oyster … because it might take a while for it to open, but when it does you find a pearl inside (Melina)
getting to know a city … because first you become familiar with the main areas, then you get to know other areas and eventually all the bits link up and you understand all of it
playing the violin because the more you practise the easier it will become (Calypso)
being stranded on an island … because you have to learn everything from scratch (Maggie)
riding a rollercoaster … because it's easier after some beer or wine
slowly painfully but, oh amazingly, growing a pair of wings because you can start to see right over your native tongue (Rebecca)
learning to ride a bike … because you'll never forget (if you practise)
climbing a mountain … because it's hard work but the enhanced view of reality is worth it
getting a tattoo … because at first it's painful and you want to give up, but then the process becomes strangely satisfying and you have something beautiful with you for life (Alice)
riding a rollercoaster … because it'll turn your life upside down
learning to ride a bike … because it takes you places
finding an oasis in the middle of the desert … because it allows us for a moment to quench our thirst for knowledge and to cast away loneliness (Orlando)
Dr Linda Fisher is Senior Lecturer in Language Education at the University of Cambridge. She is Co-investigator on our 7th strand: Language Learning.
Watch the below interview with Dr Linda Fisher and Professor Suzanne Graham to learn more about their metaphor activity at LinguaMania and how this links to their research for Creative Multilingualism.
Find out more
Explore our blog posts and videos about LinguaMania
Languages as another way of being
Thriving in post-Brexit Britain: the importance of languages