Introducing LinguaMania: an evening of multilingual merriment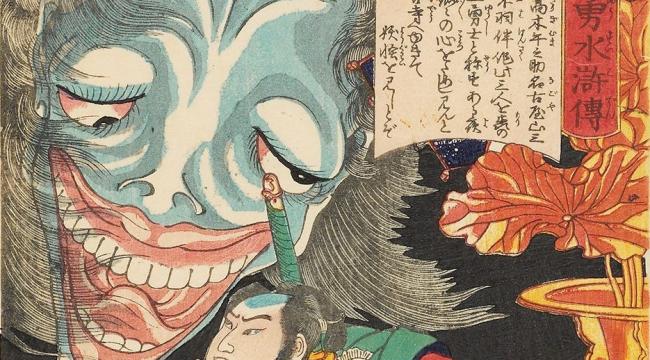 Thu, 15th Dec 2016
On 27 January 2017, Creative Multilingualism will be taking over the Ashmolean Museum in Oxford for LinguaMania, an evening of multilingual experiments, performances, and fun with languages. It will mark the launch of our four-year research programme designed to work out how linguistic diversity and the interplay between languages contribute to human creativity. 
Our language taps into our most private thoughts and deepest feelings, it unites us with the people we live with, and it connects us to our ancestors and future generations. For many people – in the UK and across the world – the ability to adapt our linguistic expression extends to using different accents, dialects or languages. In schools across the UK, it's now common for pupils to speak 50 or more languages in addition to English. Each of those languages is a unique creative resource, and neuroscientists have shown that they interconnect in the brain as we think, speak, write (and sing?). Their collective potential for creativity is awesome – but still poorly understood.
The Creative Multilingualism research programme aims to release the creative potential of modern languages to make linguistic diversity more visible, valued and vibrant in order to inspire learners, empower communities and invigorate research. LinguaMania will bring people together to experience linguistic creativity in action, in a museum space dedicated to Crossing Cultures, Crossing Time.  Each participant will be able to help us with our research into Creative Multilingualism.
Free tickets to LinguaMania are now available: https://www.eventbrite.co.uk/e/linguamania-livefriday-tickets-29305737249
To illustrate LinguaMania, we have chosen a Japanese print from the Ashmolean's collection inspired by a Chinese novel: Takagi Umanosuke with a ghost by Tsukioka Yoshitoshi. The print is a powerful and mythically rich representation of communication. It combines pictorial and written representations of language and speech while highlighting the link between language and culture. Ashmolean curator, Clare Pollard, here explains the history and inspiration behind the print:
This Japanese print series is inspired by the Chinese classical novel, 'The Tales of the Water Margin' ('Suikoden' in Japanese). The novel recounts the legendary exploits of a gang of Chinese outlaws in the twelfth century. The subject became enormously popular in Japan after being translated into Japanese in the late 1700s. The publication in 1805 of a popular version by the novelist Takizawa Bakin, with illustrations by the famous print designer Katsushika Hokusai, led to a veritable 'Suikoden' craze in Japan and sparked a number of woodblock print series. The artist Yoshitoshi, instead of depicting the Chinese characters from the original novel, chose to use his own set of heroes from Japanese history and legend for this series. He was fascinated by the supernatural and incorporated a number of depictions of spirits, ghosts and monsters.
The seventeenth-century warrior depicted in this print, Takagi Umanosuke, was a legendary sword fighter, famous for founding one of the earliest schools of Japanese martial arts. Here he is shown undergoing a trial of courage in a haunted temple. The subject is related to a triptych by another print designer, Kuniyoshi, published in 1852, in which a second warrior tries to frighten Takagi Umanosuke with an inflated ghost figure in a ruined temple.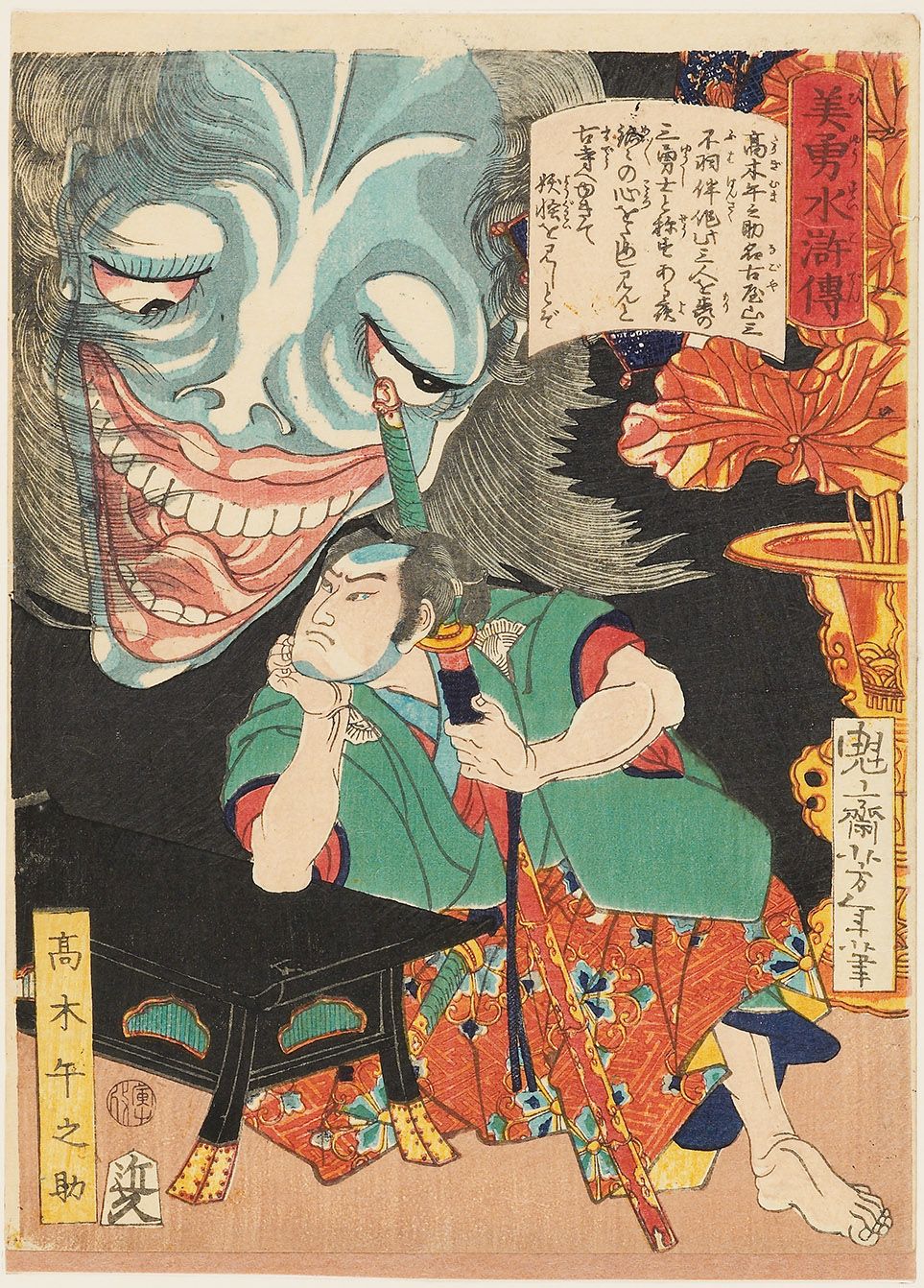 Further details about the print
Title: Takagi Umanosuke with a ghost (Takagi Umanosuke)
Artist: Tsukioka Yoshitoshi (1839–1892) 月岡芳年
Series: Beauty and valour in the novel Suikoden (Biyū suikoden) 
Colour woodblock print
Tokyo, Japan
1866
Gift of D. Grigs, EA1971.215
Book your free tickets to LinguaMania
Tickets to LinguaMania are FREE but there is limited availability, so booking is required. You can register for your free tickets now: https://www.eventbrite.co.uk/e/linguamania-livefriday-tickets-29305737249