@Flyingless and sustainable research? Some snapshot responses from academics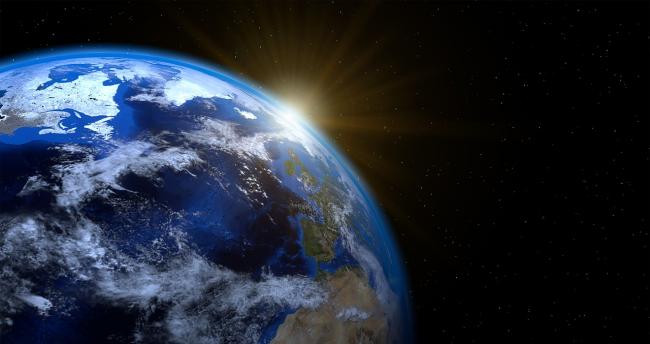 Fri, 4th Oct 2019
Like most people, I worry about climate change. This blog considers climate change and air travel.
Clearly there are many areas where pro-environmental action can be taken: vegan diets, ethical banking, renewable energy, etc. So – why focus on flying? As earth scientists have pointed out:
The Intergovernmental Panel on Climate Change (IPCC) reports in 2018 that humans already have caused about 1.0°C of warming above pre-industrial levels. Ambitious changes to all economics sectors are needed. No sector is exempt. It is impossible to meet global greenhouse gas targets for the transportation sector through efficiency gains alone. It is essential to change transportation behavior as well.
Each of us can individually join movements like #FlightFree2019. However, individual action is never enough, and there are growing calls to take collective action in policy such as the Frequent Flyer Levy.
So, what does this have to do with academics? Earth scientists have argued that academics must play a role in setting an example, to avoid feeding into the widespread public mistrust of scientific expertise. Furthermore, as recent research suggests, public figures have the potential to act as role-models: academics can help to influence a broader social change through their individual actions.
Any negative impact on academics of flyingless pales in comparison to the loss of homes and livelihoods endured elsewhere, mostly in the poorest countries in the world – as Harjeet Singh, global lead on climate change for Action Aid has explained.
In addition to individual action, researchers from top British and French universities have suggested:
Now is the time for institutions to also embrace policy for flight reduction or carbon abstinence.
In real-world terms, reducing – or stopping – flying is a genuine challenge, particularly if academics are conducting research on cultures in other continents. A case in point: most of the researchers on Oxford's Creative Multilingualism, where I'm working as a postdoctoral researcher, are conducting research about languages in countries around Europe and across the globe. This makes for a particularly interesting case study.
When I raised the idea of @flyingless as an item of Any Other Business at a steering committee meeting, the team spent almost half an hour considering it (which I appreciate since I promised them that my impromptu item would only take a couple of minutes!). After discussion, it was considered impractical to adopt a flyingless policy at this late stage in the four-year project, since an international conference had been factored into the third year of Creative Multilingualism. This serves as a useful reminder of the long-term planning cycles at universities, where @flyingless would need to be embedded into project planning. It is also symptomatic of a sector-wide expectation around the role of conferences. As the scholar Jason Hickel has argued, the unchallenged expectation of flying to international conferences is an 'elephant in the air' across western universities.
You can read their reflections on @flyingless – and my own – below.
There is also one response piece by Rosanna Greenwood, former Vice President of the Oxford Student Union.

Dr Noah Birksted-Breen, postdoctoral researcher
Strand 4, Creative Multilingualism
Most academics fly a lot. More than the general public. A recent study in Sweden found that 'on average, Swedish sustainability academics fly 72% more frequently for work alone than average Swedes do in total per year'. The same research project suggests that the majority of flying by academics is for the purpose of going to conferences. Given the scale of the climate crisis, and the proven ineffectiveness of current policy-making on travel behaviour, it is time to consider the real benefits of conferences, and the extent to which they are essential for research. Might it be desirable, or necessary, to introduce a requirement for organisers of international conferences, and individual conference attendees, to make the case that the benefit of international flights is commensurate with the climate impact?
In the last couple of months, I've heard one Oxford academic accept that their field of research (relating to biodiversity) will literally disappear if there is no proper action on the climate catastrophe, then in the same breath, they told me that they wouldn't want to sign up to the @flyingless movement. This epitomises a tension that all academics must face in some form, as it seems increasingly obvious that we must all adapt our current ways of working and living, even if that involves modifying how we do our research, not to mention significant inconvenience.
It's crucial to know that things are 'worse, much worse than you think', as it has been articulated by the author David Wallace-Wells in his book The Uninhabitable Earth. Now I tell colleagues from the outset, when these kinds of conversation come up that I'm signed up to @flyingless. I'm determined to make my next research trip to Russia by train, inspired by academics who have gone much further for their own research – and to try to make it routine practice to use train travel.
But acting in isolation will not achieve much. Collective action is the only way to combat climate change. I spoke to Harriet Waters at Oxford's Environmental Sustainability Department, and our conversation convinced me that what's needed, most urgently is:
DIALOGUE. Holding a constructive dialogue with academics about @flyingless. Currently, most of the resistance to environmental initiatives comes from academics themselves.
TRANSPARENCY. Setting up an automated database to create reliable statistics on carbon emissions by flying. Currently, the university has no statistics at all about how many flights its academics are taking. Oxford's aim to cut carbon emissions by 50% by 2030 doesn't yet include flights.
INNOVATION. There are a lot of new ideas emerging from academia about how to change university-wide practices towards a truly sustainable working culture. It's time to engage with those ideas and implement the best of them.
LEADERSHIP. Calling on the university to declare a climate emergency, and then to match those words with substantial resources, above current levels. Pressing the university to put sustainability at the core of its mission, not as an 'add-on' initiative.  

Jane Hiddleston, Professor of Literatures in French
Strand 5, Creative Multilingualism
The travel I do for research usually involves attending conferences and giving seminar papers. It would be difficult to cut this back without straightforwardly cutting back on international collaboration, and missing out on such opportunities would hinder some aspects of the development of the research. As technology improves, however, some interactions may be possible by Skype, though the depth of the interchange would no doubt be affected.
However, I travel less than I used to for library use, with increased availability online. One difficulty is that while many European and American publishers make their material widely available, this is not always the case with publishers in North Africa. Some material can only be found in local bookstores. Better international dissemination would make a big difference.
Despite these difficulties, the University should consider making positive steps to improve our carbon footprint. The only way for this not to hinder research would be for improved technologies to make Skype debate a genuinely effective alternative to travel, and the widening of book acquisition to include international material as far as possible.

Linda Fisher, Reader in Languages Education
Strand 7, Creative Multilingualism
Before the @Flyingless campaign was introduced at a recent Creative Multilingualism meeting, I'd only briefly thought about how much I flew, probably because I didn't really want to change my behaviour. My internal monologue when I did experience a moment of discomfort (where my beliefs in myself as a 'greenish' sort of person came into conflict with what I was actually doing) was to say that attending international conferences and meetings is a vital part of my work. And to remind myself that I don't fly that much — as I'm mainly concerned with the teaching and learning of European languages, I rarely go long haul. I was fooling myself on a number of levels, however.
It turns out that I am a frequent flyer, certainly in comparison with the rest of the UK, where in 2013, a surprising 57% of the population took no flights at all. What's more, in this same year, 15% of the population took about 70% of all the flights: Mea culpa. Looking back on diaries from 2013, I saw quite a bit of air travel, including a visit to an Education conference in San Francisco (I was meeting a North American colleague and, perhaps ironic given the topic here, we were co-presenting a paper on language teachers' use of technology).
So did I need to be there in person? Increasingly as in many others fields, academics in the field of languages education are turning to webinars, online lectures, podcasts and forums to try to connect virtually. Data gathering for the Education strand of the Creative Multilingualism project has been happening across England and we've used a mix of train and car and teachers have occasionally been Skyping into meetings. When we begin to disseminate the results of our research more widely, we will need to decide carefully on the value of each gathering, think about whether trains are possible for events in mainland Europe and which conferences and meetings to prioritise.
It's highly appropriate for universities to have policies on its staff's travel. First, such a policy could provide information, the 'knowns' about air travel (for example I only discovered recently that budget airlines can be more environmentally friendly as they pack more people in and that day flights are generally less pollutant). Importantly, any policy on flying should reflect justice issues; situating a conference or event outside of Europe or North America can be important to allow greater participation from parts of the world traditionally under-represented in academia. It should ask each academic explicitly to consider resource expenditure, not just in terms of time and money, but also in terms of carbon footprint. The longer term cost of travel (global warming) needs mindful balancing against its shorter or medium term benefits.

A commentary by Rosanna Greenwood, former Vice President, Oxford Student Union.
As the Elected Vice President (Charity and Community) at the SU I regularly support and hear from students who are lobbying to make their colleges and the wider university a more environmentally conscious space, from reducing food-related emissions in halls to lobbying for more energy efficient buildings. The University's own research reveals the potentially catastrophic impacts of climate change. In my experience, most students believe that the University has a responsibility to minimise its contributions to climate change – far more than is currently taking place.
A significant portion of the University's carbon emissions are made up of Scope 3 emissions – which is to say, purchased goods and services including flying, although the university does not currently record flying within its emissions targets.
The feelings on this subject are strong among students.

Conclusion
While there are diverse views expressed by the various authors in this blog, all authors seem to agree on the need for institutions to take university-wide measures – not just to mitigate their own emissions but to use innovation and bold action to become globally significant champions of climate action.
Image by Image by PIRO4D from Pixabay
Noah Birksted-Breen is a Post-doctoral Researcher on Creative Multilingualism's 4th research strand: Languages in the Creative Economy.
Where next?
What is Creative Multilingualism?
Prismatic Jane Eyre – what can we learn from studying translations of Jane Eyre?