Creative Multilingualism (OWRI) funded projects
Mon, 9th Jul 2018
In Spring of this year, we ran an OWRI funding call for projects related to the following areas:
1) Interaction between linguistic diversity and cognitive creativity
2) Creativity at the interface between languages and STEM
3) Linguistic creativity in the performing arts
4) Multilingual Performance in Schools
Thank you to everyone who submitted an application. We're delighted to announce that the following projects have been successful in their bid for funding (see below for details of each project).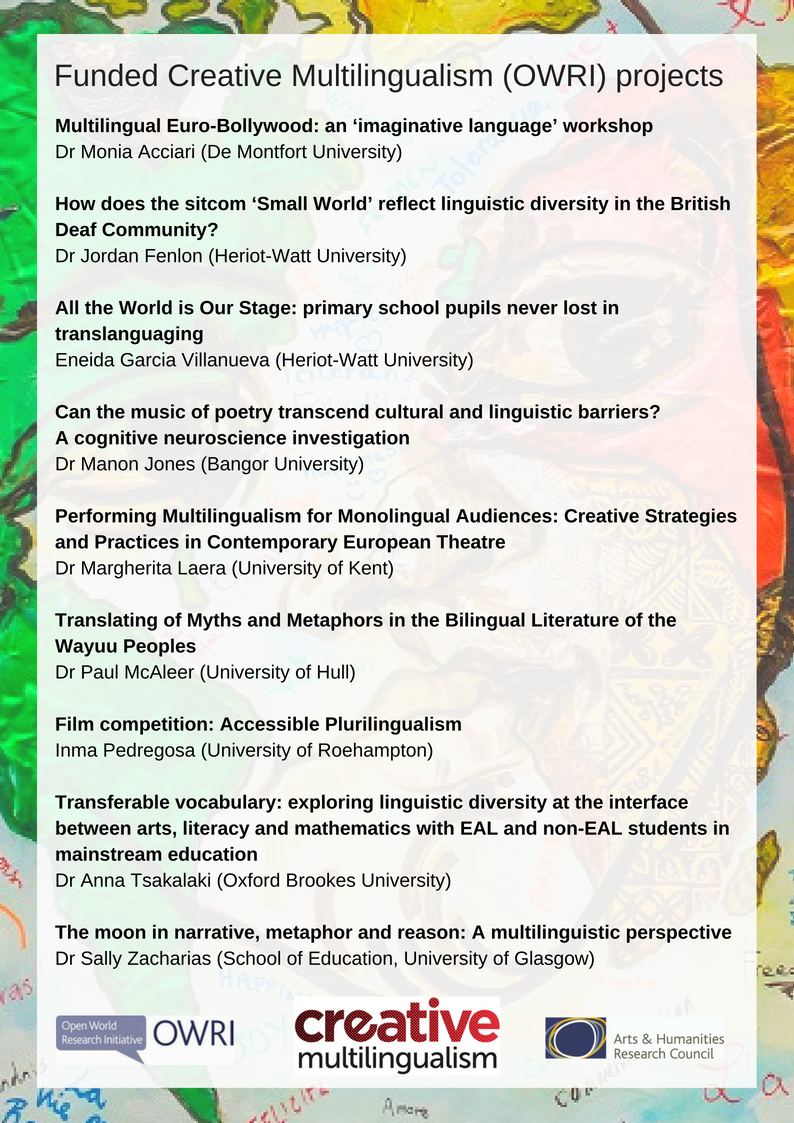 Multilingual Euro-Bollywood: an 'imaginative language' workshop
This project will map out the nuances of cultural transfer from Bollywood to Europe and Europe to Bollywood via creative multilingualism, with specific focus on subtitling and dubbing practices. The idea is to broadly explore how historical, socio-cultural and conceptual questions on Euro-Bollywood's creative relationship is further problematized or resolved by multilingual dynamics.
Thus, the aim is to shed light on the linguistic dimension of Euro-Bollywood and address in detail: narratives about multilingualism, the social practices of creating and understanding transnational-Hindi language, and investigate foreignness via mimicry with attention to acoustic and phonetic stereotyping by revealing an accent or multiple accents.
Principal Investigator: Monia Acciari (De Montfort University)
Read the blog about the 'Dubbing and Subtitling Bollywood Cinema in Europe' workshop here>>
How does the sitcom 'Small World' reflect linguistic diversity in the British Deaf Community?
This project will investigate how British Sign Language (BSL) is used creatively to portray multiple linguistic identities within the sitcom Small World. Small World is an online sitcom, created by two deaf actors (Brian Duffy and Ace Mahbaz), featuring a range of deaf characters. These characters, representing deaf people from different linguistic backgrounds, frequently differ in their use of BSL.
To portray this linguistic diversity within the deaf community, the creators behind the sitcom utilised a collaborative process involving themselves and the actors of the sitcom. Beginning with a rough story outline, the dialogue was created by the actors in rehearsal and further refined by the two creators following general discussions with the team. Together with the writers, we aim to investigate the process by which these linguistic identities are created. We also intend to investigate how these identities are perceived by deaf people who watch the programme.
Principal Investigator: Jordan Fenlon (Heriot-Watt University)
Read 'Creating a linguistically diverse deaf sitcom through improvisation', Jordan's blog about the Small World sitcom here>>
All the World is Our Stage: primary school pupils never lost in translanguaging
This project celebrates linguistic diversity and reflects on the multilingual, multicultural and superdiverse society represented in Glasgow today. This multilingual performance supports the teaching and learning journey of primary schooling in non-affluent areas of the city. Acknowledging that embedding every community language in the curriculum is not feasible, we specifically focus on creating contexts where the languages spoken at home enjoy the same status as those taught at school.
Translanguaging is both design and interaction and as such, pupils work together to choose traditional songs and rhymes and script a multilingual play, which they subsequently perform in a local theatre to main language stakeholders in Scotland, families, MPs, policy makers and also other schools so it can be subsequently emulated. Signposting the pilgrimage towards a lifelong love of languages, childrens' voices are heard and empowered with the autonomy to design and bring their own project to life.
Principal Investigator: Eneida Garcia Villanueva (Heriot-Watt University)
Explore the project's Webinar series >>
Can the music of poetry transcend cultural and linguistic barriers? A cognitive neuroscience investigation
In a move towards bridging traditional disciplines from the sciences and the arts, we propose to explore the universality of poetic appreciation using neurocognitive methods. Recently published data from our lab shows that the ancient Welsh poetic form Cynghanedd spontaneously elicits an attentional orienting effect in native Welsh speakers. We propose to examine whether poetic forms such as Cynghanedd can elicit similar neural engagement when experienced in a second language (e.g., English), or even in an unknown language (e.g., Japanese). These data will reveal for the first time whether the 'music' of poetry can transcend linguistic comprehension.
We will also instigate a collaboration with the Oriental Institute, University of Oxford, with the aim to develop a substantial grant application to the AHRC/ESRC. This project will comprise a cross-linguistic and cross-cultural comparison of Welsh and Japanese poetic sound patternings and their effects on readers' and listeners' responses to poetry.
Principal Investigator: Manon Jones (Bangor University)
Performing Multilingualism for Monolingual Audiences: Creative Strategies and Practices in Contemporary European Theatre
This project investigates creative strategies and performative processes at work in multilingual theatre for audiences in predominantly monolingual cultures with a large immigrant population. The aim is to chart, share, and disseminate practices of current multilingual work in European theatre, in the areas of playwriting/dramaturgy and performance-making.
We will facilitate workshops at Central with French director Anne Bérélowitch and Italian playwright Fausto Paravidino. Culminating in public showings, the workshops will also provide opportunities to share practices with invited UK-based theatre-makers working in cognate areas. The work programme includes the organisation of the first dedicated international conference that will bring together academic and artistic researchers in multilingual performance, to discuss and respond to the workshop findings and initiate further conversations with keynote speeches by Greek theatre-maker Anestis Azas and Prof Katharina Pewny (Ghent). The project insights will be disseminated in a book publication edited by the investigators.
Principal Investigator: Dr Margherita Laera (University of Kent)
Translating of Myths and Metaphors in the Bilingual Literature of the Wayuu Peoples
This project will examine the relationship between bilingualism and creativity in Wayuu literature and promote bilingual creativity in ethno-educational institutions in La Guajira, Colombia. The Wayuu, the largest indigenous population in Colombia, are predominately bilingual in Wayunaiki and Spanish. Many Wayuu writers reflect this bilingualism by employing both languages in their literary output.
The aim is to analyse the literary techniques that authors, such as Miguel Ángel Jusayú and Miguel Angel López Hernández, use in order to translate aspects of Wayuu philosophy in bilingual literary expressions. Central to the investigation is the study of the use of metaphor. How do the writers employ metaphors to articulate the complex relationship between the Wayuu and their ancestors in the Spanish language? The objective of examining such questions is to develop our understanding of how bilingual groups employ metaphors across languages and, thus, enrich the symbolic repertoire of both.
Principal Investigator: Dr Paul McAleer (University of Hull)
Film competition: Accessible Plurilingualism
Drawing on the creative and linguistic resources of secondary school students, our project is centred on a film competition for schools leading to a film festival taking place in Roehampton where the winner will be announced. Sixth form pupils in the South East of England will be invited to take part in a film competition involving languages other than English. The teams of students will be supported through all stages of film production. They will be instructed on how to script, shoot, edit and subtitle a film. The shortlisted teams will be invited to participate in a Film Festival at Roehampton, where a winner will be announced.
While students will provided with technical assistance, the focus is very much on creativity, languages and accessibility. This aligns directly with our experience working with Routes into Languages. Schools can also take advantage of specially designed learning materials even if they decide not to participate in the competition. These learning packs, provided in Spanish and French, will contain specialist vocabulary and scenarios to develop competence in speaking about watching and making films.
Principal Investigator: Inma Pedregosa (University of Roehampton)
Watch Inma's presentation here >>
Transferable vocabulary: exploring linguistic diversity at the interface between arts, literacy and mathematics with EAL and non-EAL students in mainstream education
The primary mathematics curriculum in England requires pupils to use specific vocabulary to verbalise understanding and the solving of word-based problems. Emerging research evidence suggests that children who have English as an Additional Language (EAL) may lack specific language knowledge and general language ability, which might result in struggling particularly with word-based problems in everyday maths lessons.
The use of specific vocabulary within a mathematical context will be explored using devised tests, questionnaires and interviews with Key Stage 2 pupils and their teachers in three primary schools in the south-west of England. The study will explore the use of linguistic diversity in everyday teaching of mathematics, propose creative ways of learning vocabulary across subjects and evaluate development of mathematical language ability and of inclusivity of practices over time. A framework of recommendations for teaching practice and whole-school policies will be proposed based on the results.
Principal Investigator: Dr Anna Tsakalaki (Oxford Brookes University/University of Reading)
View the Transferable Vocabulary presentation here>>
The moon in narrative, metaphor and reason: A multilinguistic perspective
This project sets out to explore how different cultures respond to physical astronomical phenomena through narrative, metaphor and reason. It looks at how speakers of different languages draw on their narrative, metaphorical and explanatory resources to make sense of their astronomical observations. In particular, it will focus on the moon that has been a creative source of inspiration in many cultures; expressed through festivals, religious practices and scientific discoveries.
Despite the moon being a common feature to us all, irrespective of geographical location, different languages and cultures have evolved their own response to it. By drawing on conversations with Mandarin, Arabic, Polish and English speaking families, this study will investigate how people use their linguistic resources to make sense of the moon, a physical phenomenon that is known by, and has been a source of wonder, for us all.
Principal Investigator: Sally Zacharias (School of Education, University of Glasgow)
We'll keep you updated with how these projects are going on our blog and social media channels. Follow us on Twitter, like us on Facebook, or sign up for our newsletter using the form below.