Creative Multilingualism in opera and song: Roderick Williams visits Oxford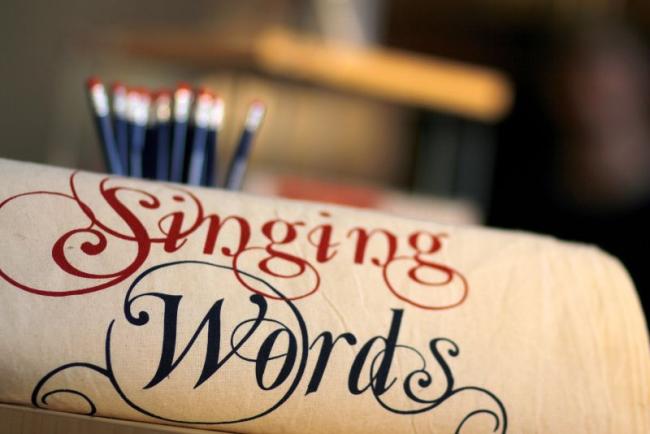 Thu, 6th Jul 2017
Earlier this year, Oxford was lucky enough to host a visit by Roderick Williams, the leading British baritone. Organised by the Oxford Song Network and generously supported by Creative Multilingualism, TORCH (The Oxford Research Centre in the Humanities), OCLW (Oxford Centre for Life Writing) and Oxford Lieder, Roddy's visit consisted of an afternoon masterclass with a new generation of promising young singers and concluded with a conversation and Q&A session. A recording of that conversation can be downloaded here. The discussion ranged widely over such questions of how singers master – or appear to master – foreign languages in musical performance, how to create compelling biographical portraits of characters on stage, how to bring classical music to new and unfamiliar audiences, and how performers fashion a relationship between themselves and their listeners.
Before that, though, Roddy generously spent two and a half hours working with four young singers – Josep-Ramon Olive (one of Oxford Lieder's 'young artists'), and three Oxford undergraduates – Sofia Kirwan-Baez, Maximilian Lawrie and John Lee. It proved to be a remarkable insight into how to imbue musical performance with a real sense of creative involvement, as well as how to convey foreign poetry to audiences even when they don't understand every word of a poem or have access to a text and translation. Strikingly, Roddy spent almost no time talking about vocal technique, wisely leaving that delicate work to the singers' own teachers. Similarly, he did almost no unpicking of the languages in which they sang – French, German and Italian. This was something of a surprise, since one might have thought that attending to issues of pronunciation, accent, intonation and so forth would be central to how singers give an impression of fluency in a language that is not their native one. Yet what did transform the performers' ability to communicate was Roddy's frequent request for them to summarise a poem for the audience and – more crucially – to explain why they had chosen to sing a particular song in the first place. Suddenly, performing a song was no longer a question of following the notes on the page, of mimicking a phonetically accurate transcription of a foreign poem. Instead, it became an act of persuasion and rhetoric, of using every art at an artist's disposal to convince an audience of some hidden psychological truth in a song or aria. And as the singers approached their songs in this new way, many of the linguistic details of their poetic texts fell naturally into place.
Obvious stuff, you might think, yet it was wonderful to watch Roddy work his magic on stage. But beyond that, the linguists in the audience also had reason to stop and reflect on what musical performance might bring to our language learning and teaching. I know that I often worry about tiny details and want to get everything neatly lined up before uttering a well-formed, grammatically accurate, idiomatic sentence – and feel disappointed when I fail to do so. Yet, watching the transformation wrought by Roddy as he encouraged his charges to take ownership of the words and the notes they were singing, I realised that we might also want to think about speaking a foreign language as being akin to a musical performance, an act of dramatic impersonation and even a piece of rhetorical persuasion. That creative impulse is one we don't always think about in teaching and learning, but might be one way to liberate students and teachers alike from the anxieties and even neuroses that can beset us all when speaking in public. There is certainly no getting away from the rules, tables, paradigms and exceptions familiar to all language learners, without which fluency is impossible, just as no one can aspire to a musical career without years spent mastering the techniques of their instrument (and the voice is, after all, just another instrument). But watching Roddy Williams impart a new sense of confidence in his young charges, it was hard not to wonder how we linguists can learn something from the emotional engagement of our performing cousins.
Philip Ross Bullock is Professor of Russian Literature and Music at the University of Oxford and Senior Researcher on our 4th strand: Languages in the Creative Economy.
Where next?
Creative translation: bending the rules to keep it personal
Ackley Bridge: English, Hindi-Urdu and Bollywood languages on the telly
Thriving in post-Brexit Britain: the importance of languages