Confessions of a Programme-note Writer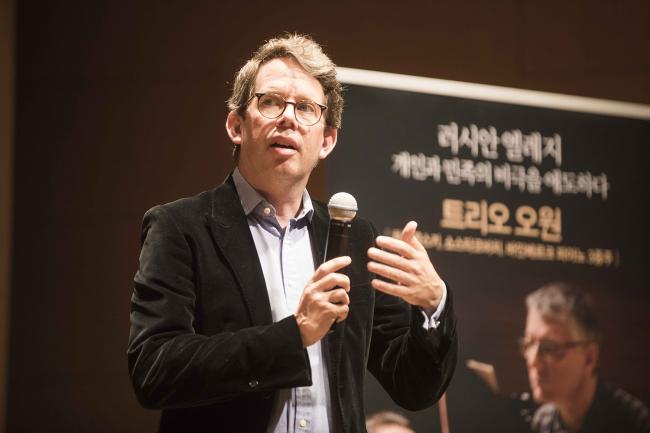 Thu, 4th Jun 2020
Like many music lovers, I had been looking forward to the summer season this year. I had plans for trips to see operas at Glyndebourne and Garsington, and was keen to see what the BBC Proms had to offer by way of orchestral music. Of course, none of that is happening, now that the lockdown has put paid to social events, especially ones which involve sitting next to several hundred other people in a confined space for a few hours. 
In some cases, my summer plans involved events in which I had had some small part to play. It's a particular pleasure to see a production where you may already know the creative team and have some inkling of their ideas and intentions. Over the years, I have enjoyed writing programme notes and providing translations for organisations such as Wigmore Hall, Garsington Opera, Welsh National Opera (WNO), the Royal Opera and others (you can read a short article on my collaboration with Garsington Opera's 2016 production of Tchaikovsky's Evgeny Onegin here). This year, I'd written an essay on Tchaikovsky's Evgeny Onegin for Opera Holland Park and enjoyed a number of long and fascinating conversations with its director, Julia Burbach. I'd written a note on Bartók's Duke Bluebeard's Castle for WNO too, and was looking forward to seeing Bryn Terfel in the title role. For the Zaubersee Festival of Russian Chamber Music in Switzerland, I'd produced essays on Tchaikovsky and Saint-Saëns and on Pauline Viardot, and for Wigmore Hall, I had been commissioned essays on string quartets by Schönberg and Tchaikovsky just before the lockdown was announced. 
Yet rather than lament this summer's cancellations, this seems like a good opportunity to reflect on what's involved in such collaborations and what I've learned from them over the last few years. It's an opportune moment for other reasons, now that Creative Multilingualism is at an end. As part of this project, I have been working closely with Oxford Lieder, sharing my linguistic knowledge and cultural understanding with one of the UK's most prestigious cultural organisations. My work often involves conveying the excitement of learning languages to British audiences, but it has also taken me  abroad and sometimes out of my comfort zone. On one occasion, I received an invitation to lecture on Tchaikovsky in German to an audience in the opera house in Stuttgart, and nerve-wracking as it was at the time, it helped me to empathise with my own students, as well as with audiences approaching perhaps unfamiliar languages through the medium of live music. I have written about this memorable trip here. 
Writing a programme note or giving a pre-performance talk allows me to introduce listeners to a repertoire that is not always familiar, to share with them some of the broader cultural, artistic and historical context that shaped that repertoire, and sometimes to challenge pre-conceptions about Russia and its arts. For academics used to writing long journal articles and even longer monographs, there is a creative discipline involved in conveying your ideas in just 1200 words or 20 minutes. It is a form of communication which makes you think very explicitly about your readers and listeners, and sitting in a recital and watching other people read your words is a very good check on pretention and verbosity. Accordingly, it makes the writing process more open-ended and inclusive – trying to imagine yourself into your audience's mind is an excellent way of trying to balance the familiar with the unfamiliar, the objectivity with the personal, and the scholarly with the imagination. I see my role as a guide and interlocutor, even on the page; audiences are often very well informed and always curious, and they have a vast amount of information at their disposal from various sources. In fact, there is often a surfeit of material in print and online, and one of the tasks of the essayist or lecturer is to help the reader or listener navigate their way through all of that. 
My primary academic interest is in the history of Russian song, and in addition to writing and lecturing about this repertoire, I've also found myself translating it. There are excellent anthologies of song in French and German, and concert promoters often use these in their programme booklets. There isn't (yet) one in Russian, and a lot of what is out there on the internet is eccentric, unidiomatic and downright inaccurate. So I've been asked to provide new translations of a lot of classical Russian repertoire, and rather unexpectedly, I've become a published translator. To be honest, this task might have terrified me – whilst I teach translation to my students at Oxford, it's as a means for learning the language, not a stylistic or creative exercise as such. Certainly translating lyric poetry offers very particularly challenges, even if I don't subscribe to the view that 'poetry is what gets lost in translation'. What saved me, though, was the collaborative aspect of the task. My translations don't appear on their own, presented as autonomous equivalents of the original. Instead, they sit side-by-side with the Russian (usually in transliteration, so that non-Russian speakers can at least follow the sounds), and – most important – can be read whilst the performer is singing them. In this way, my English versions co-exist with the written Russian text and a live performance, and become part of a multilingual collaboration. It's a new and rather unexpected form of creativity, and one which has brought me much closer to the material I've been studying for such a long time. You can read a longer article in which I talk about what I've learned by translating song poetry here. And here's an example of a deceptively simple poem by Aleksandr Pushkin that I really enjoyed translating into English. 
Writing essays for opera companies and symphony orchestras offers a similar sense of dialogue. Typically, there will be more than one essay in a programme booklet, so you know that words will be read alongside those of other experts in the field. On occasions, you even find yourself graciously disagreeing with another contributor, and that can be a useful way of reminding readers of the judgement inherent in all scholarship. A lot of my notes have been commissioned to accompany performances of Tchaikovsky's operas, largely as a result of a short critical life I published of the composer in 2016. I'm grateful to Michael Leaman, the published of Reaktion Books, for the invitation to write this biography, especially as there are plenty of musicologists out there who could easily have done the job. Perhaps, though, a linguist's perspective is helpful here, not just in coming to terms with a vast amount of primary material in the original language, but also in applying the tools of literary analysis to a very different art form.   
In some cases, the request for an essay comes late in the process, and my task is to add some important historical context for the reader. But in other cases, I'm able to talk to members of the creative team to get a sense of what it is they are trying to achieve with the production. I can't claim to influence the outcome, but it does mean that what I eventually write has a meaningful relationship to what the audience is seeing on the stage. Again, it's a form of mutual dialogue rather than a one-way form of communication. 
A good example of this process came about in February 2019, when I was approached by Trio Owon to participate in a promotional video for a planned recording of piano trios by Tchaikovsky, Shostakovich and Weinberg. During a visit to Oxford, I met with the three musicians, heard them play and talked to them about their approach to this repertoire. Their record company shot a brief video on this occasion, which is available online, whilst a longer version is available with the CD release. I was also asked to write an essay about the repertoire for the CD booklet, and it made a huge difference having built a relationship with the performers in advance and knowing something of their engagement with the music they were due to record. Then, when the recording was finally released, I flew out to Seoul for a series of launch events, including plenty of press and TV interviews, some concerts and plenty of introductions to members of South Korea's artistic and academic scene. The record company made a short video of one of these events, bringing our sixth-month collaboration to a memorable conclusion. Whilst it would be hard to evaluate exactly what I might have brought to the performances of Trio Owon – they are, after all, highly gifted and accomplished musicians who have long lived and breathed this repertoire – I found being involved at various points in the process invaluable when it came to getting a sense of their aspirations for the recording. 
It is always satisfying to feel that your work is carried out in partnership with others who share your passion. A further exciting feature of my public-facing work has been the way it has extended my linguistic and cultural range. I have often been commissioned to write a programme note or essay for a programme featuring Russian works alongside pieces from other repertoires. Here, I rely enormously on the scholarship of others to help orient myself in the world of string quartets by Beethoven and Schubert, or songs by Poulenc, Sibelius and Schumann, to take just two recent examples. These are often works I know and appreciate as a listener, and it can be a liberating experience to leave behind Russian music for a while and explore other cultures instead. It is, though, opera which has offered the greatest sense of adventure. Thanks to invitations from Garsington Opera and WNO, I have found myself writing about Bartók, Debussy and Janáček (here are some reflections on a talk I gave about Debussy's Pelléas et Mélisande in 2017), and I hope to add Richard Strauss to this list next year. Again, these are invariably operas that I have loved as an amateur, and to which I try to bring some degree of linguistic expertise and cultural understanding as a scholar. Linguists usually have one main language they specialise in, but are often less confident about using their other languages for professional purposes. Whilst we can all understand the sense of scruple that holds us back from being less than perfectly fluent when speaking or writing in a foreign language, it can be equally liberating to indulge other linguistic passions. 
Looking back, then on the notes, essays, translations and talks that I've done over the last few years has brought back memories of some sublime performances and happy artistic friendships. And it makes me look forward even more to the moment when we can enjoy the shared pleasure of live music-making once again. 
Oxford Lieder: 
Wigmore Hall: 
Programme note, quartets by Beethoven, Borodin and Shostakovich, Borodin Quartet, 30 January 2020 
Programme note, song recital by Peter Kellner and Pedro Costa, 20 January 2020 
Programme note, song recital by Alessandro Fisher and Ashok Gupta, 10 November 2019 
Programme note, Schubert and Shostakovich quartets, Borodin Quartet, 11 October 2019 
Programme note, Tchaikovsky and Arensky string quartets, Borodin Quartet, 9 October 2019 
Russian translations, song recital by Matthias Goerne and Antonio Pappano, 23 June 2019 
Programme note, Russian and Finnish song recital by Jacques Imbrailo and Alasdair Hogarth, 26 May 2019 
Russian translations, song recital by Anne Sofie von Otter and Bengt Forsberg, 3 May 2019 
Programme note and translations, Russian song recital by Ekaterina Semenchuk and Semyon Skigin, 1 April 2019 
Programme note and translations, Russian song recital by Sofia Mchedlishvili, Andrey Zhilikhovsky and Iain Burnside, 1 March 2019 
Programme note and translations, Russian song recital by Sofia Fomina, Oleksiy Palchykov, Rodion Pogossov and Iain Burnside, 28 January 2019 
Programme note and translations, Russian song recital by Justina Gringyte mezzo, Dmytro Popov and Iain Burnside, 29 November 2018 
Programme note and translations, Russian song recital by Olena Tokar, Pavel Kolgatin, Nikolai Didenko and Iain Burnside, 22 September 2018 
Programme note and translations, Russian song recital by Venera Gimadieva and Pavel Nebolsin, 21 April 2018 
Garsington Opera: 
Insight talk on Smetana's The Bartered Bride, Wolfson College Oxford, 14 May 2019 
'Where is Allemonde?' On Debussy's (Un)French Opera', Wolfson College, Oxford, 3 May 2017 
'A New Kind of Opera', programme note on Tchaikovsky's Evgeny Onegin, Garsington Opera 2016 
'Tchaikovsky and the Search for Sincerity', Wolfson College Oxford, 14 April 2016, available here
'Tchaikovsky's Evgeny Onegin', Eugene Onegin Study Day, Wolfson College Oxford, 14 April 2016, available here
Opera Holland Park: 
'Looking for Lensky; Tchaikovsky, Eugene Onegin, and the Search for Character', summer 2020 
Contributor, Seeing and Knowing: Tchaikovsky's 'Iolanta', pre-season discussion, LRB Bookshop, London, 26 February 2019 
Royal Opera House, Covent Garden: 
Contributor, Pride Insight event, 4 July 2019  
'Tchaikovsky in the City', programme note on Tchaikovsky's Queen of Spades, January 2019 
Contributor, Queen of Spades Insight event, 18 December 2018, available here
Welsh National Opera: 
'Where did this happen? Outside or within?', programme note on Bartók's Duke Bluebeard's Castle, summer 2020  
'A Merry Thing with a Sad End: Life and Death in The Cunning Little Vixen', autumn 2019 
'Art and Life in War and Peace', autumn 2018 
'Tchaikovsky's Search for Sincerity', autumn 2017 
CD liner notes: 
Piano Trios by Tchaikovsky, Shostakovich and Weinberg, Trio Owon, Decca DDA1204, October 2019 
'Tchaikovsky and the Piano', in Valetina Lisitsa, Tchaikovsky: Complete Works for Solo Piano, Decca 483 4417, March 2019 
Other essays, translations, talks and broadcasts: 
'Celebrating Tchaikovsky', Big Tent! Live Events!, The Oxford Research Centre in the Humanities, 7 May 2020,  
Programme note and translations, song recital by Andrei Kymach and Sergei Skigin, Queen Elizabeth Hall, 28 October 2019 
Pre-Prom talk on Tchaikovsky and Russian Folk Music, BBC Proms (subsequently broadcast on Radio 3), 1 September 2019 
'Im wilden Norden: Russland, Skandinavian und der äusserte Rand Europas/In the Wild North: Russia, Scandinavia and the Furthermore Edge of Europe', Zaubersee Festival 2019 
Pre-concert talk, Evgeny Onegin, The Oxford Alternative Orchestra, St John's College, Oxford, 1 February 2019 
Pre-concert talk, 'From Russia with Love', recital by Elin Manahan Thomas and Jocelyn Freemen, Blackheath Concert Halls, 27 January 2019 
Interview on Tchaikovsky for Sounds and Stories, Chicago Symphony Orchestra, 24 October 2018 
'Zwischen den Zeiten/Temporal Ambiguity', Tchaikovsky's Queen of Spades, Salzburg Festival 2018 
'Das andere Petersburg zur Zeit Tschaikowskys', Stuttgart Opera, 15 January 2017 
'Out of Tchaikovsky's Shadow: Stravinsky and Russian Modernism', Stravinsky: Myths & Rituals, Philharmonia Orchestra Stravinsky Series Booklet (2016)