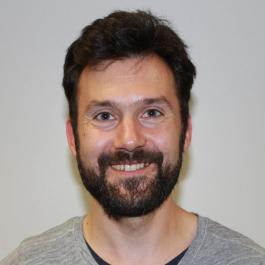 Noah Birksted-Breen
Strand 4. Creative Economy
Post-doctoral Researcher
I feel as though different cultures and languages are in my DNA. My mother's family were emigrees from Ukraine, moving to the USA and, after the Second World War, to France. My father is Danish, of mixed Danish-Norwegian heritage, and his family also moved to France. Ironically, my parents didn't meet in France – they both happened to move to the UK, to study at Sussex University, which is where they met. I didn't grow up bilingual or trilingual like my mum and dad – but I still had a love of foreign cultures and languages, perhaps partly because of hearing them speak French around the house (usually when they were trying to say something secret which they didn't want me and my sister to understand).
My interest in Russia started – and this is the cliché of why many people learn Russian but it's actually true – when I read Dostoevsky in English as a teenager and fell in love with the Russian culture. I was fortunate enough to be able to study Russian at GCSE level at Westminster School, and kept going afterwards with a degree in Modern Languages at Oxford University. After graduating, I moved into theatre as a director and playwright, but it wasn't long before I found a way of bringing Russian back into my life. I started translating and directing contemporary Russian plays in London – setting up my own company, Sputnik Theatre Company. After almost a decade of that, I started a practice-based PhD at Queen Mary University of London, on the subject of new Russian drama. What had started as an instinct at school turned into my life's work. Things seem to have come full circle with this position – since my undergraduate tutor at university was Julie Curtis – who is Senior Researcher on Strand 4, and it's such a joy to return to Oxford to work with her, almost twenty years after graduating from Oxford.
Something has always fascinated me – and continues to fascinate me to this day – about Russian culture: the ferociously dark and absurdist humour of the literature, the resilience and resourcefulness of its people in the face of despotic and violent leaders throughout its history, and the gifts which Russian thinkers, artists and theatre-makers have contributed to world culture. I have always enjoyed being a "conduit" for cultural exchange, to make Russia seem not like a distant place – but instead just like another, very wonderful, European country.
---
Noah left the Creative Multilingualism programme in the spring of 2020 and was appointed to the post of Postdoctoral Research Associate with "Academic flying: necessity, motivation, reduction", a research project based in the Transport Studies Unit in School of Geography and the Environment at the University of Oxford. For his ongoing work on bringing Russian plays to the UK see the Sputnik Theatre.
Selected publications
Birksted-Breen, N, "Vasilii Sigarev and the Presniakov Brothers: Staging the new Russia." In Contemporary European Playwrights, eds. Maria Delgado, Bryce Lease and Dan Rebellato (London: Routledge, 2020). DOI: 10.4324/9781315111940.
Birksted-Breen, N, 'Review of Shakespeare's Measure for Measure (directed by Declan Donnellan for Cheek by Jowl and the Pushkin Theatre) at the Silk Street Theatre, Barbican Centre, 16 April 2015', Shakespeare, Vol. 12, September 2016, pp. 88-91
Kaluzhsky, Mikhail, and Alexandra Polivanova, ed. and trans. Noah Birksted-Breen, Grandchildren: the second act (London: Sputnik, 2014).
Isaeva, Elena, ed. and trans. Noah Birksted-Breen, Doc.tor (London: Sputnik, 2014).
Birksted-Breen, N, ed., New Russian Plays (London: Sputnik, 2012).
Birksted-Breen, N, 'Russian Theatre Festival at the Soho', New Theatre Quarterly, Volume 26, Issue 03, August 2010, pp. 296-298.