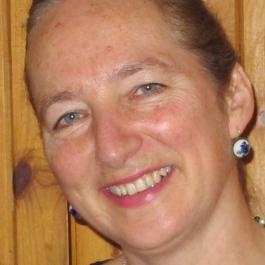 Julie Curtis
Professor of Russian Literature
Faculty of Medieval and Modern Languages, University of Oxford
Fellow of Wolfson College, and Lecturer in Russian for Jesus, Oriel, St Catherine's, St John's and St Peter's Colleges, Oxford
Strand 4. Creative Economy
Senior Researcher
I was lucky enough to be educated from the age of five, together with my identical twin sister, at the Lycée Français de Londres (now Lycée Charles de Gaulle) in London. We were taught in French and followed a standard French school curriculum up until the age of fifteen, then moved over to the English section to take O levels and A levels. It was sometimes rather handy that we had to translate our school reports for our mother! We studied Latin in French first, then later on in English; and my first year of Russian (at the age of thirteen) was taught by an Englishwoman using a French textbook. My sister started Spanish when I took up Russian, and I picked up some of her Spanish too, especially after holidays in Spain. I didn't do any more French after A level, and instead did a degree in Russian and History, which included reading texts in Spanish for an option on 'The Discovery and Conquest of South America'.
Switching back and forth between languages seemed natural and fun, and later on I picked up a little Czech, as well as tourist Italian and Greek: my preferred reading on an aeroplane tends to be a phrasebook, as I hate not being able to make simple requests or speak politely to strangers in a new country. My husband teaches German, so I have also absorbed quite a bit of German vocabulary through being around him.
The Russian language continues to throw up challenges for me, and I'm conscious that our students, who travel more freely to Russia than I could in the Soviet era, often come back now with a more authentic accent. I particularly love teaching translation, exploring the rich nuances of both Russian and English. My interest in Russian literature has been focused largely on satirical writers of the Stalin era such as Mikhail Bulgakov and Evgeny Zamiatin. More recently a course I teach on Russian drama from the 1820s to the present day has led to a new research project on Russian theatre in the age of Vladimir Putin. 21st-century Russian drama is proving to be radical in both form and content, challenging the new conservatism of modern Russian politics and society.
Selected publications
Bulgakov's Last Decade - The Writer as Hero (Cambridge University Press, 1987; reissued 2009)
Manuscripts Don't Burn - Mikhail Bulgakov: A Life in Letters and Diaries (Bloomsbury, 1991). (British and American editions, and translations into German, French, Dutch, Italian and Finnish, as well as a pirated edition in Farsi. Reissued in Britain and the USA in 2012/13, and in Germany in 2016)
'Literature under Gorbachev – a Second Thaw?', in Perestroika - The Historical Perspective, eds. C. Merridale and C. Ward (Edward Arnold, 1991), pp. 168-80
M. Bulgakov, Flight (play), edited with introduction, notes and vocabulary by J.A.E. Curtis (Bristol Classical Press, 1997)
E.I. Zamiatin, 'My. Tekst i materialy k tvorcheskoi istorii romana', M.Iu. Liubimova and J.A.E. Curtis (eds), St Petersburg: Mir, 2011, 600pp (this is  the first scholarly edition in Russian of Zamiatin's novel My/We, based on a unique typescript I discovered in an American archive)
The Englishman from Lebedian'. A Life of Evgeny Zamiatin (1884-1937) (Boston: Academic Studies Press, 2013, reissued in paperback 2015)
Email
julie.curtis@wolfson.ox.ac.uk