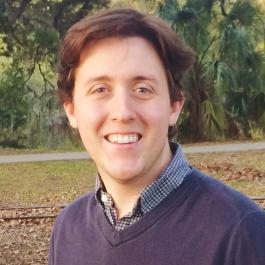 Christopher Monier
Strand 5. World Literatures
Graduate
My background is primarily in French literature, and my current work focuses on a Creole and French-language poet from Martinique called Monchoachi. 
I often feel like I came to foreign language in reverse. I grew up in south Louisiana, surrounded by compelling, endangered and yet still enduring francophone cultures. While I had French-speaking family, it wasn't until college that I began to take the language seriously. It was actually an interest in literature, and poetry in particular, that made me think differently about this. One key revelation for me was this feeling that poetry was not leading away from reality, encounter, and the other, but towards these things.  I remember fondly, and gratefully, how this completely recast my desire to engage new languages.
In this sense, I feel like teachers of literature can play an especially vital role in the struggle to promote multilingualism. If we teach literature in a way that not only communicates knowledge, but that gives pleasure and inspires, that shares wonder, then it seems possible that something especially enduring might motivate and guide language learning. I hope, in the coming years, to both articulate this point and to better understand how it synergizes with other catalysts towards language. I'm also very grateful to Creative Multilingualism for this time to grow as a reader and teacher of poetry.  
Before beginning the DPhil, I taught academic and creative writing for several years in New Orleans. I've also worked as a literary translator and have recently published work by the Lebanese poet Georges Schehadé and by Monchoachi. Often with the creative space of translation as a guide, my study at Oxford involves close work with lyrical and epic poems, as well as the comparative exploration of Creole-world poetics, a multilingual thinking and writing that reimagines how the poetic spirit might survive in our time. 
Selected publications
From Monchoachi's L'Espère-geste II, in Modern Poetry in Translation 18.1 (Apr 2018).
From Monchoachi's Sosthene, in Small Axe Salon 27 (Feb 2018).
From George Schehadé's Poésies, in Oxonian Review 36.2 (Jan 2018).
From George Schehadé's Le Nageur d'un seul amour, in Ezra Journal 11.3 (Nov 2017).