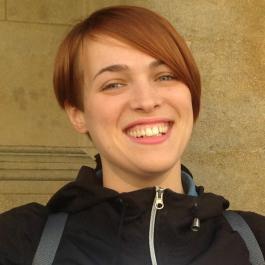 Ana Werkmann Horvat
Post-doctoral Researcher
I grew up in Osijek, Croatia, which is a 45-minute drive from three different country borders. Osijek is an interesting place – its inhabitants' language very much mirrors centuries of migrations, empires falling apart and countries being born. Even though I grew up in a Croatian-speaking family, the vocabulary that was used daily often had many German, Hungarian, Serbian and Turkish words. This also extended to the food we ate – Turkish coffee, Bosnian ćevapi and burek, and Hungarian fish soup are certainly some of my favourite dishes.
            I started learning German when I was seven and continued studying it until the end of high school. The one thing I think I will never forget from my elementary school German classes are the full lyrics of Nena's 99 Luftballons. One of the good things about Croatian TV is that all English TV series and programmes are subtitled rather than dubbed – so I got quite good at reading subtitles and understanding English rather early in my childhood. In addition to studying English and German, in high school I also did two years of Latin. The Latin curriculum in our school included learning a fairly long list of Latin proverbs of which my favourite was Quot capita, tot sententiae (There are as many opinions as there are heads).
            During high school I became interested in language and literature, and decided to study Croatian and English language and literature at the University of Osijek. In 2011, I graduated with a thesis on cross-linguistic differences in metaphorical expressions in Croatian and English, and conducted my following research on metaphor in corpora as well as on language teaching. Around that time, I also experienced how it is to be on the other side of language learning, as I spent two years teaching English as a second language to both children and adults. 
In 2013, I started a master's degree in Linguistics at the University of Ottawa where I started working on modal structures, specifically focusing on Croatian. I continued my work on modality during my DPhil in Linguistics, which I started at the University of Oxford in October 2014 and finished in January 2018. My thesis looked at double modal structures and their semantic restrictions. I have also done experimental work on the acquisition of pronouns. During my studies, I got to be on both sides of the language-learning process one more time. As a teacher, I taught tutorials in Croatian as a second language, which was something I have never done before, while as a learner, I started learning a new language – Spanish!
            I joined the Creative Multilingualism project in January 2018 as a postdoctoral researcher for the metaphor strand. I will be using experimental methods to explore the question of universality and variability in metaphor use as well as the creative potential of metaphor in relation to processing novel and conventional expressions.