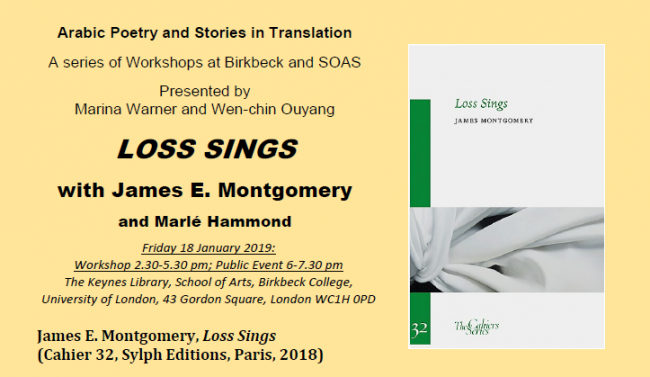 Time
2.30 - 5.30pm (Workshop); 6 - 7.30pm (Public event)
Location
The Keynes Library, School of Arts, Birkbeck College, University of London
Arabic Poetry and Stories in Translation: a series of workshops at Birkbeck and SOAS
Presented by Marina Warner and Wen-chin Ouyang
LOSS SINGS
In this deeply personal meditation, part prose memoir, part poetry translation, James E. Montgomery explores memory, grief and the consolatory power of words through the prism of his personal circumstances. Cahiers is a series of publications about translation by writer/translators, and in this latest publication, Montgomery refracts his thoughts with renderings of the laments that the 6th-Century poetess al-Khansa' wrote after her two brothers died in battle.
The text spans a fortnight, ending on 11 September 2017, 16 years after Montgomery witnessed, from his Greenwich Village window, the haunting and 'strange beauty' of the day's catastrophe. He has commented on the process of making this opuscule: 'Translation is also mourning for what we want to retain, what we value and cherish; it is, equally, mourning for what we know we must lose'.
Both the workshop and public event are free, but booking is required on Eventbrite.