An Evening with Mourid Barghouti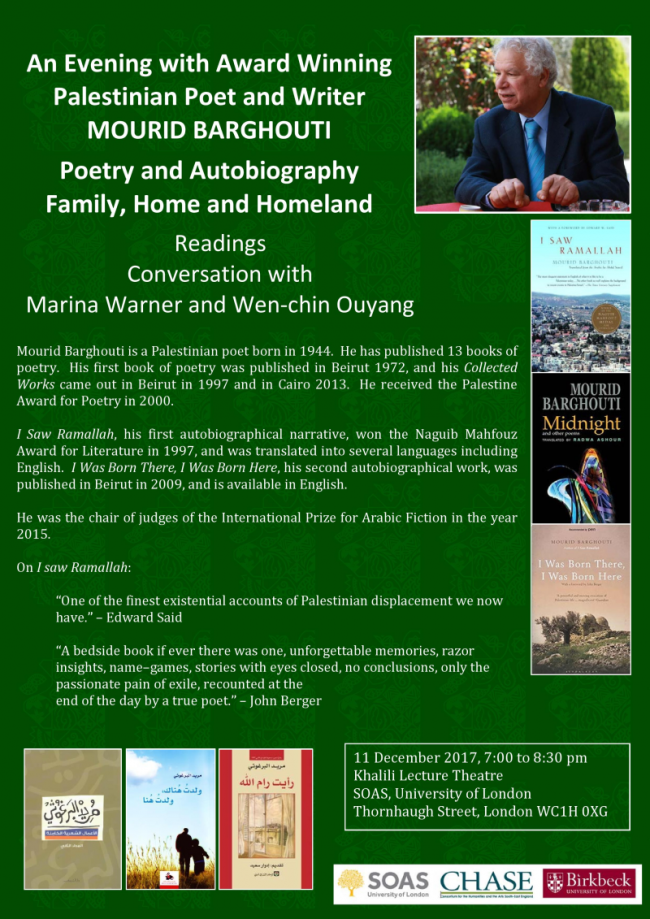 Location
Khalili Lecture Theatre, SOAS, University of London
An evening with award-winning Palestinian poet and writer Mourid Barghouti in conversation with Professor Marina Warner and Professor Wen-chin Ouyang.
Mourid Barghouti is a Palestinian poet born in 1944. He has published 13 books of poetry. His first book of poetry was published in Beirut 1972, and his Collected Works came out in Beirut in 1997 and in Cairo 2013. He received the Palestine Award for Poetry in 2000.
I Saw Ramallah, his first autobiographical narrative, won the Naguib Mahfouz Award for Literature in 1997, and was translated into several languages including English. I Was Born There, I Was Born Here, his second autobiographical work, was published in Beirut in 2009, and is available in English.
This event is free and open to all. Please register at https://evening-with-mourid-barghouti.eventbrite.co.uk
You may also be interested in: Arabic translation workshop: Love and nostalgia, poetry and song