Book at Lunchtime: Prismatic Translation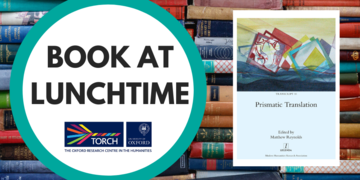 Date
Wednesday 10 June 2020
Join us for an online TORCH Book at Lunchtime webinar on Prismatic Translation, edited by Professor Matthew Reynolds. 
Book at Lunchtime is a series of bite-sized book discussions held fortnightly during term-time, with commentators from a range of disciplines. The events are free to attend and open to all.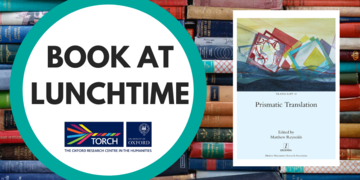 *UPDATE* The event will now take place as a live event on YouTube. You can access the event here.
Register for your free place on Eventbrite here. If you would prefer not to use Eventbrite, please email torch@humanities.ox.ac.uk.
About the book:
Translation can be seen as producing a text in one language that will count as equivalent to a text in another. It can also be seen as a release of multiple signifying possibilities, an opening of the source text to Language in all its plurality. The first view is underpinned by the regime of European standard languages which can be lined up in bilingual dictionaries, by the technology of the printed book, and by the need for regulated communication in political, academic and legal contexts. The second view is most at home in multilingual cultures, in circumstances where language is not standardised (e.g., minority and dialectal communities, and oral cultures), in the fluidity of electronic text, and in literature. The first view sees translation as a channel; the second as a prism.
This volume explores prismatic modes of translation in ancient Egypt, contemporary Taiwan, twentieth-century Hungary, early modern India, and elsewhere. It gives attention to experimental literary writing, to the politics of language, to the practices of scholarship, and to the multiplying possibilities created by digital media. It charts the recent growth of prismatic modes in anglophone literary translation and translational literature; and it offers a new theorisation of the phenomenon and its agonistic relation to the 'channel' view. Prismatic Translation is an essential intervention in a rapidly changing field.
The table of contents and Introduction are available to read online.
Panel includes: