Book launch: Tamim Al-Barghouti's poetry collection 'In Jerusalem'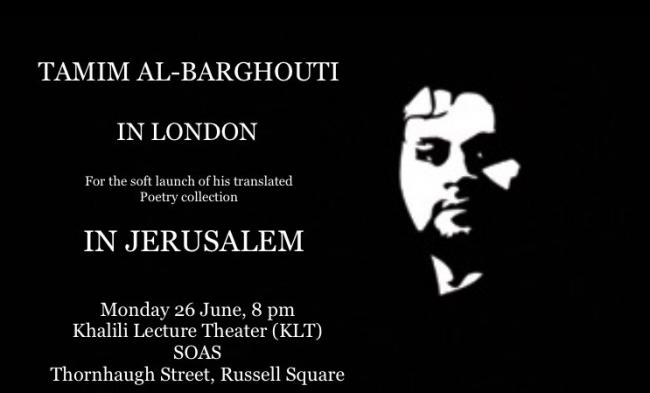 Location
Khalili Lecture Theatre, SOAS, University of London
The Poet of Jerusalem is coming to SOAS. Tamim Al-Barghouti, one of the most important and popular Arab poets of his generation, is launching the first English translation of his poetry on 26 June 2017, 8PM, at the Khalili Lecture Theatre.
The poems in In Jerusalem and Other Poems, lovingly translated by his late mother, Radwa Ashour, the prominent Egyptian academic and novelist, and Ahdaf Soueif, the Booker nominated author of The Map of Love, were written in Cairo, Ramallah, Amman, Washington, DC and Berlin between 1996 and 2016. In 2007, Al-Barghouti's long poem "In Jerusalem," which describes an aborted journey to the city, became something of a street poem. It is heartbreakingly beautiful. It speaks to the story of millions of homeless Palestinians who have been forced to live in exile since 1948.
Tamim Al-Barghouti 's father, the famous writer Mourid Barghouti, was expelled from Egypt, where Tamim was born, when he was only five months old. Tamim lived with his mother in Cairo, and for 18 years only saw his father in Budapest during winter and summer vacations. But his poetry is more than the sum total of the Palestinian experience. It is also the barometer of the political fortunes in the Arab world, from the American invasion of Iraq in 2003 to the Arab Spring spreading like fire from Tunisia in 2010, and the 26 January 2011 revolution that toppled Hosni Mubarak and transformed an entire generation. Above all, it is testament to a resilient Arabic poetic tradition that, at the hands of a young talent, can continue to thrive, generate new energy and move hearts and souls.
All are welcome to attend.
Tamim returns to SOAS on Tuesday, 27 June 2017, to take part in the Chase-funded Arabic Poetry and Stories Translations Workshop (SOAS, S118, 2:30 to 5:30 PM) and public event (SOAS, KLT, 6:30-8:00 PM), convened by Marina Warner (Birckbeck) and Wen-chin Ouyang (SOAS), as part of 'It was and it was not…': Translation in Action Programme.