Arabic Poetry and Stories in Translation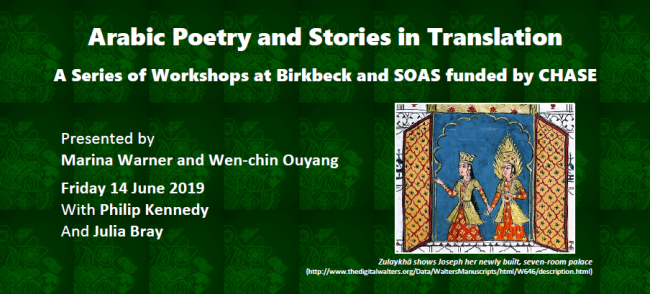 Time
2.30pm ( workshop) & 6pm (public event)
Location
The Keynes Library, London WC1H 0PD & Room BG01 (Brunei Gallery), WC1H 0XG
Join us for two events, part of the Arabic Poetry and Stories in Translation series:
Workshop: Tales of Delusion, Recognition and Redress
2.30 – 5.30pm, The Keynes Library, 43 Gordon Square, London WC1H 0PD
The comparative scholar Philip Kennedy (NYU), with Julia Bray (Oxford), will explore experience of reading and translating tales from Arabic. He will lead practical exercises and close readings in order to deepen understanding of shared narrative themes in the story of Yusuf/Joseph (Old Testament and the Qur'an), and from al-Hariri's Maqamat (The Séances).
Public event: Five Phases of Recognition in Naguib Mahfouz (Chaired by Marina Warner) 
6.00-7.30pm, Room BG01 (Brunei Gallery), SOAS University of London, Thornhaugh Street, Russell Square, London WC1H 0XG

Philip Kennedy will give a talk and reading from the novels of the Egyptian Nobel prize winner.
PHILIP KENNEDY (Professor of Middle Eastern and Islamic Studies and Comparative Literature at New York University) is the author of The Wine Song in Classical Arabic Poetry: Abu Nuwas and the Literary Tradition (1997), and a number of other studies about Arabic Literature. He is Vice Provost for Public programming at the NYUAD Institute and the General Editor of the Library of Arabic Literature. Recognition in the Arabic Narrative Tradition (2016) won a Sheikh Zayed Prize in 2019.
JULIA BRAY (Abdulaziz Saud AlBabtain-Laudian Professor of Arabic Literature at the University of Oxford) explores medieval Arabic writing and its social and political functions, life writing and story telling, Arabic book culture, picture poetry and the Arabic history of emotions. Recent publications include "Toward an Abbasid History of Emotions: The Case of Slavery", International Journal of Middle East Studies 49 (2017) and Stories of Piety and Prayer, an edition and translation for the Library of Arabic Literature of the first three chapters of al-Tanūkhī's Deliverance Follows Adversity (al-Faraj ba'd al-shidda). She is a member of the editorial board of the Library of Arabic Literature, and with Helen Blatherwick of SOAS is editing a special issue of the journal Cultural History on Arabic emotions.