Iraqi poet encourages Oxford Spires students to nurture their poetic creativity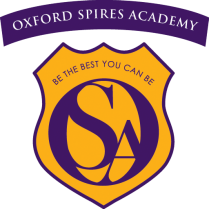 Wed, 11th Jan 2017
Students at Oxford Spires Academy were recently encouraged to express themselves through the medium of poetry in different languages by award-winning Iraqi poet, Adnan Al-Sayegh. Mr Al-Sayegh, who has lived in exile since 1996 and been based in the UK since 2004, led the first poetry writing workshop at Oxford Spires Academy.
The workshops are a collaboration between the school's Poetry Hub, led by writer-in-residence Kate Clanchy, and the Prismatic Translation strand of the Creative Multilingualism research project. They aim to stimulate creative writing among students, the majority of whom do not have English as their first language, in a school where 32 languages are spoken in total. At this first workshop, students from Syria, Algeria, Tanzania, Pakistan and Sudan heard Mr Al-Sayegh speak about the importance of poetry, which he considers to be a basic human need. He described how poetry is not restricted to the written word but to be found in music and on the street, with the power to build bridges between people, as having a poetic heritage is something shared by all cultures. Students were asked whether they had ever written poetry themselves and their reasons for doing so, which ranged from escapism to a vehicle for expressing their feelings.
In the second part of the workshop, students wrote their own poems, with the opportunity to receive input from Mr Al-Sayegh. They then presented them to the group.  Some students wrote in English, others in Arabic, while one girl wrote an Arabic translation of a poem she had thought of in French. In some of the poems, the students' experiences of being refugees and seeing their home countries destroyed featured heavily in the subjects they chose to write about. The workshop encouraged free expression, whether or not the subject matter had political or religious implications that might not be shared by all participants. One Syrian student addressed the persona of a festival, in a poem entitled "Eid in Syria", contrasting the joy one would expect to experience at such an event celebrating the end of Ramadan with the reality on the ground.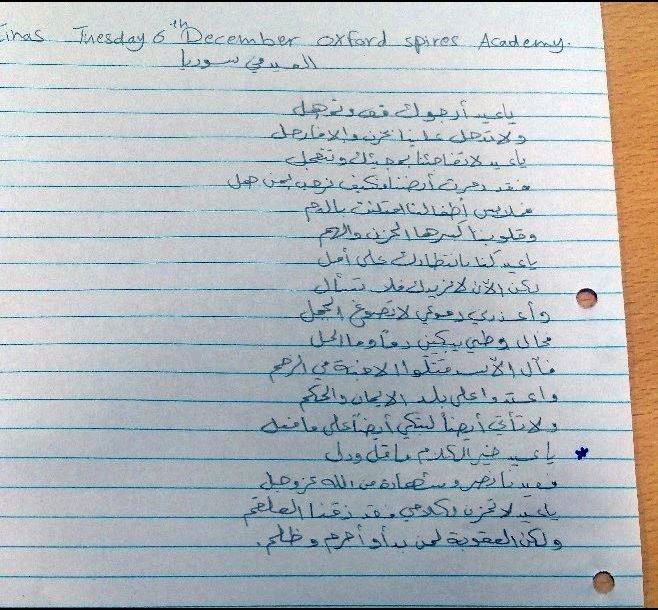 Oh Eid, please stop and slow down
Don't come in to us with grief, leave.
Oh Eid, don't surprise us with your hasty arrival
For our land was destroyed, how do we welcome our guest?
For our children's clothes are covered in blood
For our hearts are broken by grief and worry
We don't want you now, so don't ask
And pardon my tears that don't articulate sentences
For the state of my home makes me cry blood, and what to do?
When the Assads killed babies in their mothers' wombs
And violated the country of faith and wisdom
And don't come to cry over what he's done either.
Oh Eid, the less one says the better
For our Eid is a victory and a martyrdom
From Allah Almighty
Oh Eid, don't be saddened by my words
For we tasted the bitterest
But may he who starved and oppressed and wronged be punished
Following on from the workshop, students will now be encouraged to produce multiple versions of the "Eid" poem, re-imagined in different locations and languages.
Two volunteers, undergraduate students from Jesus College, Oxford, were on-hand to translate for those students without Arabic or with limited English. Rawan Yaghi, a final-year student of Italian and Linguistics, said she got involved in the project because she found poetry a fascinating medium for looking at the interaction between cultures, while Samuel Moss, who is in his third year studying Arabic and French, said it was exciting to see how the students interacted with a famous poet, particularly as many of them were aspiring poets themselves. Mr Al-Sayegh encouraged students to continue reading and writing their own poetry outside of the workshop even if they found this difficult, as doing so opens many doors to knowledge and expression. The workshop ended with Mr Al-Sayegh reading one of his own poems.
You can find out more about Adnan Al-Sayegh and his poems on his website: http://adnanalsayegh.com/eng/
More on the Creative Multilingualism blog
Can you speak only English but still be multilingual?
On being a citizen of the world
Infographic: which sectors do Modern Languages graduates work in?